Set Point Volleyball Club: Frequently Asked Questions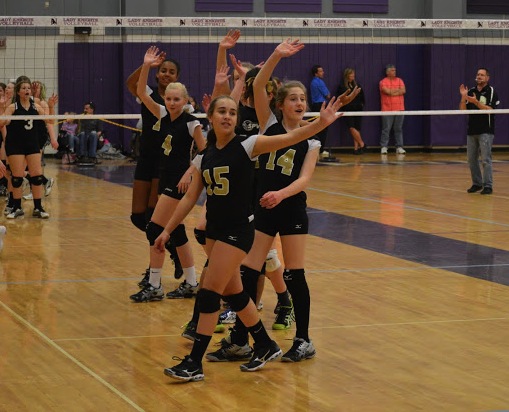 What is club volleyball?
Junior club volleyball is a nationwide program of USA Volleyball, for boys and girls ages 12-18. There are 40 Regional Volleyball Associations and we are in the Carolina Region. Junior club volleyball offers participants extended training and competition at various levels beyond the relatively short school programs. With our rosters containing up to 10 or 11 players it is obvious that

each player is not going to be able to play at all times. Be skeptical of any club that claims that they guarantee playing time. What you are "paying" for in a club volleyball is the weekly training, tournament playing time is a bonus.
What is the history of Set Point?
Although 2009 was the first year under the Set Point name, the club has its roots in the very beginnings of the JOV movement in NC in the 1980's. Set Point merged two area clubs: Triad, one of the first junior clubs in our region, and Player's Edge.

When does the club season begin/end?


Tryouts are in late October and early November, practice starts in November, competition starts in January and ends in either late March, or later depending on the team level.

Is it necessary to join the Carolina Region for tryouts?
Yes - Region membership is required for play for all clubs. It provides us with insurance coverage and also has a secondary medical insurance benefit for the member. Players not already Region members may join as a one event member for tryouts ($5) and later upgrade to full membership if they are selected for a team. Players will be required to provide proof of Region membership and a CR Medical Release Form prior to regular season participation.

What is the player/family commitment level?


Set Point expects all players to commit to the full schedule of practices and tournaments. Of course, there can be occasional school conflicts and family issues. Absences can and will impact playing time. The higher the level of team, the more commitment is expected.
Can a multi-sport athlete play at Set Point Volleyball Club?
Yes, many of our players participate in more than one sport, especially in the younger age divisions.

At tryouts, we do ask that prospective players notify us if they intend to participate in additional sports or activities that may conflict with their Set Point schedule. While a player's participation in other sports during the club season will not be a determining factor in the player selection process, it may be a consideration in player placement on our most competitive teams.
How many teams are usually in a particular age group?


That will depend on the numbers trying out for each age group and our overall availability of coaches and facilities.
What is the Tournament Schedule?
Regional teams
will only play Carolina Region tournaments in the Club Divisions: 6 regular season tournaments, all in NC, and the Regional Championships. Some Regional teams may choose to play an additional event at extra fees.
Travel teams
will play the Carolina Region Open schedule and other large weekend tournaments, either in or outside NC. See the
Carolina Region website
for the region schedule.
What is the difference between Regional and Travel teams?
Regional teams
play in one-day tournaments held within our region, which is the western part of North Carolina. Overnight travel is not required.
Travel teams
play in four regional tournaments, the regional championship tournament at the end of the season, plus additional weekend tournaments. Most of these tournaments are two-day events, with the exception of one three-day tournament our club typically plays over Spring break and is the largest junior Olympic tournament held in the southeast.
Travel teams typically play at some of the highest levels offered in our region in junior Olympic volleyball. With a travel team, players will get exposed to strong teams not only from our state but also from many others in the southeast.
Will we have a choice in what team our daughter plays on (i.e., Regional, Travel, playing up vs. playing at age level)?
Yes, but you are asked to indicate your preference when you register for tryouts. We also work with families throughout the tryout process to determine the best fit. Ultimately, the club will have the final say. Tryouts are merit-based, that is, players are selected and asked to participate on a particular team and level based on their performance during the tryouts.
My daughter will still be competing for her middle/high school team at the start of your tryouts...can she still tryout?
Yes - our multi-session tryout format gives us the flexibility necessary to accommodate players in this circumstance. Please contact us if you need additional accommodations.
Is it required to attend more than one try-out session?
The more opportunities we have to observe a player, the better job we can do placing them on a team, but it is not required to attend more than one tryout.
My daughter will be trying out for multiple clubs. If she's offered a spot with Set Point, will she have to accept it or risk losing her spot before she hears from the other clubs?
At Set Point, we put the interests of the player first and strictly adhere to the tryout guidelines set forth by the Carolina Region that prohibit all clubs from requiring player commitments prior to the official region signing day. When you receive an offer from Set Point, that offer stands and is available until the player and her family have taken sufficient time and opportunity to weigh all factors. Note that we will NOT offer more positions than exist on our teams.
What are the fees for Set Point?
There are three components to the fees for each player: the base fee, which covers all facility, coaching and general administrative and equipment fees; the apparel/uniform fee; and travel fees.
Travel costs are based on the team's particular travel schedule and can vary significantly from team to team.
Specific fees details can be found here.
How do I pay for fees?
Our payment plan offers families the opportunity to spread costs out over the length of the season. Total fees (base, uniform, travel) are broken into three payments, with the first payment due at the acceptance of a bid. Fees may be paid using cash, check, or credit card (online only). The travel tournament fees will be included in the fees for Open/Travel team participants.
Where and when are practices?
See our
locations page
for practice facilities information.
Some teams will practice 3 times every two weeks (the youngest ages will not have Sunday practice after a Saturday tournament). Most will practice twice a week and some may occasionally practice three times a week.
Specific dates and times will be determined after teams are formed. All teams will practice at some time on most Sundays - with the exception mentioned earlier.
Who are the coaches and what is their volleyball coaching background?
Refer to our
coaches page
for specific details on individual coaches. All coaches are background screened by USA Volleyball, are certified and have received coaches' training.
Will there be any specialty position and skills clinics in addition to the regular team practices?
Yes, that schedule will be developed once team selections are completed.