WEST COVINA SENIOR SOFTBALL BLD.: Welcome
TEAMS ARE WELCOME AND ALL PLAYERS ARE ALSO WELCOME
WELCOME
TO THE SENIOR SLOWPITCH SOFTBALL LEAGUE
2017
WEST COVINA
FOR SENIOR 50+PLAYERS
THE BIG LEAGUE DREAMS SPORTS PARK
ANY TEAM INTEREST IN PLAYING
FOR FREE OF CHARGE. CALL NUMBER BELOW
ALWAYS CHECK FOR UPDATES FOR GAME TIMES
ON THE CALENDER
ATTENTION
ALL COMPOSITE AND DOUBLE WALL BATS THAT ARE
MARK ASA BATS ALLOW ONLY . ALSO SINGLEWALL BATS....
**** NO ULTRA ll BAT ALLOW***
ATTENTION !!
GO TO THE
LEFT SIDE- CLICK ON
HANDOUTS .. SEE THE SENIOR RULES ..
JOIN THE LEAGUE.....
SEE DAVID (RAMBO)
(949)357-8503
NOW IN CHARGE !!!
GO TO LEFT SIDE MENU..CLICK ON * LINKS * TO CHECK ANY WEB SITE FOR SOFTBALL BATS -BAGS-APPAREL-AND ALL SOFTBALL EQUIPMENT.........
ALL SO WE HAVE (PRACTICE DAY) !!!!!
TUESDAY FOR EVERYONE
INFIELD AND OUTFIELD PRACTICE
CLICK ON ALBUMS ON THE LEFT SIDE
TO SEE PHOTOS OF THE PLAYERS...........
ITS FREE WEST COVINA BIG LEAGUE DREAMS SPORTS PARK *****************************
AGE GROUP : 50 + YEARS
WHERE AT : THE BIG LEAGUE DREAMS SPORTS PARK
2100 SOUTH AZUSA AVE.
WEST
IF YOU STILL HAVE THE THRILL OF PLAYING SOFTBALL COME ON DOWN !
WE WILL PUT YOU ON A TEAM.
ANY ONE THAT WILL LIKE TO BRING
A FULL SENIOR'S TEAM IS ALWAYS WELCOME TO JOIN
ALL PLAYERS MUST BE
GET OUT OF THE HOUSE AND PLAY SOME SLOWPITCH SOFTBALL ,
+++++++++++++++++++++++++++++++++++++++++++++++++++++++++++++++++++++++++++++++++++++++++++++
IF YOU ARE LEARNING FOR THE FIRST TIME
THIS IS THE PLACE FOR YOU TOO .WE ARE HERE TO HELP ALL SLOWPITCH SENIOR'S
COACH BOB A FORMER ATLANTA BRAVES PLAYER NOW RETIRED AND PLAYING SOFTBALL WILL HELP YOU OUT EVERY TUESDAY AT PRACTICE
*****************************************************************************

CLICK ON THE LEFT SIDE COLUMN ON
( MY SITE NEWS ) AND VIEW THE FIELDS YOU WOULD BE PLAYING IN....
THE FIELDS ARE REPLICA OF DODGER STADIUM, ANGEL STADIUM,
YANKEE STADIUM AND MORE ETC. IMAGINE PLAYING ON THE FINEST BALL FIELDS.LIKE THE MAJOR LEAGUES .. YOU CAN'T GO WRONG..
NO FEES !!!!!
************************************************
"CHECK THE WEATHER FOR WEST COVINA"
CLICK ON LINKS

-

ON THE LEFT SIDE COLUMN THAN
CLICK ON WEATHER
Two 90 year old men, Moe and Joe, have been friends all of their lives. When it's clear that Joe is dying, Moe visits him every day. One day Moe says, "Joe, we both loved softball all our lives, and we played league ball together for so many years. Please do me one favor, when you get to Heaven, somehow you must let me know if there's softball there." Joe looks up at Moe from his death bed," Moe, you've been my best friend for many years. If it's at all possible, I'll do this favor for you. Shortly after that, Joe passes on. At midnight a couple of nights later, Moe is awakened from a sound sleep by a blinding flash of white light and a voice calling out to him, "Moe--Moe." "Who is it?" asks Moe sitting up suddenly. "Moe--it's me, Joe." "You're not Joe. Joe just died." "I'm telling you, it's me, Joe," insists the voice. "Joe! Where are you?" "In heaven", replies Joe. "I have some really good news and a little bad news." "Tell me the good news first," says Moe. "The good news," Joe says," is that there's softball in heaven. Better yet, all of our old buddies who died before us are here, too. Better than that, we're all young again. Better still, it's always spring time and it never rains or snows. And best of all, we can play softball all we want, and we never get tired." "That's fantastic," says Moe. "It's beyond my wildest dreams! So, what's the bad news?" You're pitching Tuesday."
PROUD TO SUPPORT OUR TROOPS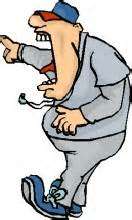 Take Me Out to the Ball Game