San Diego Elite Fastpitch Travel Softball: Welcome
Welcome to San Diego Elite 18U
San Diego Elite was established to provide players from the South Bay communities and throughout San Diego County the opportunity to participate in fastpitch softball at a higher competitive level than that afforded by the recreational leagues.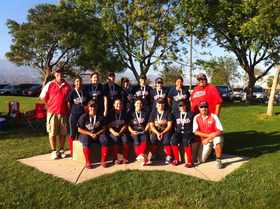 2014 SoCal ASA 3rd Place
Join the San Diego Elite Family
San Diego Elite 18U is coming off a successful Summer 2014 season where we finished in 3rd Place at the SoCal ASA 18U State Championship. We are returning key players from our 2014 team and are looking to fill the remaining spots on our roster.
Our 2014-15 schedule includes many showcases including AFC, SoCal's Finest, Surf City and Colorado.
For more specific information or to set up a workout, please feel free to contact us at 619-504-9395 or sdelite18@yahoo.com
Help Support San Diego Elite
San Diego Elite has partnered with GoFundMe.com to help us raise funds to support our mission of providing a comprehensive program for our players to help them become better softball players and achieve their dream of playing softball in college. Please consider using this opportunity to help our young ladies achieve their dreams by clicking here.
Mission Statement
San Diego Elite is committed to producing the finest softball players in San Diego County and the nation. Our objective is to provide players with a comprehensive program of competitive, elite-level softball that will improve their skills to their fullest potential and increase their chances of obtaining a college scholarship. Our Elite teams strive to recieve national exposure through competition against the best travel teams in the best tournaments and showcase events. We recruit top quality, hard working, dedicated, team players to our organization and place strong emphasis on academics, character, self-esteem, leadership and sportsmanship.
San Diego Elite History
Elite means the best of the best. San Diego Elite is a class 'A' fastpitch travel softball organization. Elite has been in existence since 1996 when it evolved from the 14U Bonita Valley All-Stars who won the 'B' National Championship that season with head coach Bob Aguilar, and assistant coaches Bill Howard, Rod Jensen and Monica Medina. It was the first time that Bonita Valley recreational league had won a national championship.
The following year, the first Elite team was formed with players and coaches from that championship team and jumped straight into 18U class 'A' travel ball. They were a very young, but relentless and determined team.
In 1998, Chaos, a team from Lemon Grove participated in the American Girls National Championship tournament in Buena Park, CA. Two players from Elite, Karina Aguilar and Melissa Twohey, played with Chaos to win the National Championship game that lasted 16 innings!
The two teams merged the following season and immediately became an organization on the rise. Since 1999, teams in the San Diego Elite organization have played in the national championship tournaments of the following associations; ASA, Triple Crown Sports, AFA and NSA with several top 5 finishes.
San Diego Elite coaching staff selected for Adidas Futures National Tournament
San Diego Elite manager Mark Bickerstaff has been selected to be head coach of one of the 32 regional teams at the 2012 Adidas Futures National Tournament.
The adidas Futures program was designed in 2006 to attract the nation's top 100 eligible unsigned/uncommitted fastpitch recruits. Since the camp has been a tremendous success over the years there has been a request to grow the event into a National Tournament allowing more athletes to compete.
With the criteria established by adidas Futures, the mission will now be to bring between 500-750 uncommitted athletes (selected by adidas Futures All-Star Coaches) together to compete on a stage unmatched by any other showcase. The adidas Futures National Tournament will provide full viewing capability for college coaches and consistent playing time for athletes which will marry the desire of each and redefine college recruiting by only allowing uncommitted athletes.
The 2012 Adidas Futures National Tournament will take place July 17-22 in St. George, Utah.
Monday, April 2
Elite Alum Angel Iacovetti wins her second CUNY Pitcher of the Week award
4/2/2012 5:38:00 PM
FLUSHING, NY -
Hunter College sophomore Hurler
Angel Iacovetti
has earned her second CUNYAC/Applebee's Pitcher of the Week award as announced by the conference office this afternoon.
Angel Iacovetti
went 1-1 this week as she pitched 12 innings and surrendered just two runs, one earned, on seven hits while striking out 11. In her first game of the week, the sophomore threw six innings, surrendering just one earned run on four hits against Montclair State. In the second game of the doubleheader against Lehman, Iacovetti game up only three hits over six innings as she shut out the Lighting. In the 8-0 victory, she struck out an outstanding 11 batters.
Monday, March 12
Elite Alum Ciara Fraher earns her 2nd RRAC Pitcher of the Week Honors
Mon, Mar. 12, 2012
Sophomore Ciara Fraher was named RRAC Pitcher of the Week for her performance against Texas College.
Fraher pitched a no-hitter with 13 K's in the opening game of a three game series and had a no hitter going through three innings in the third game of the series. The USW pitcher totaled 19 K's without yielding an earned run in 10 innings. This makes the second time Fraher has been recognized as RRAC-Pitcher off the Week this season.
Monday, March 12
Angel Iacovetti wins CUNYAC/Applebee's Pitcher of the Week
FLUSHING, NY -
Hunter College sophomore hurler
Angel Iacovetti
has been named CUNYAC/Applebee's Pitcher of the Week as announced by the conference office earlier this week.
Iacovetti went 1-1 over the weekend highlighted by a 5-2 victory over Castleton College. Iacovetti worked seven full frames to earn the victory, surrendering just one earned run on four hits while striking out 12 batters. She finished the weekend with a 1.93 ERA and a grand total of 19 strikeouts.
Monday, February 13
Elite Alum Sara Holdridge named CCAA Player of the Week
WALNUT CREEK, Calif. – Cal State East Bay softball player Sara Holdridge has been named the Worth/CCAA Player of the Week after helping the Pioneers open the conference season with a series victory over San Francisco State. Holdridge held down the sixth spot in the order as the designated player, guiding East Bay to a pair of eight-run rule victories and a 7-3 overall record following the 3-1 weekend.

The Murrieta native finished the weekend batting .750 (6-for-8), driving in eight runs and scoring five thanks to three homeruns. Holdridge started every game, reaching base in 76.9 percent of her at-bats and slugging at a 1.875 clip. The junior drove in at least one run in three of the four games while posting a minimum of two RBI in each of the final three games of the series.

Holdridge started off the weekend with a 3-for-3 performance at the plate, scoring a pair of runs to help the Pioneers open the CCAA campaign with a 9-1 eight-run rule victory in five innings. With a single in both the fourth and fifth innings, Holdridge helped East Bay score eight runs in the final two frames to pick up the win.

In the second game of the Friday doubleheader, Holdridge showed off her strength, parking a pair over the fence to go 2-for-3 with four RBI and two runs. Her two-run homer in the bottom of the first inning helped the Pioneers break open the game, plating the eventual winning run, and take a 5-1 lead. Holdridge went yard again in the bottom of the fourth, hitting her second two-run shot of the game and helping East Bay post four runs in the inning to set up the 13-2 eight-run rule win.

Saturday was no different for Holdridge, who went 1-for-2 in a 6-3 game one victory, posting her third homer of the weekend, driving in a pair and scoring one run. Though the Pioneers fell in game two, Holdridge continued to find ways to get on base and drive in runs, drawing three walks and plating a run on a sacrifice fly. With the daylight fading in the bottom of the seventh inning and East Bay trailing 4-3, Holdridge worked a walk after a seven-pitch battle, loading the bases with two outs before the Gators ended the rally to salvage a win in the series.

Following the impressive weekend, Holdridge is leading Pioneer starters with a .481 batting average and 12 RBI and is second with an .889 slugging percentage and three homers. Holdridge's totals also tie her for third in the conference in RBI and slugging percentage.

Holdridge is the Pioneers' first softball player of the week this season and the second East Bay player to win player of the week honors during the 2011-12 academic year, joining men's basketball player Roshun Wynne, who was honored on Dec. 5, 2011. The award marks the third for the softball team since Cal State East Bay began competing in the CCAA during the 2009-10 campaign.

Cal State East Bay is now tied for second in the CCAA and is set to make its first conference road trip of the 2012 campaign this weekend when it takes on first-place Cal State Dominguez Hills. The Toros and Pioneers will open a four-game series with a doubleheader on Friday at 11 a.m. in Carson.

Sara Holdridge hit .750, drove in eight runs and hit three homers
Monday, February 13
Elite Wins February Frost Tournament
During a cool and damp weekend in Poway, CA, San Diego Elite was able to go undefeated and capture the Triple Crown Sports February Frost tournament championship.
During pool play on Saturday Elite got two wins against the Valley Center Jaquars and California Thunder. On Sunday morning, in a game that included a 10 minute rain delay, Elite played a thrilling game against the San Diego Renegades - Aguirre team that ended in a 4-4 tie.
The 2-0-1 record in pool play was good enough to place Elite into the Gold Bracket. In the semi-final game against Legit, Elite started with a couple of mental errors allowing Legit to get out to a 3-0 early lead. Elite then settled down and played flawless defense the rest of the way and started chipping away at the lead. Elite entered the bottom of the final inning still trailing 3-2. Several clutch hits and a daring steal of home plate on a passed ball gave Elite the victory 4-3.
In the championship game Elite was set for a rematch with the California Thunder. Elite came ready to play and thanks to a great pitching effort, stellar defensive play and timely hitting pulled out a 8-0 victory for the championship.
Tuesday, February 7
Elite Alum Ciara Fraher earns RRAC Pitcher of the Week Honors
WACO
, Texas
--
Shelby Trujillo of the University of the Southwest (N.M.) was recognized as the Red River Athletic Conference Softball Player of the Week for Jan. 30-Feb. 6, while her teammate, Ciara Fraher, was named RRAC Softball Pitcher of the Week for the same dates.


Trujillo, a junior third baseman/outfielder from Alamogordo, N.M., went 4-for-8 with three doubles for the week. In a loss to Panhandle State University (Okla.), she was 2-for-2 with a run scored and two RBIs. She also contributed a double in the Lady Mustangs' first win of the season, a 4-3 decision in the third game of a four-game series with PSU. USW started the season at 1-3.

Fraher, a sophomore pitcher from El Centro, Calif., earned a victory in two appearances for USW last week. She took the loss in the season-opener, then rebounded to hold PSU to two earned runs on 11 hits for a complete-game victory. Fraher was also 2-for-4 at the plate in the game including a two-out, two-run walkoff homerun in the seventh inning.

Ciara Fraher, Univ. of the Southwest
Elite Travels to Normal, Illinois for ASA 18U Nationals
Can you see all 7 girls in this picture?
San Diego Elite packed their bags and made our annual trip across America to participate in the ASA/USA 18U National Championship Tournament. This years travels took us to Normal, Illinois. We flew into Chicago and then made the 3 hour drive down to Normal with 7 girls plus a parent packed into each vehicle.
Of course, the girls insisted on stopping at the first White Castle that we saw! The girls had a great trip getting to see a different part of the country, teams and girls from all over the United States and we even faced a pitcher from the Canadian National Team.
After a couple of wins against teams from Georgia, Indiana and Texas, we were knocked into the losers bracket in a close game against a team from Illinois and eventually were knocked out of the tournament by a team from Tampa, Florida.

waiting in line for parade
Monday, June 20
Elite Takes 3rd Place at SoCal ASA State Championships, Qualifies for USA/ASA Nationals
San Diego Elite had another successful weekend on the softball field. Playing in the SoCal ASA 18U State Championships in Riverside, CA, Elite went 4-1 bringing the 3rd Place trophy back home. The 3rd Place finish qualifies Elite to play in the USA/ASA 18U National Championship Tournament in Normal, Illinois this summer.
Starting play on Saturday morning, Elite took on the California Thunder team from the San Gabriel Valley. After starting off strong with a 4-0 lead, the Thunder came back to score 5 runs over the last 4 innings to take a 5-4 lead going into the bottom of the 7th inning. Elite came back in the last at bat to score 2 runs with aggressive baserunning decisions from Valeria Torres and Julia Shrum to win the game 6-5.
The second game on Saturday had Elite facing the SoCal Breakers from San Diego North County. The Breakers jumped out to an early 3-0 lead after two innings, but then Ashliegh Minter shut the Breakers down retiring 15 of the last 16 batters. Elite came back with 4 unanswerd runs, scoring the game winner in the bottom of the 7th inning.
Playing late Saturday night in their third game of the day, Elite took on Newport Beach Riptide Gold. After Riptide Gold took an early lead of 6-1 in the top of the 2nd inning, Angel Iacovetti came in and retired 16 of the next 18 batters to keep Elite in the game. With a home run from Natalia Rosales and a big 3 runs in the 3rd inning, Elite made it a 6-4 ballgame. Elite was able to get the bases loaded in the 4th but couldn't come through with a key hit to score and eventually lost 7-4.
Sunday morning saw Elite faced with needing two wins in the bottom half of the bracket to win 3rd Place for the tournament. First up for Elite was the East County Gamers from El Cajon. Elite scored first to take a 1-0 lead in the top of the first, but the Gamers came back in the bottom half of the inning with a 3 run HR to take a 3-1 lead. The Elite bats came to life in the 5th inning to score 9 runs and eventually won 10-3.
In the 3rd Place game, Elite took on Xplosion from Menifee, CA. The Elite batters decided to show some power in the final game to make sure there was no doubt who would take home the 3rd Place trophy. With homeruns from Natalia Rosales and Valeria Torres, Elite won the game 10-6 to qualify for the trip to Normal, Illinois.
Friday, June 10
Adriana Angulo Accepts Scholarship to Briar Cliff University
Another member of the Elite family is moving on to the next chapter in her life as Adriana Angulo has accepted a scholarship to attend Briar Cliff University in Sioux City, Iowa and play softball for the Chargers.
Briar Cliff University is a member of the Great Plains Athletic Conference as a Division I member of the NAIA. The Elite family is very excited and proud of Adriana and wish her great success on the field for the Chargers and in the classroom as she pursues her degree.
Congratulations Adriana!
Thursday, June 2
Mary Sheridan Accepts Scholarship To Play Softball For Bethel College
San Diego Elite catcher Mary Sheridan, who played for Hilltop High School in Chula Vista, has been accepted and will recieve a scholarship to play softball for Bethel College in Newton, Kansas. Mary will be a part of the very first softball team for the Threshers of Bethel College. They have a rich winning tradition in athletics and have decided to add softball for the 2011-2012 year. Congratulations Mary!
Elite Alum Angel Iacovetti Named to CUNYAC First Team All Conference
With the spring sports wrapped up, the City of New York Athletic Conference announced the names of each sport's All-Stars.
Softball
The Hunter College softball team saw their 2011 season end in heartbreaking fashion after falling to Baruch in the CUNYAC championships. Despite falling short of a championship, the Hawks had a strong season, with several players receiving conference honors. Four Hawks were named as First Team All-Stars, including Megan McKenna, Julia Lipovac, Arielle Zieff, and Angel Iacovetti. McKenna led the Hawks in batting average in 2011 with a .388 clip, with Lipovac right behind her at .387. Zieff had a strong year at the plate as well, batting .389, while also providing leadership behind the plate for her young pitching staff. Freshman phenom, Iacovetti not only contributed to the Hawks success with her bat, posting a .250 average with three homeruns, but she also led the team on the mound, going 12-9 with a 1.87 ERA. Christina Baker was also honored by the conference, receiving a selection to the Second Team. Baker started all 38 games for the Hawks batting .247.
Friday, May 6
Former Elite Player Ciara Fraher Named to All-Conference Team
Congratulations to San Diego Elite alum Ciara Fraher at University of the Southwest on being named to the Red River Athletic Conference 2011 All-Conference Team. Ciara completed a successful freshman campaign, was named the conference pitcher of the week back in February, and finished with a 12-10 record and a 2.38 ERA. Ciara also contributed to the Mustangs offensively with a .273 batting average, 2 HR, and 25 RBI.
Thursday, May 5
Elite Alum Alex Tarin Named to All-Conference Team
Congratulations to Elite alum Alex Tarin at Imperial Valley College on being named to the Pacific Coast Athletic Conference 2011 All-Conference 1st Team. Alex, in her freshman season for the Arabs, compiled some very impressive offensive stats and solidified the defense playing SS and 3B. Alex finished the 2011 season with a .394 batting average, 28 hits, 10 for extra bases, and 10 RBI.
Tuesday, April 26
Elite Alum Earns 4th Weekly Conference Award of 2011 Season
Queens, NY - Freshman Angel Iacovetti has been named the CUNYAC/Pepsi Rookie of the Week for the week of April 25 as announced by the conference office. This is the fourth weekly honor for the California native as she was named the Pitcher of the Week three times this season.
Iacovetti was 3-2 on the mound this week with a 0.73 ERA, as the Hawks went 2-2 in CUNYAC and 5-3 overall. A native of Imperial Beach, California, just south of San Diego, Iacovetti has been the Hawks' top pitcher this season, sporting a 10-6 mark and a 1.68 earned run average.
Last week, she won her first three games on the mound; a 5-inning one-hitter against City Tech, followed by an eight-inning defeat of Manhattanville with nine strikeouts in game one of a doubleheader. She then came in relief of game two and didn't yield a hit in 3.2 innings with four K's for win number three.
The freshman closed out the week with a pair of six-inning losses to SUNY Old Westbury and Staten Island, giving up only nine hits, two walks and three earned runs, while recording 14 K's in the process.
Thursday, April 14
Former Elite Player Emily Poulton Earns 2nd Team All-Conference
HIGH POINT, N.C.- Conference Carolinas has announced the 2011 Softball All-Conference Team and Queens University of Charlotte has four players named to the All-Conference Second Team. Earning honors for the Royals are seniors Brandy Jester (Georgetown, Del., Sussex Central) and Maria Goode (Charlotte, N.C., Providence) and freshman Kaitlyn Cheek (Richmond, Va., JR Tucker ) and Emily Poulton (Temecula, Calif., Great Oak). Four each of these four players, this is their first All-Conference nod.
Emily completed her freshman season with a .278 batting average, 16 runs scored, 27 hits including 3 doubles and 1 triple. She had 15 runs batted in to go with a .369 OBA and a .978 fielding percentage. The Elite family is very proud of your accomplishments Emily!
Wednesday, April 13
Angel Iacovetti Throws No-Hitter for Hunter College
New York, NY-- The Hawks received two more strong performances from their freshman pitching staff on Thursday, April 14, claiming both victories against St. Joseph College, 1-0 and 4-1.
In game one, Angel Iacovetti was once again impressive, engaging in a pitcher's duel with the Golden Eagles' Cassie Martinez throughout the first seven innings, with both starters matching zeroes.
The game entered into extra innings in the eighth with Iacovetti quickly recording three outs. After Martinez got the first two outs in the bottom of the inning, Arielle Zieff knocked in the only run of the game, scoring Megan McKenna who was on second base, due to the international tie-breaker rule.
Iacovetti recorded 15 strikeouts in the outing, while not giving up a single hit.
Friday, January 21
Julia Shrum commits to play for Arizona Western College in 2012
Another member of the Elite family has accepted a scholarship offer to play softball at the next level. Julia Shrum has decided to take her skills and continue her education at Arizona Western College in Yuma, AZ.
Congratulations Julia! We look forward to seeing you excel with the Matadors next season!
Elite Takes Home Another Tournament Championship
San Diego Elite won the 1st annual Triple Crown Sports Labor Day by the Bay tournament. In our first games as a team in 2010, with 11 new players on our roster and only 1 practice together, Elite went undefeated in the tournament outscoring our opponents by a score of 51-9.
With outstanding defense played all weekend and strong pitching efforts our team seemed to always come up with the clutch play to end every threat from the opposing team. Our clutch hitting and some timely home runs allowed us to play with a comfortable lead in most of our games.
Now that we have started our season off successfully, we look forward to the challenges as we face tough competitiion in the games ahead.

2010 Labor Day by the Bay Champions
Elite Qualifies for USA/ASA 18U Nationals in Hemet, CA
With a strong showing at 18U Regionals in Beaumont, CA, San Diego Elite has qualified for the USA/ASA 18U "A" Nationals in Hemet, CA to be held August 1-8, 2010. While playing without a couple of key players, and sustaining an injury to our starting catcher in the 3rd game, Elite still faught to win 4 more games on Saturday to finish with a 5-2 record in bracket play. We look forward to some rest to heal our injuries and make a strong showing in Hemet!!
Alexis Sacay signs LOI to attend Howard College
San Diego Elite Catcher Alexis Sacay has signed her LOI to attend Howard College in Big Spring, Texas. Alexis is excited to continue her education and play softball for the Hawks. Hawks assistant coach Nicole Dickson saw Lexi play while we were at the Colorado Sparkler Showcase and was quite impressed with her play and control of the game from behind the plate. After some conversation later that night between Coach Dickson and Lexi, Howard College Head Coach Kelly Raines flew up the next day to see Lexi play for herself. That night at the All-American game Lexi was offered and accepted the scholarship offer and signed her LOI to attend Howard. This culminated several months of hard work for Lexi as she is coming back from shoulder surgery just 6 months prior to the trip. Congratulations Lexi, all of us at San Diego Elite are proud and excited for you!!
Thursday, June 10
Many Elite Players Earn High School Post Season Honors
Congratulations to several members of the San Diego Elite family that completed very successful High School seasons. Natalia Rosales, Monica Armas, Ariel Bochniak and Crystal Corona of Hilltop High School finished 22-7 and played in the CIF San Diego Section, Division I playoffs, finishing in 7th place. Elizabeth Vargas helped Bonita Vista High School (21-6-1) finish in 5th place in Division I. Angel Iacovetti helped lead her Mar Vista High School team (21-8) into the Division II playoffs. Gabby Salerno helped The Bishop's School into the Division IV playoffs.
Several San Diego Elite players were named Union-Tribune All-Academic Team members as well as to their respective All-CIF Division and All-League Teams. Congratulations to all of the following players:
Angel Iacovetti, Mar Vista HS, All-Academic Team, South Bay League 1st Team, South Bay League Pitcher of the Year AND All CIF San Diego Section Division II 2nd Team
Bianca Paraiso, Morse HS, All-Acacemic Team, Eastern League 2nd Team
Brenda Alvarez, Eastlake HS, Mesa League 2nd Team
Elizabeth Vargas, Bonita Vista HS, All-Academic Team
Gabby Salerno, The Bishop's School, All-Academic Team
Lexi Sacay, Eastlake HS, All-Academic Team
Monica Armas, Hilltop HS, All-Academic Team, Mesa League 2nd Team
Natalia Rosales, Hilltop HS, Mesa League 1st Team
Elite to host Australian National Team for double header on June 16th
The Australian Olympic/National Softball Team, currently ranked #3 in the world, will play 2 games on Wednesday, June 16th at San Diego State's softball stadium prior to departing for Caracas, Venezuela for the 2010 ISF World Championships.
The Aussies will be playing against StormUSA and San Diego Elite Fastpitch All-Stars in games starting at 5:00pm. StormUSA, a top ranked ASA Women's Major Division team, features All-American collegiate players from around the country. The San Diego Elite team will feature top local players from SDSU, USD, Pt. Loma Nazarene and Loyola Marymount such as Samantha Beasley, Brittany Knudsen, Taylor Hensley, and Corie Goodman.
Come out to the SDSU softball stadium on Wednesday, June 16th to see some of the best international and collegiate softball players in the world in two very exciting games.
Wednesday, May 26
Ashleigh Minter signs LOI with Florida A&M University
San Diego Elite pitcher Ashleigh "Bug" Minter has signed her letter of intent (LOI) with the Rattlers of Florida A&M University. Florida A&M University is located in Tallahassee, Florida. The Rattlers are a NCAA Division I program and competes in the Mid-Eastern Athletic Conference (MEAC).
Ashleigh is excited to take this next step in her life's goals. While she is following in her sister's footsteps to go on to college and play softball, she also chose to take her own path and attend the school of her choice. "I chose Florida A&M for the family atmosphere in the softball program," says Ashliegh. "I think it will be easy to become my home away from home."
Wednesday, May 12
Two Elite Alumni to play for NAIA National Championship
Two Alumni of San Diego Elite, Danie Benito and Vanessa Adame will be playing in the NAIA National Championship Tournament as members of Dickinson State University. The Blue Hawks, who have been ranked as high as #2 in the national polls, completed the regular season with a 33-11 record. Vanessa Adame, in her sophomore season, is the starting centerfielder for DSU and is batting .426. Danie Benito is a freshman outfielder for the Blue Hawks and has a .375 OBP with 9 runs scored.
The National Championship Tournament will take place in Decatur, Alabama from May 20-26, 2010. Congratulations Vanessa, Danie and good luck to Dickinson State University!!
Angel Iacovetti commits to Hunter College
After returning from a recruiting trip to New York City over spring break, Angel Iacovetti has made her commitment to Coach Boz to play softball for Hunter College next season. Hunter College is located on the upper east side of Manhattan in New York City and is a perennial power in the CUNYAC/ECAC conference of NCAA Division III.
"It's like two dreams are coming true!" stated Angel. "I get to live in New York City and play collegiate level softball. I wanted to go to a college that offered an urban lifestyle, diversity and a change of seasons. Going to Hunter College will give me the opportunity to live that. I love San Diego, but there is no place like New York City."
Angel will be joining a Hawks squad that won the CUNYAC Championship in 2009 and is currently playing the the conference tournament to repeat as champions and advance to the NCAA Division III women's college world series.
Congratulations Angel !!
Monday, December 21
Elite Wins TCS Christmas Qualifier Championship
San Diego Elite earned an early Christmas present by winning the Triple Crown Sports Christmas Qualifier this past weekend in Escondido, CA. This win earns the team a berth in the Triple Crown World Series to be played in Park City, Utah next July.
Our girls played solid, inspired softball all weekend finishing with a perfect 6-0 record, allowing only 5 runs the entire tournament. They started off with 3 pool game wins against CA Lady Knights (4-2), 3rd Degree (2-0) and the Diamond Runners (8-0). Valerie Murray, Ashleigh Minter and Angel Iacovetti each pitched complete game victories on Saturday.
On Sunday in bracket play they started off with a win against the Carlsbad Aces (5-1) with Ashliegh Minter getting the complete game win again. Monica Armas started off the scoring with a monster 300' triple to left center scoring Brenda Alvarez. In the semi-final game, Angel Iacovetti earned the complete game win over 3rd Degree (5-0). Natalia Rosales, Brenda Alvarez and Monica Armas started the scoring with 3 straight shots over the outfielders heads to give Elite the 2-0 lead that they never relinquished.
In the Championship Game against the San Diego Rowdies Gold team, Ashliegh Minter and Angel Iacovetti combined to hold the Rowdies team to 2 runs through 7 innings. The Rowdies team used strong pitching and stellar defense to hold Elite to no score through 5 innings. With Elite down the their last 6 outs in the game, they finally found some offense. Leadoff hitter Bianca Paraiso started the inning off with an infield single, followed by Natalia Rosales reaching on an error by the shortstop. Brenda Alvarez followed up with a booming 275' triple to left center scoring Bianca. Natalia Rosales was called out on a close play at the plate leaving the score 2-1 in favor of the Rowdies. Monica Armas got a single to score Brenda and tie the game and set the stage for Angel Iacovetti. Angel came to the plate and delivered a 300' triple to dead center field to score Monica and give Elite the lead. She then followed up by setting down the Rowdies without a hit in the 7th inning to complete the victory and bring the Championship to our San Diego Elite squad!
Wednesday, November 4
Kyrstin Gemar Tribute
The entire San Diego Elite Organization and Family, as well as the softball "community", mourns the untimely loss of Kyrstin Gemar, an outstanding young lady and one of three NAIA powerhouse Dickinson State University softball players who tragically drown earlier this week when their vehicle plunged into a pond on a farm in North Dakota.
Kyrstin, a 22 year-old, 5th-year senior business major and third baseman/first baseman/power hitter on the softball team, played for the Elite Women's Open Team three summers ago and had planned to return to the Elite Women's Team this coming summer. Affectionately called "Momma K" by her teammates, Kyrstin graduated from Clairemont High School and was a two-year team captain and player-of-the-year at Grossmont College before moving on to Dickinson State.
Kyrstin's last official function with Elite was her attendance at the Storm USA team dinner which included the Australian National Team this past summer. "Momma K", you will be sorely missed by your teammates, past and present, including Dickinson State and former Elite teammates Vanessa Adame and Danie Benito, and all those who were fortunate enough to come in contact with you. The San Diego Elite Family extends its condolences to Kyrstin's parents, Lenny and Claire, for their tragic loss.
Monday, July 20
San Diego Elite to Play for National Championship
San Diego Elite will be playing in the ASA Women's Fastpitch National Championships from July 31 - August 2 at Butterfield Park in Corona, CA. Our girls have worked hard since we formed this team last September to earn our position as one of the premier travel ball organizations in Southern California. We are excited about the opportunity to play for an ASA National Championship and the great experience this will provide to our girls.
Monday, July 20
San Diego Elite members play against the Australia National Team
Current San Diego Elite players Sara Holdridge and Emily Poulton along with alumnus Vanessa Adame played two ...