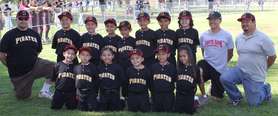 6U Spring 2015
**********************************************************
Last updated 6/24/15 2:30pm
**********************************************************
6U Pick Up Games:

If interested in pick up games, contact -
Jose Flores 323 273 8610 eaddressit@yahoo.com

6U Schedule:
Tues June 23 - 6pm practice at El Cariso
Fri June 26 - No practice.
.
6U News:
For Spring League 2015
We are playing at Santa Rosa Pony. Shetland Division
Full Schedule
Snack Schedule:
Lupe-Louie
Laura-Noah S
Nidia-Pablo G
Yoli-Noah F
Lydia-Julien
Candy-Pablo E.
Veronica-Violet
Gissel-Ezekiel
Andrea-Logan
Jacky-Alex
Grace-Adrian
Monica-Jacob
Laura-Mia
Diana-Dominic

Pirates Bdays:
Pablo E- 2.6
Jacob-2.7
Adrian- 3.15
Noah S- 3.31
Logan- 4.14
Dominic-5.26
Mia- 6.15
Ezekiel - 7.8
Noah F- 7.17
Louie- 7.23
Violet- 8.12
Pablo G- 9.10
Alex - 9.18
Julien - 11.20
.
Games At Las Palmas Park.
505 South Huntington Street
San Fernando, California 91340


18U News:
Boys are all grown up, and in College.
Keep up the good work guys.
Keep us posted on your good for fortunes.
We wish you guys the best!
Great team, good times, great experience..........
From your Coaches, Tino, Roy, Glen, and Jose.
"A team is where a boy can prove his courage on his own. A gang is where a coward goes to hide." - Mickey Mantle

18U Aug 21, 2011