RIO VISTA SCORPIONS 2001: My Site News
Monday, May 9
Scorpion Teams take gold at Durango Shootout
Scorpion Reds and Rojos took gold at the Durango Shootout.
Scorpion Reds and Rojos took gold at the Durango Shootout. Both teams fought hard and persevered to reach the championship game in their respective divisions. It was a great mother's day present from both teams.
The Rojos dominated play with only 2 goals scored against them the whole tournament. They controlled the games in round robin and played a dominating performance in the championship game to take home gold. Rojos continue where they left off from their dominating regular season play.
The Reds had a tough road to reach the championship game. Sundays morning's game was so intense that all the parents were exhausted after watching the game, imagine how the players felt. The boys left it on the field and played their hearts out. The championship game was a tight game and had some awesome play from all the boys.
There will be pictures from this awesome mother's day weekend soon on the website.
Tuesday, April 26
Scorpions to Hold Tryouts for '11-'12 Season on June 1st
Scorpions to Hold Tryouts for '11-'12 Season on June 1st
Scorpions 2001 Reds & Rojos will be conducting tryouts for the 2011/2012 Season on Wednesday, June 1st at Balloon Fiesta Park. Both teams are looking to expand their teams. Come join the Scorpions soccer family and have fun for the whole family. Tryout registration will begin at 4:30pm and tryouts will promptly start at 5:00pm. Look for the Scorpions Feather Banner at the field for tryout field location (if weather permits). Please contact Jeff Saari at (505) 400-8920 for additional tryout details.
Monday, April 25
Soccer & Tennis Lessons Offered
Soccer & Tennis Lessons Offered
Scorpions2001 players/families, friends, siblings (or past Scorpions'96 or '91 players), or ANY players/families who just want a chance for some extra touches during the year ....... coach Jeff is offering both soccer and/or tennis training sessions or lessons on request. Call Jeff's cell (400-8920c) to suggest a topic, set up times and locations that work, or join in on any optional practices . (If registered on a current DCSL team, U10/11 soccer players will need permission from their current coach. Its great exercise and it's fun.
[Coach Jeff played competitive tennis in HS, college, and club tennis. Coach Jeff has been a part-time tennis instructor for 20+ years. As a NM soccer coach for the past 18+ years, Jeff has developed many top-level teams and players. Coaching fees are negotiable and based on whether it is for individual, small group, or team training sessions. ]
Monday, April 25
Scorpions 2001 Strike Gold in Pre-Season Tourneys
Scorpions 2001 Strike Gold in Pre-Season Tourneys
Both the Scorpions Red (U9B) and Rojos (U10B) teams entered the Rio Open Tournament (Aug '09), and a mixed Scorps Red/Rojos also participated in the Clash Fiesta KickOff Classisc (Sept '09). It proved to be a fast start for the teams with the Red team winning the U9B Gold division of the RVFC tournament, and the mixed Red/Rojos doing the same in the U9B Gold bracket of the NMC Fiesta tourney. The boys brought home 20 individual gold medals, plus a nice trophy from the Clash tourney. More importantly, the teams knocked off the rust and had a chance to work on team topics over two weekends in a combined 11 games. In those games, the teams scored 56 goals, and gave up only 4..... recording nine shut-outs along the way. Highlights for the Scorps included beating THREE teams (Al. Azul, Cor. Coyoyes (2x), and Cl. Red Storm) for the first time.
---
Monday, April 25
"RIO" is new mascot for Scorpions teams

"RIO" is new mascot for Scorpions teams
After coaching for Rio Vista FC for the past 11 years (Scorpions'91, Scorpions'96 Red, Scorpions'96 Gold, and now the Scorpions'01 Red/Rojos teams), coach Jeff has honored his Club by naming his new puppy "RIO". He is a five month old Golden Retriever pup, and like coach Jeff, practically lives at the ADO soccer complex. Each morning, and often in the evenings, Jeff and RIO can be seen walking/running in the vicinity of the Bear Canyon Arroyo (Arroyo del Oso). And like most Goldens, RIO is great with kids, is very social, and basically wants to play all the time........... He's VERY fast, always wants the ball, and is constantly improving his footskills and agility. Welcome RIO, the newest member of the "RVFC Scorpions Family".
---
Monday, April 25
Kick it 3v3 Regionals in Vail, CO
Kick It 3v3 Regionals at
VAIL
Early August saw the old and new (or big and little) SCORPIONS travel to Vail, Colorado for the Rocky Mountain3v3 Regional's. The little Scorps (Scorpions2001 Rojos) beat a solid team from Juarez, MX and WON the Albuquerque Kick-It 3v3 tournament and qualified for the trip to Colorado. And although 3 players from the qualifying team could not attend, the team filled in with two guests and went north for the experience, a mini-vacation, and a chance to test themselves versus some of the CO teams. At Vail, sporting their new practice/scrimmage jerseys (Spain's national team replica jerseys - RED), the Scorps2001 team were competitive, but not as strong as some of the established Denver teams. No worries, the boys had a great time and were able to cheer for and support the '96 Scorpions-Red (registered incognito as the Geckos), .....started slow, but ended up playing EIGHT games, including three of the top-ranked teams in the
Monday, April 25
Scorpion Rojos go undefeated at TWE in Las Cruces
Scorps 2001 Rojos Go
Undefeated at TWE
U8B Scorpions-ROJOs travelled south to Las Cruces for The Whole Enchilada (TWE) tournament (Oct 10-12)and again "played UP" in the U9BS bracket and faced some solid teams from both LC and El Paso. Playing in a four game round-robin, the Rojos WON two games versus the EP Elite Red '00 (3-2), and the LC Road Runners '00 (2-0), and also TIED two games versus the LC Lions '00 (1-1), and the EP Soccer Academy Cobras (2-2). The ROJOs earned 2nd place (Silver) medals for the tournament, celebrated Jaren's 8th birthday, and generally enjoyed our fall team trip. The highlight of the tourney was the Scorps come-from-behind 1-1 TIE with a very good NMR Lions (LC) team, that is as strong as any U9B team we have faced in Albuquerque so far. The competition was good with four close games, the food was fine as always, the weather held out (we had a LOT of wind, but not too much rain), a couple of our players from our Red team were able to guest with the Rojos, the families/players/coaches had a good time together, and we grew as a team over the weekend. A successful fall trip for the 2001 Scorpions.
---
Monday, April 25
Scorps RED and ROJOS Enjoy Success in DCSL
Scorps RED and ROJOS Enjoy Success in DCSL Season
In our first league season as the Scorpions2001 companion teams, the Scorps were not sure how we would stack up versus other teams in the Duke City Soccer League. It has been a nice surprise that after only 5 months together as a TEAM, our split teams are both competitive with all of the teams in the U8/9B age groups. Our Red team, playing in their true U8B age group won 5 games and lost only 3 very close games (two to the top U8B team, Lasers) and improved as the Fall season progressed. Our ROJOs team, playing UP a year in the U9B age group also did VERY well, ending with 6 wins, 1 loss, and 1 tie, and this was without one of our strongest players (who also played YAFL football in the Fall). EVERY player on both teams scored goals, earned assists, and played a variety of positions. The boys are using their moves and fakes in game situations, and learning to pass, make runs, defend, and even try the keeper positions. A good start for the Scorps in DCSL play, and based on our past three Scorpions teams, we will only get stronger from here. Time for a well deserved break.
---
Monday, April 25
Scorpions 2001 End Fall Season With 2 Golds!
Scorpions 2001 End Fall Season With 2 Golds!

The Scorpions2001 (U8B) companion teams capped a great first season together by bringing home TWO Gold Medals in the Gaylord-Sheppard Tournament., November 8th and 9th. Our Scorps-RED team won all three games in the U8BG division to capture their first tournament win as a team, and 4th medal overall since forming last June. In doing so the Red team outscored their opponents 18 - 4 and showed continued development of individual and team skills. The Scorpions-Rojos, playing UP again in a 7-team U9BS bracket, also found a way to fight through two tough games on Saturday and make it to the finals Sunday on points. Hard-fought, physical battles with U9B teams from Durango and Farmington resulted in a close 2-0 win (DYSA Storm'00) and a come-back 1-1 tie (FYSA Venom'00), and put the Scorps in position to have to win big in their final bracket game on Sunday morning .......... rising to the challenge, a 7-0 win put them safely into the finals. The championship game saw the Scorps slowly pull away for a 4-0 win and the Gold Medals. This was the 3rd tournament win and 5th medal for the Rojos team since June. Both teams have come together much faster than expected and the G-S tourney, and TWO gold medals, was a nice way to end our first Summer/Fall together. Good season Scorpions2001!
---
Monday, April 25
Off Season/Training Lessons Offered
Off Season/Training Lessons Offered
Scorpions2001 players/families, friends, siblings (or past Scorpions'96 or '91 players), or ANY players who just want a chance for some extra touches during the winter ....... coach Jeff is offering optional training sessions or lessons on request. Call Jeff's cell (400-8920c) to suggest a topic, set up times and locations that work, or join in on any optional practices during DEC/JAN. If registered on a current DCSL team, players will need permission from their current coach. Best times are on Saturday, Sunday (or Weds) afternoons, or anytime during the December holiday period. Its great exercise for the coach, a chance to help develop NM soccer players, and to meet soccer families in Albuquerque.......
---
Monday, April 25
2008 Holiday Camp Overwheling
"2008 Holiday Camp Overwheling
Success"


Following in the traditions of the past 15-17 years, Coach JEFF hosted a soccer camp during the 2008 holiday season. After getting snowed out the first two days (12/26-27), the Camp turned out VERY well with great weather and good attendance for 5 days (12/28-31/08 and 1/2/09), with an average of 24 players each day. About half the 2001 Scorps attended, plus 5-6 of the '96 Scorps players, plus some of Mike's RVFC U13G players, plus friends, siblings, etc... It was a nice combination of U6s, U8s/9s, and U13 B/Gs... It was good to see so many of the U13 boys and girls players attend to help with the younger guys in the skills, demos, and scrimmages. With 3 adjacent scrimmage fields, everyone got in a great run and we were able to split the groups by age/ability. Thanks to the older players for being mentors to the younger kids, and for setting such a great example, you make our RVFC (Club) proud. IF the weather cooperates again next year, we will consider another Holiday camp........!!!!
---
Off Season/Training Lessons Offered
Monday, April 25
Scorps-Rojos Open Season with FIRST Place Medals in U9B Open (NM Rush Spring Cup)
Scorps-Rojos Open Season with FIRST Place Medals in U9B Open (NM Rush Spring Cup)
Playing UP again in the U9B Open/Gold bracket, the U8B Scorpions-Rojos fought past 4 solid teams and went undefeated in the NMR Spring Cup. The team tallied 16 goals while allowing only 4, and eight different players scored. Highlights included some great combination play from Alejandro and Liam for several goals, Tyler's chip/drive over the keeper from about 25-30 yards, Johnny's 1-touch off a nice cross, Skylor's left-foot laser from 20, plus Camden, Akshay, and Ross all showing good skills and scoring quality goals. The defense was aggressive and rock solid as usual with Abe, Ross, Akshay, Alejandro, and Skylor challenging every attack..... This early season tournament pointed out many areas to work on during the Spring season, but was encouraging as we were competitive with the U9s in close wins versus the NMR Lightning from LC (3-2), the NMR Bears (5-1), the NMR Fireballs (3-1), and the Corrales Comets (5-0). After three ties, it was our first win vs the Fireballs, and another tough battle between our two teams. A good start to the Spring season....
---
Monday, April 25
SCORPS-RED Earn Medals in Classic Spring Cup
SCORPS-RED Earn Medals in Classic Spring Cup
Missing our top three players to February ski trips and basketball games, the RED team still brought home 2nd Place (Silver) Medals in their only pre-season tournament, sponsored by Classic FC. The Scorpions 2001 RED team, playing in our true U8B Open division, scored 27 goals, gave up only 3, and generally knocked the rust off from a winter away from soccer. It was an encouraging start for the Red team, as we had only had ONE true practice before the tournament, and are still a team that is just 6-7 months old. A highlight of this tournament was our first chance to play versus a strong Clash Premier U8B team. Although we came out on the short end of a 1-2 scoreline, it was nice to see we could hang with an experienced team that has been together for 2-3 years already. Thanks go out to three of our Rojos players for subbing in on the Red team and covering for the guys who had other commitments. It was a tough adjustment for these three players, as they had never played in the 4v4 format, on the smaller fields, and it took a couple games to adjust from the U9 fields/goals they are used to. Overall, good experience for the Red team players and guests.
---
Monday, April 25
Scorpions "Feather Banner"
Scorpions "Feather Banner"
After using a home-made team flag for the past 5-6 years, coach purchased a Scorpions "feather-banner" (from Bellweather Banners,
http://www.bellwetherbanners.com/gallery.html
) for use by our current and future Scorpions teams. It is really cool, has both the RIO and Scorpions logos, uses our TEAM (Red/Rojo) and RVFC Club colors (Blue/Gold), and is really big!! It's 17 feet tall!!!! You will be able to find us very easily in tournaments out at the Complex, at Balloon Fiesta Park, at out of town tourneys, at tryouts, etc. It should last for the next 6-8 years for Scorps2001 (and Scorps'05-'06?). The nice thing about keeping the same team name from year to year to year, is that we can accumulate TEAM stuff and re-use it for a variety of teams. Scorps 2001 Red and Rojos are Coach Jeff's 4th and 5th RIO Scorpions teams, following in the footsteps of Scorpions'91, Scorps'96-Red, and Scorps'96-Gold!!
---
Monday, April 25
Scorps-Red "Pin Down" THIRD Place
Scorps-Red "Pin Down" THIRD Place
Our Scorpions-RED (U8B) team travelled south to Las Cruces for the Border Cup tournament and our Red team's only soccer trip of the year. Playing in a large 8-team U8B Gold bracket, the Scorps had to adjust quickly to playing on larger fields (~35x55), with 6'X17' goals, with throw-ins rather than kick-ins, and yet still playing 4v4 without keepers. It was FUN with lots of goals scored (we scored 42 goals in 4 games), but way different than normal U8B league play in Albuquerque. The last game of the weekend, vs a strong travel team from Lovington, was perhaps the "best" game the Scorpions Red team has ever played. The Lovington team was far more athletic than our Scorps team, with at least 6-7 players faster, bigger than our best players. The Scorps however were the better TEAM, and our passing, spacing, and team defense proved the difference in a close 6-5 win for THIRD place in the tournament. The tournament director gave the Scorps a bunch (70-80?) of extra tournament PINS to give out to other Albuquerque teams to use for pin-trading and also to market their tournament for next year. The Scorps players and families had a good time in LC, won 3 and lost 1, had a team dinner together, played thru some viscious winds on SAT, and certainly earned their Border Cup PINs. Good tourney and trip!!

---
---
Monday, April 25
Scorpions WIN United Cup U8B Gold
Scorpions WIN United Cup U8B Gold
Missing our top athlete (Julian), our top scorer (Dominic), and having a couple guys at less than full strength (Alejandro and Akshay), this tournament proved a tough challenge to the young Scorps. But after a rough start on Saturday, they started finding their form on Sunday, and pulled out a first place finish in the 6 team field. In our first game, we were surprised by the strength of a Corrales Cosmos team with three very good guest players, and fell behind early, made tons of silly mistakes, and ended up on the short end of a 4-7 scoreline. Then we found out that a Lovington team had decided not to attend due to concerns about the flu, and altho we got the forfiet win, it looked like we might be out of contention due to points? Not a great Saturday or start to the tourney. Our best hope was to win big on Sunday, so we attacked from the outset and cruised to a solid win versus a good NMR Tigers team. This put us tied with the RVFC Gladiators on points, but the Scorps got thru on the goal differential and earned a chance to play the Cosmos again in the championship game. This time, the Scorps were the stronger TEAM from the beginning, and passed around the defensive pressure applied by the Cosmos. It resulted in a 7-3 win for the 2001 Scorpions, first place finish, and medals for the boys. Jaren and Jayson were the defensive stars for the Scorps on Sunday, while Akshay (7), Alejandro (7), and Chase (3) provided most of the offensive punch. All the Scorps players had at least 1-2 goals, and 4 different guys tried the key centerback/sweeper role. Ale had been sick during the week and was only playing at about 50% on Saturday, and maybe 75% on Sunday? Akshay's knee was bothering him off and on, so played limited minutes? Julian called in THUR that he was sick and would miss the tourney. Kudos to the seven Scorps that did play, AND to the Cosmos team for providing good competition and good sportsmanship in two tough, well-played games.
---
Monday, April 25
New Addidas TEAM Warm-Ups
Addidas TEAM Warm-Ups

Thanks to some generous donations from several team sponsors, the Scorpions Red/Rojos companion teams have purchased a set of red and black Addidas warm-up pants and jackets. They will be a welcome addition to the players gear bags, and will come in handy on those brisk mornings, or windy Fall days at the soccer fields/complex. The boys may be "swimming" in them a bit this year as they were sized to last the next 2-3 years and to allow for the player's growth. The Scorpions TEAM image continues to develop with the RED team colors and the SCORPION logo embroidered on each jacket...... the RVFC club and Scorpions names are also on the jackets, and each jacket and pair of pants also have the player's number. The team also provided a set for coach Jeff. Thanks to Manny, Luis, Mona, and Sonia for the legwork in sizing, designing, ordering, and distributing the warm-ups, and for our supplier, the Soccer Connection, for the prompt service and embroidery work. (It helps that Jayson's dad Tony is a part-owner of the Soccer Connection).
---
Monday, April 25
Scorpions Add SIX New Players To Rosters
Scorpions Add SIX New Players To Rosters

As the U8B Scorpions transitioned into the U9B Scorps Red and U10B Scorps Rojos, the teams were able to expand their rosters a bit and fill in a couple open roster spots from the Spring season. In doing so, the Scorpions welcome SIX new players and their parents/siblings to our "Scorpions companion teams FAMILY". The teams have added StevenL, AlexR, DuncanM, MateoC, WylieT, and YahannaB to our rosters for our U9/10 soccer year. In addition, a few players (JaysonB, CamdenE, and TylerE) moved between the two companion teams in order to find the best match for their soccer development, fit family schedules, and to help coach Jeff in terms of balancing parent assistant coaches on each team. Players between the two companion teams all train together, mix in all scrimmages, guest in tournaments, and all inter-mingle in all team functions and activites. So, we are one BIG "family" of players, siblings, parents, and coaches .......... about 70-strong.
---
Monday, April 25
Summer 3v3 Tourneys & League Play Successful - 4 Teams Qualify for Regionals/Nationals
Summer 3v3 Tourneys and League Play Sucessful 4 Teams Qualify for Regionals/Nationals

From June thru mid-August many of the Scorpions players/families formed 3v3 teams and played in the summer 3v3 leagues and/or tournaments in the Albuquerque area. They combined with friends, other teams, or mixed up our Red/Rojos rosters to field a couple teams in the RIO 3v3 summer league on the East side, and some joined /formed teams on the West side in the NM Rush 3v3 summer league. Parents coached the teams most of the time. The Scorps also threw two teams into the Kick-It 3v3 tournament and earned 2nd and 3rd place medals with both teams qualifying for the RM 3v3 Regionals in Vail, CO ....... altho neither team made the trip due to costs and family commitments. Later in August, we also entered two teams in the 3v3LIVE tournament, with our teams coming out with both the gold and silver medals in this tourney. The championship game between OUR two teams was a real barn-burner, ending with a golden-goal in overtime!!! Scorps assistant coaches formed and coached the teams in this tourney. Both teams qualified for the 3v3LIVE nationals held in either Texas or Nevada next winter. The combined summer 3v3 record was 34 wins and 16 losses between all the teams, with many games being between Scorpion teams. It was a fun summer for the Scorps, very relaxed, and with a chance to get in a few touches between all the family vacations, swim meets, tennis lessons, and various summer activities.
---
Monday, April 25
ROJOs End Spring Season By Taking THIRD Place in Sandia Cup (U9B Gold)
ROJOs End Spring Season By Taking THIRD Place in Sandia Cup (U9B Gold)
The Scorpions Rojos joined a strong field of 9-10 teams from El Paso, Las Cruces, and Albuquerque and played UP a year in the U9B Gold division of the Sandia Cup (May'09). Guest players, LucasJ and JaredO, helped cover for a couple of the Scorps who were out of town on family vacations over the Memorial Day weekend. All FIVE games were tight, close, hard-fought matches with the Rojos finishing with a record of 3 wins - 1 loss- 1 tie over the three days of competition. The close 0-1 loss to Alamenda Azul knocked the Scorps into the 3rd/4rth place game versus the DP Rangers from Las Cruces, which ended in a tough 1-0 win for the Scorps. Highlights of the tourney included the Rojos first wins versus the Cypress Jrs (LC), and the Rangers (LC), and the fourth TIE of the year with the NM Rush Fireballs. It was also "cool" to have our Scorpions feather banner flying in the May winds out at the complex, and a nice way to end our first year together as a TEAM........ very good start for the 2001 version of The Scorpions!!!
---
Monday, April 25
Scorpions Teams BOTH Gain Finals at TWE
Scorpions Teams BOTH Gain Finals at TWE
On Oct 9-11 the Scorps companion teams went on our Fall TEAM trip to Las Cruces with a handfull of other Albuquerque teams to participate in The Whole Enchilada (TWE) tournament. Both teams made it into the championship games, but both also, due to fatigue and stronger opponents settled for 2nd place medals. With the younger guys, we don't put any restrictions on them, so they tend to race around all weekend, swim in the pool, stay up later than normal, goof off between games, and by SUN afternoon they're physically and mentally drained. But man, do they have FUN..... until "they hit the wall". Scorps-Red played in U9B Open division of 8 teams, won all three in pool play, outscored our opponents 19-2, and were first in our half of the bracket. In the finals we faced a team called the Blue Sharks and they were FAST!!! They had clobbered all the teams in their half of the draw and scored on us in the first couple minutes as we were not ready for their speed..... We did adjust and then outplayed them most of the game, creating many scoring chances. Unfortunately they hit their few chances and we missed our MANY chances, so the final 1-3 score could have been reversed..... it was a good challenge. Scorps ROJOs played in U10B Open division of 7 teams and got into the finals on about the fourth tie-breaker.... where we played a very good EP Arsenal United team. They were big, strong, fast, skilled, and definitely seemed a year older than most of our guys. We were on our heels and a bit intimidated as they came down and scored 2 goals in the first few minutes...... just powering past our guys. But, got it together and picked up our intensity and played some GREATsoccer for the next 30+ minutes and matched their level of play. Got a PK goal from Steven to bring it to 1-2, and kept up the pressure midway thru 2nd half. While the score was close, we had energy, but when they got a third, you could see just how tired all the guys were and it deflated their enthusiasm ....... They were the better side and deserved it, but it was nice to see our guys raise their level of play and really compete. They seemed to be substantially stronger than any of the U10B teams we've played in ABQ. We were proud of the players....... and they certainly earned their 2nd place (silver) medals.
---
Monday, April 25
DCSL Fall Season Starts Well but Fizzles
DCSL Fall Season Starts Well but Fizzles
Colds, the flu bug, allergies, injuries, and family conflicts all combined during the last couple weeks of the Fall League season to keep the Scorps somewhat short-handed in their last 3 games for each team. Unfortunately, those were also the games versus some of the top teams in the U10B and U9B age groups. Even so, the Scorps won/tied 12 games and lost 4 in League play during Sept./Oct. and overcame a number of minor set-backs. But it was not as much fun as it usually is, due to an unfortunate injury to an opposing player, a red card for one of our guys, and all the associated concerns and review of the accident. We had already signed up for the G-S tournament, but the season was feeling pretty long at this point, so we considered pulling out and taking a break. Instead, we decided to support the Club and play in the G-S anyway............ to go forward, sometimes you take a small step backwards. A relaxed off-season will help all of the players, parents and coaches re-charge and re-focus on what's really most important about youth soccer....... enjoyment of the game, player development, etc.
---
Monday, April 25
Scorps Ball-Boys at UNM Men's Soccer Game
Scorps Ball-Boys at UNM Men's Soccer Game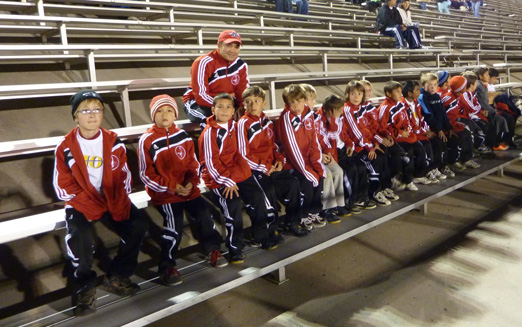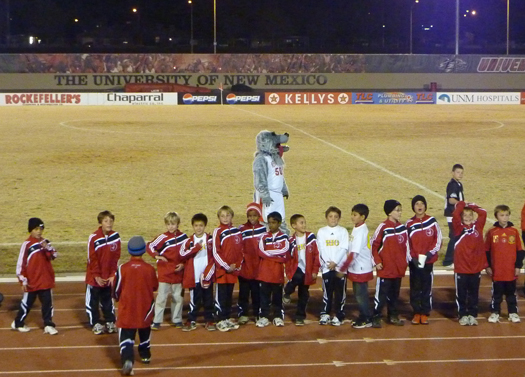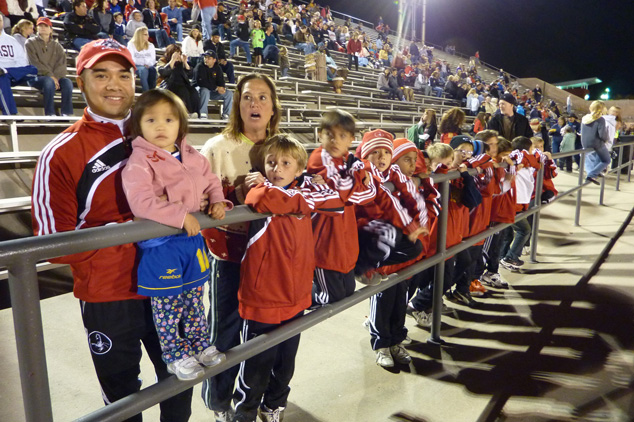 ---
Monday, April 25
ROJOs End Fall season with Medals
ROJOs End Fall season with Medals
Braving miserable conditions at the Complex, the Scorps teams both participated in the Gaylord-Sheppard primarily to support our Club (RVFC) and end the season with a local tournament. The temps were in the low 30s, the north wind was howling, the fields had snow on them and the boy's boots were covered in ice........ it was VERY COLD!!! The Red team played in the U9BG division with 5 closely matched teams and fought through 4 one-goal games, but unfortunately missed out on medals this time around. The ROJOs playing in the U10BS bracket versus teams they have not faced recently won all four games and did not allow a regulation goal, while scoring 16 total goals. Due to the bitter weather conditions, the championship game went directly to a PK Shootout with the Scorps hitting on all 5 attempts and our opponent hitting on only 3 of 5 shots. Our newest keeper (Yahanna) showed his agility and reach, and all five Scorps were cool and relaxed in taking their PKs. And although both teams would have rather played the full game, the shootout was good experience for the teams, and it was nice to leave a bit early and get out of the WIND!!!
---
Monday, April 25
Scorps Begin 2010 Season With Meltdown and Spring Cup Tourneys
Scorps Begin 2010 Season With Meltdown and Spring Cup Tourneys
After a long winter's break for most of the Scorps families, the teams knocked off the rust and got back on the pitch with two FEB pre-season tourneys. The Red team decided to try the AYSO Meltdown and played UP in a mixed U10/U9 age group, where three of the four opponents were Advanced Challenge Teams (ACT), and had a number of strong players on each. And while the player's individual skills and speed were comparable, it was apparent that the Scorps had been playing together for 18 months and were a bit more organized as a team. The Red team won all four of their contests, got a taste of 7v7, and played on the full-sized goals out at the Complex........ so LOTS of goals!!! By contrast, the ROJOs played in the Classic Spring Cup and started the year with three of the strongest teams in NM in the U10B age group. It was obvious that the DP Rangers (LC) had been playing over the winter and had participated in the President's Day tourney in Phoenix as they came out fast and crisp. It took the Rojos a little time to adjust as it was our first game of the Spring season (loss, 0-3). Next we had Alameda Azul (tied, 0-0) and also the RVFC Red Devils (Tied, 1-1), so it did not get any easier..... The Rangers (LC) won the U10B Gold bracket over the Red Devils, while the Scorps-Rojos finished in THIRD.......... all four teams were fairly evenly matched. A decent start vs some of the top teams, so really can't complain too much. Both tournaments pointed out many areas to focus our Spring practices on -- and that's the whole point of the pre-season tournaments. Good to be back out on the soccer fields, and for "the Complex", the weather was ...... not too bad!!!
---
Monday, April 25
Red Team Swims & Dances Way to Silver Medals
Double click on above photo to play or stop slide show.
Red Team Swims and Dances Way to Silver Medals
Scorps RED travelled to LC for the Border Cup and a midseason break from League play. Along the way, the team got in four quality games (5-team bracket) versus teams from LC and EP, and our first taste of summer with temps in the mid-to-upper 80s. Luckily, the Scorps played the two strongest teams in morning games and played well in both contests, losing a close one (2-3) to the Deep Purple Sharks, and winning a good battle with NMR Force (2-0). The afternoon games in the heat, and with both being our 2nd games of the day vs opponents playing in their first of the day, were pretty ragged but the Scorps pulled them out and earned second place medals. The wins versus the RV Scorpchers (2-0), and EP Cobras (3-0) both saw the Scorpions control play for most of the game, but had trouble putting our shots on-frame. The team defense improved after the first game and the team recorded three shutouts in a row. The swimming and dancing? Because the team was done with both games by 1pm each day, and because it seemed VERY HOT, the boys spent most of the afternoon SAT in the hotel pool. Then after a great Team Dinner in Old Messilla, many of the players, parents, and coaches went to the town-square/pavillion where they "amazed" the large crowd with their salsa, samba, and other? dance moves........ I think I also recognized "the Robot", the "Sprinkler", and what looked like "white horse" (from the pool????). It's amazing how uninhibited 8-9 years olds are (some of the soccer moms and dads too)!!! Everyone had a great weekend in LC, and altho it is not the ideal way to play a tournament, the Scorps' weekly fitness work kept them from being too rubber-legged during the games......... that was saved for the dancefloor.
---
Monday, April 25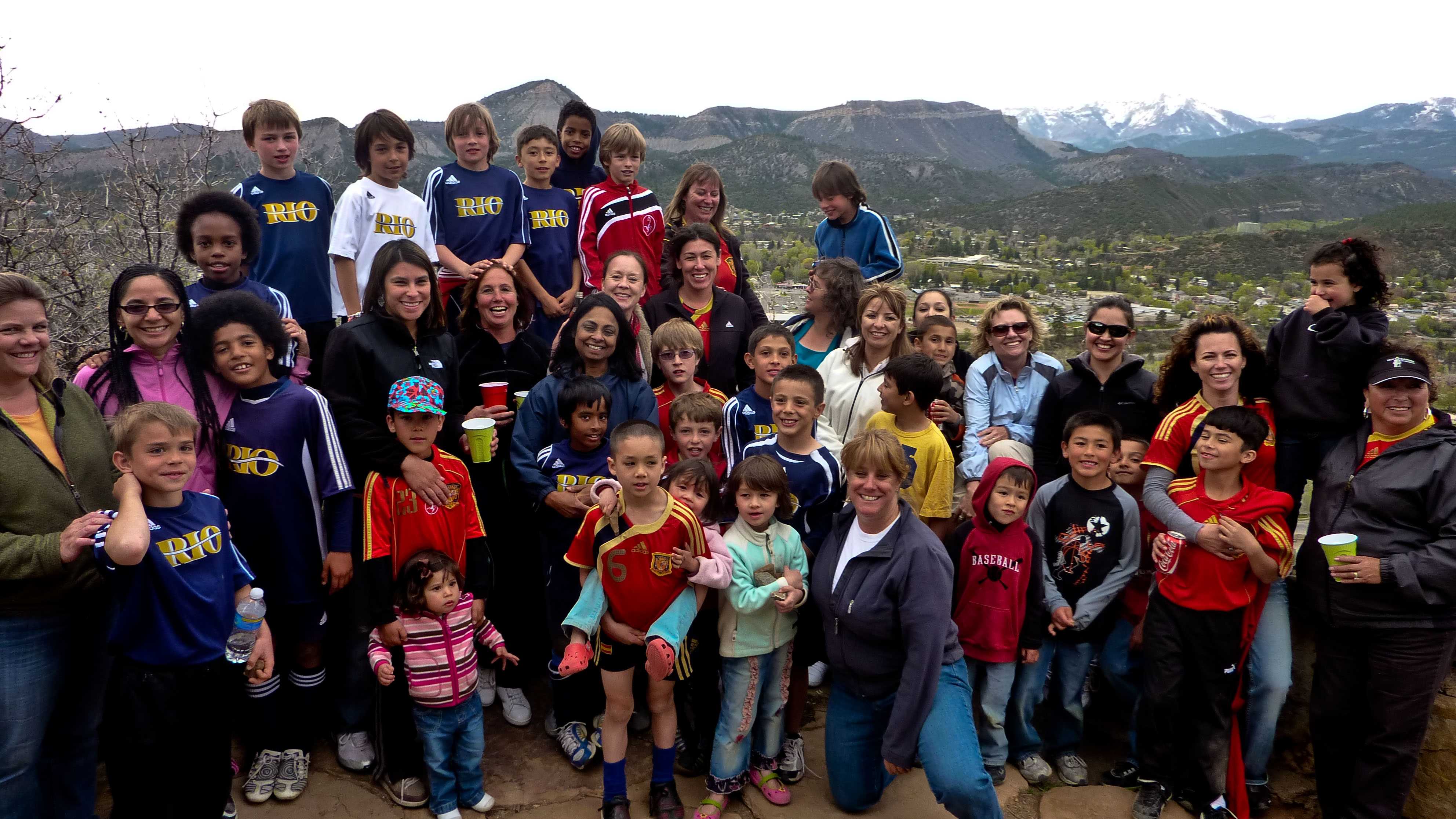 Mama Scorpions Smell The Roses in Durango
Both Scorpions Red and Rojos teams enjoyed a combined Spring TEAM trip to the Durango Shootout (May 7-9) and celebrated Mother's Day together in near-perfect weather. Before their morning games on Sunday, the players ran across the fields and presented their moms with roses and a pre-game hug. On Saturday afternoon, all the families also had a great "Scorpions Family Picnic" at the Lion's Den picnic shelter with a great view of Durango and the valley below. The trip itself was the focus of the weekend as a fun reward for all of the hard work in practice sessions during our U9 year. But we also played some soccer as both teams played up a year in the U10B Gold (Rojos) and U10B Silver (Red) brackets, and were tested by the older, faster teams. The Red team, who normally play league and tourney games in our true U9B age group, won one (7-0 vs Durango HB), tied one (2-2 vs ACT Renegades) and lost a close one (1-2 vs AUFC) for only our second loss of the Spring season (16W-2L-1T)........ some of the players on the Red team, since they are already playing up a year in U9B were actually playing up two years in this tourney....... a good competitive showing, where we simply missed a few too many open shots. In the U10B Gold bracket, the Rojos won all three games and only allowed one goal during the weekend. Playing up in all DCSL games and in most tourneys, the Rojos are used to the speed and size of the U10B age group, and have been tested by playing most of the top U10 teams in NM. The finale was a close, hard-fought battle versus the DYSA Storm, and a thrilling 1-0 win with a goal in the last few minutes of the game for the Gold medals. Lots of fun for everyone in Durango, and nice change of pace and chance to play different teams, pins/medals, and ROSES for all the MOMs that could attend.
---
Monday, April 25
Kohl's Cup Travelling Road Show FUN For Scorps
Kohl's Cup Travelling Road Show FUN For Scorps
Last weekend in S. Dakota, this weekend in NM, next weekend in ??? -- The Kohl's American Cup made it's annual stop in Albuquerque. After playing UP the previous weekend in Durango, and for most of the year, the Scorpions fielded a mixed team and participated in the fun and relaxed tournament. Lots of fun "stuff" (handouts, activities, games, sponsors giveaways, etc) for the players in addition to the fiesta-style tournament. It was also a chance for the boys to be out at the Bernalillo Soccer Complex while the NM State Cup was going on for the older teams. The team was missing Yahanna (knee), Duncan, and Johnny for all, or portions of the tourney, but still had enuf firepower to cruise by the rest of the field, rotate players thru all positions, and average about 6-7 goals/game. And although the Kohl's Cup was a reason for the 2001 Scorps to be out at the fields, it was State Cup that was the real attraction. Coach Jeff and the boys were able to observe many of the ex-Scorpions'96 and '91 players, now scattered on a variety of teams playing in State Cup in the U13B (RVFC'97), U14B (RVFC Reds, RVFC Atlantis, AE Santos, and RVFC Copa'96), and U19B (RVFC'91 and Red Star) age groups. Kudos to the Kohl's folks for a fun, quality tournament, and for hosting it at the same time and venue as the NM State Cup!!
---