Scarsdale Youth Hockey Association: Welcome
Let's Play Hockey!
Tryout Evaluations
Murray Skating Center
Tuesday April 8th
6:30PM-7:30PM Squirts
7:40PM-8:40PM PeeWee
8:50PM-9:50PM Bantam
Tuesday April 22nd
6:30PM-7:30PM Squirts
7:40PM-8:40PM PeeWee
Evaluation Fee $20
Squirts & PeeWees attend both sessions
-----------------------------------------------------------------------------------------------------------------
Scarsdale Youth Hockey Association (SYHA) is Announcing Registration for the 2014-15 Fall-Winter Season.
Below you will find 1) How to register and 2) a Summary of our program next year at each age level.
We encourage you to pass along this information to interested families who are not yet part of SYHA.
Season starts in early September 2014.
Registration
Registration for the 2014-15 Fall/Winter season is now open. We encourage you to register ASAP, as this will assist us with finalizing our programs and coaching line up. If you played with SYHA during this past season, and are NOT planning to play with us next season, please email syha.info@gmail.com as soon as possible.

RETURNING PLAYERS: To register for next season and pay the $500 deposit, simply visit www.scarsdalehockey.com and click 2014/15 Registration on the left side of our home page.
NEW PLAYERS: For players that did not play with SYHA this past season, send an email to syha.info@gmail.com, stating your interest in playing with us next season along with your players' Name and Birth Year. Additionally, please visitwww.scarsdalehockey.com and click 2014/15 Registration on the left side of our home page to pay the $500 deposit.
SYHA Program for 2014-15
Mites - Birth Years 2006 - 2010

"Learn to Play Hockey" - This program is for the beginning hockey player. Skaters are asked to have the ability to stand independently on skates. Full equipment is required. This team will have one to two practices/3v3 cross ice scrimmages per week.

"Mite Cross Ice Team" - Experienced skaters will participate in a cross ice, 3 on 3 hockey program. Practices will follow the USAHockey ADM program. www.admkids.com. Teams will have two to three practices/cross ice games per week. This team will participate in local and travel jamborees and 3 on 3 cross ice games.

"Mite Full Ice and Advanced Cross Ice Team" - This team will play in both cross ice games and full ice games and travel tournaments. Will have 3 to 4 practices/games/tournaments per week. ADM instruction and Full Ice concepts will be covered.

There will be no spring Player Evaluation Sessions for Mites. SYHA will place Mite-aged players in their appropriate program and team in the Fall, after the first several practices. We also expect to have Laura Pecchia and Erik Nates again conducting extensive professional clinics throughout the year.
If you have any questions about our Mite program please contact Larry Fehrenbaker at l.fehrenbaker@yahoo.com
Squirts ('05 and '04), Pee Wees ('03 and '02), and Bantams ('01 and '00)
We will run our usual Hudson Valley Hockey League travel teams at the Squirt, Pee Wee, and Bantam levels. We are currently finalizing our coaching line up for next season and again expect to have Erik Nates running professional clinics throughout the season. For older players on school teams we will schedule practices and games to accommodate the school team schedules. If you would like more information, please contact:
Larry Fehrenbaker: l.fehrenbaker@yahoo.com
We are looking forward to a great season of Scarsdale Hockey next year!
------------------------------------------------------------------------------
SYHA VIDEOS - 2013/14 (just added) and PRIOR YEARS
----------------------------------------------------------------------------------
CONGRATULATIONS TO SCARSDALE COACH PETE CAPUTO, WINNER OF THE 2010 NEW YORK RANGERS EMILE FRANCIS AWARD FOR HIS OUTSTANDING SERVICE TO YOUTH HOCKEY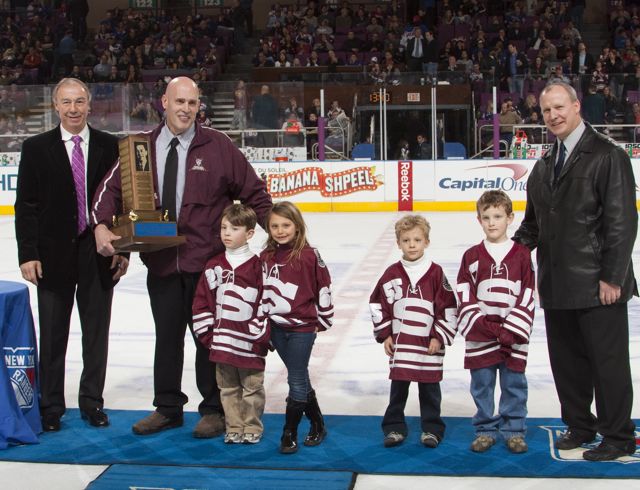 The entire Scarsdale Community is so lucky to have you as a part of its community...SYHA is of course the proudest and luckiest!

TO READ THE ENTIRE STORY, PLEASE VISIT THE NEW YORK RANGERS WEBSITE
Want to see more pictures, including a personal note from Emile to Pete???? CLICK HERE
--------------------------------------------------------------------
Contact
Webmaster
at
syha.web@gmail.com
for assistance logging in.
SYHA is an organization described in Internal Revenue Code ("IRC") Section 501(c)(3) and is thus a tax-exempt organization under IRC Section 501(a). If you wish to inspect SYHA's annual information return, its application for exemption, or its exemption letter, please contact John Roberts by email or by calling him at (917) 757-4839. Reasonable fees for photocopying and postage may apply.