Shaler Area Elementary Wrestling Association: Welcome
Home of the Shaler Titans! Head Coach: Mike Heinl
`
Congratulations to the wrestlers who competed up at States!
We had 11 place Winners!!
Congratulations again to all our wrestlers on a great season! All of you should be very proud!
Sammy Hillegas~2nd place
Ian Scarberry~2nd place
Ryan Sullivan~2nd place
Benji Kane~3rd place

Shane Kelley~4th place

Garrett Reinsfelder~4th place
Jake Miller~5th place
Logan Heinl~6th place
Mike Heinl~6th place
Dylan Mellinger~8th place

Jake Pollak~8th place
We have 17 Wrestlers going to the "Big Show"
Congratulations to the 17 Shaler Area Wrestlers who will be competing at the Pennsylvania Wrestling State Championships in Wilkes-Barre, Pa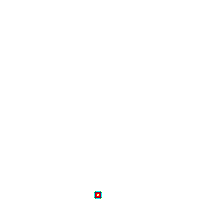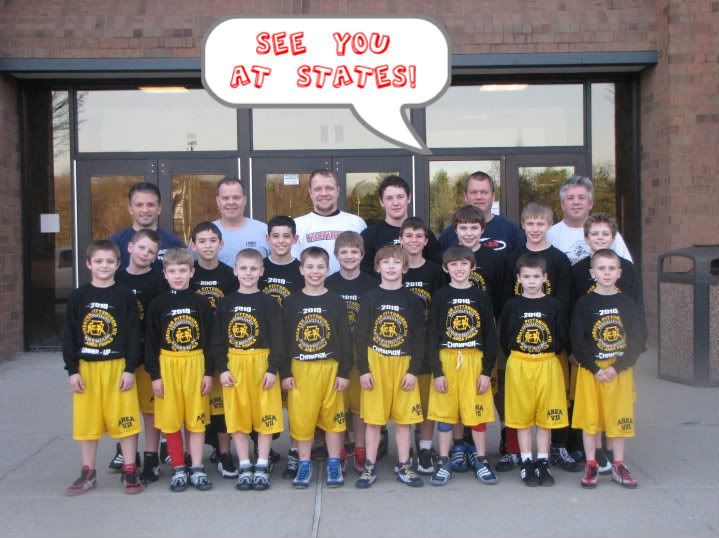 17 Shaler Wreslers:
Shane Kelley
Sammy Hillegas
Ian Scarberry
Ryan Sullivan
Garrett Reinsfelder
Dylan Mellinger
Paul Barkley
BB Fugh
Logan Heinl
Jake Hartman
Ronnie D'Amico
Jake Pollak
Aaron Rouda
Nick Shideler
Mike Heinl
Jake Miller
Benji Kane
Congratulations to Brandon Walsh
Novice Road Warrior Champion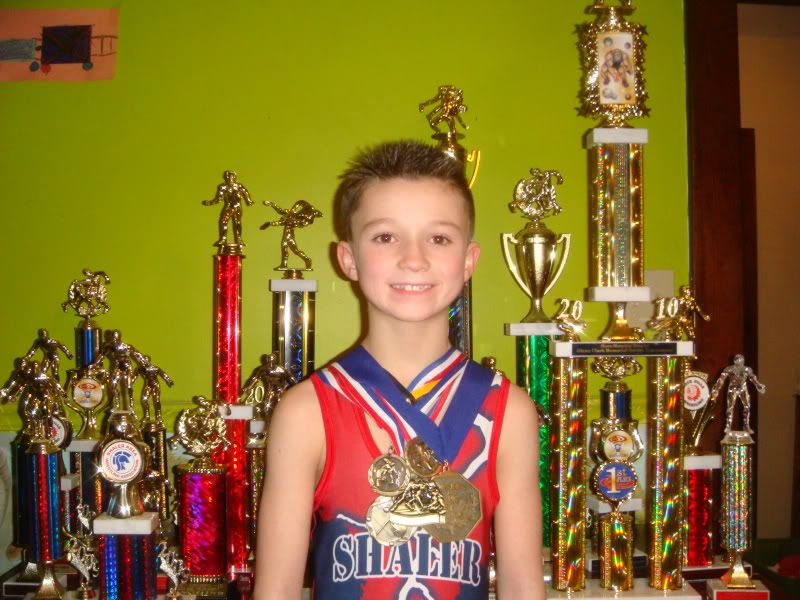 Brandon Walsh of Shaler Area captured the 2009-2010 NHWL Road Warrior novice division championship this past weekend at Seneca Valley. Brandon is a 2nd year wrestler along with his brother CJ Walsh who finished in the top 25 as well. Brandon attended every tournament hosted by the NHWL teams and placed 1st each time. Congratulations to Brandon and his family who supported all of the NHWL tournaments this year! Your hard work and dedication to the sport of wrestling showed every time you walked on the mat.
A Big Congratulations to Kraig Nellis!!
Kraig will be inducted into the National Wrestling Hall of Fame, PA Chapter. The ceremony will take place on April 18th, 2010 at 12:30pm.
The location for the event will take place at Pittsburgh Marriott North, Cranberry twp.
Kraig has contributed his time and support for our organization and kids. We encouraged all our Shaler Wrestling families to attend this event honoring him.

A 1979 graduate of Shaler Area High School. Attended Clarion University and obtained a bachelor's degree in business administration in 1983. Compiled a 77-9-1 record at Shaler. Was a two-time WPIAL section champion, two-time WPIAL champion and two-time PIAA place-winner, finishing fourth in 1978 and second in 1979. Placed fourth at the USA Wrestling Junior National Freestyle Tournament in 1978. Named Scholastic Wrestling News All-American in 1979. Compiled a 26-16 record in four years at Clarion. Became a member of the Dapper Dan Wrestling Classic Committee in 1988 and has been co-chairman since 1999. Was a member of the Organizing Committee for the World Wrestling Champions All-Star Meets in 1996 and 1997. Developed a youth wrestling program for the Boys and Girls Club of Western Pennsylvania with proceeds from the Dapper Dan Wrestling Classic.
Shaler brought it to the Mat!
The Shaler Titans took 1st at the 2nd annual NA's "Bring It To The Mat" Tournament
A "HUGE" Thank You to all our wrestlers and coaches that made Shaler's dominance at this tournament possible!
Our Shaler Wrestlers and Coaching Staff
A Big Congratulations to Sammy Hillegas!!!!!!!!
Sammy won the Pennsylvania Grand Slam this past weekend at North Hills.
Sammy won the championship by placing first at the W&J Kickoff Classic, Chartiers Valley Open,
NA Young Guns, and North Hills Open. Sammy not only won the 8 and under PA Grand Slam but he also
won the Grand Slam at the 10 and under division as well. This is the first time a wrestler has accomplished this feat.
A Quick Note from Coach Mike
Have a
account? Join Us!
Search us under Shaler Area Wrestling
Wrestlers Check Out This Video!!
Headstrong