ST. AUGUSTINE SWIM TEAM: Welcome
Sunday, March 9
ST . AUGUSTINE "CYCLONES" SWIM TEAM
The purpose of SAST is to provide a valuable opportunity and enriching experience for age group swimmers of all abilities in the St. Augustine area , to participate as a member of Florida Swimming and United States Swimming, Inc, and to be governed by the following goals:
*to develop competitive swimmers in an environment that not only reinforces training and dedication to the sport but fun and enjoyment as well.

*to develop shape, train and build quality swimmers as well as a appreciation for the sport of swimming.

*to encourage and promote the development of the individual as a swimmer and athlete at developmental, regional, and state and national level.

* to promote and encourage swimmers to set personal & team goals ,show good sportsmanship, and learn quality life skills through the sport of swimming.
Rocky
Cyclones start Spring Developmental Program Session 2 on May 13.
2014 St. Augustine Cyclones Swim Team Developmental Swim program for swimmers 5-12 will begin their Fall session on Tuesday, May 13th from 4:30 pm- 5:30 pm. Practice days will be Tuesday & Thursday and held at the Solomon Calhoun Community Center Pool located at 1300 Duval Street. The 6 week program will run through June 19. All swimmers must be able to swim 25 meters of the pool any style to be eligible. The programs focus is on proper stroke technique, starts, turns and finishes.
The cost for the program is as follows:
*Florida Swimming Registration fee $60.00 make check payable to FLORIDA SWIMMING. All swimmers must be registered with Florida Swimming to participate. Click Link below for Florida Swimming registarion form.
http://www.floridaswimming.org/szfllsc/UserFiles/File/2014%20Application%20-%20Y-R%20Athlete.pdf

*$100.00 per six week program make check payable to ST AUGUSTINE SWIM TEAM
*All swimmers must have a program participant waiver on file with the team.
Handout:
St. Augustine Swim Team Registration Form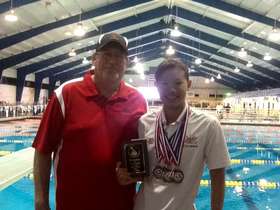 Head Coach Frank Holleman with Senior Girls High Point winner Vien Nguyen
Sunday, March 9
Cyclone Senior Championship Team finsihes 21st overall Florida Swimming Senior Championships
Our Cyclone Senior Championship Team had an outstanding performance at the Florida Swimming Senior championships held February 28- March 2nd at the International YMCA Aquatic Center in Orlando.
Day 1 started with Cyclone Madolyn Aucremann who posted a lifetime best of 11:02.51 in 14-16 1000 yard freestyle. She placed 24th overall.
Day 2 saw Cyclone Vien Nguyen take home two senior women titles. Nguyen took first place in both senior girls 200 yard freestyle (1:47.43) and Senior girls 400 yard Individual Medley (4:08.21) setting a new Florida Swimming Championship record. Nicholas Loomis took 6th place with a season best time of 51.75 in the 14-16 boys 100 yard butterfly. Madolyn Aucremann had a lifetime best of 1:00.76 in the 14-16 girls 100 yard butterfly. Our Senior Girls 200 yard freestyle relay of Vien Nguyen, Isabella Garofalo, Madolyn Aucremann and Hannah Ferreira dropped 3 seconds going 1:43.86 and our Senior Girls 400 medley relay of Vien Nguyen, Isabella Garofalo, Madolyn Aucremann and Kyle Allen posted a time of 4:19.63.
Day 3 saw Madolyn Aucremann dropped three seconds in the 14-16 girls 500 freestyle going 5:20.80. Isabella Garofalo went 25.00 in the 14-16 50 yard freestyle despite being under the weather and just missed a second swim. Nicholas Loomis moved up 5 spots in 14-16 men 100 backstroke B final going 54.14 taking 10th place. Vien Nguyen took home the title in the senior women's 500 yard freestyle (4:44.37) and runner up in the senior women 200 individual medley (1:59.23.). Our Senior Girls 400 yard freestyle relay of Vien Nguyen, Isabella Garofalo, Madolyn Aucremann and Hannah Ferreira placed 26th with a best time of 3:48.12.
Day 4 saw Bella Garofalo post a 56.23 in 14-16 girls 100 yard freestyle and Madolyn Aucremann dropped 29 seconds in her 14-16 girls 1650 yard freestyle (18:20.74) Nicholas Loomis posted a lifetime best of 1:56.18 in 200 yard butterfly placing 12th overall. He also posted at 2:02.19 in the 200 yard backstroke placing 15th. Vien Nguyen took home the senior girls high point award by placing first in the Women's 200 yard butterfly (1:58.64) and 2nd place in the 200 yard backstroke going 1:58.40.
Congratulations to all of these swimmers!
Monday, February 17
Cyclone swimmers shine at Orlando Grand Prix
Congratulations to Cyclone swimmer Vien Nguyen and Nicholas Loomis who represented the St. Augustine Swim Team at 2014 Orlando Grand Prix Meet this past weekend. Nicholas Loomis posted in the preliminary rounds times of 59.27 in the men 100 meter butterfly (51st), 2:16.66 in the men 200 meter butterfly (54th) and 1:04.22 in the 100 meter backstroke (65th). Vien Nguyen qualified for the A final in both the women's 400 individual medley and 200 meter backstroke and the B final for 100 meter backstroke. She posted personal best time of 4:41.68 in the 400 individual medley taking second place behind current world champion Katinka Hosszu of Hungary. Vien's time is the 10th fastest time in the world this year according to the FINA world rankings. She also placed 5th in the women's 200 meter backstroke (2:15.43) and 14th in the women 100 meter backstroke (1:04.13).
Sunday, March 9
2014 SAST Spring Practice Schedule
Senior and Age Group Program Monday- Friday 4:30 pm-6:30 pm Spring Developmental Program Tuesday-Thursday 4:30 pm-6:30 pm (Starting April 1st)
Sunday, March 9
2014 SAST CYCLONES SPRING MEET SCHEDULE:
March 22-23 Florida Swimming Area 1 & 4 Championship Jacksonville, Florida
March 26-28 NASA Jr Nationals Classic (qualifying times only) Clearwater, Florida
April 12 Julington Creek Loggerheads Aquatic Spring Meet St Johns, Florida
April 25-27 Episcopal Ambejax Ultimate Swimmer LCM Jacksonville, Florida
May 9-10 Bolles School Sharks Spring LCM Jacksonville, Florida
May 15-18 Charlotte Ultra Swim (qualifying times only) Charlotte, North Carolina
May 24-25 Episcopal Amber jax Midnight Madness Jacksonville, Florida
Friday, May 28
SAST PROGRAMS & FEES
Cyclones : History
ABOUT THE COACHING STAFF.........
Wednesday, December 19
Click here to get your swimmers best times at the USA Swimming SAST Club Portal
Cyclone Swimmers & Parents,
Check your swimmers performance and keep track of their times.
1. Click the above Headline.
2. Click "Meet Results"
3. Click Meet you want to get results.
It is that easy!
2009-2012 USA Swimming Motivational Time Standards
Saturday, January 1
2014 Florida Swimming Junior Olympic Qualifying Standards
Click link above for the 2012 FLAGS (Florida Swimming Age Group Championships)   Qualifying Times Standards.
Sunday, March 9
2014 Senior Championship Qualifying Standards
Click The Link Above To get  the 2012 Florida Swimming Senior Championship qualifying standards .
Thursday, April 23
Our New Home!
The SAST Cyclones will be holding all of our team practices at the new Solomon Calhoun Community Center and Aquatic Complex located at 1300 Duval Street in West St. Augustine starting May 11. The pool is a 8 lane 25 yard by 25 meter , 250,000 gallon aquatic facility with adjacent teaching area is part of the Westside Sports Complex that also includes a gymnasium and office spaces for various not for profit groups . It is the brainchild of the West St. Augustine CRA and St Johns County Recreation Department. In the future , plans also to include to add ball fields, a walking track and dog park to the complex. Our local First Coast Family YMCA will be providing lifeguard services and swim lesson instruction at the facility. The Cyclones will be providing all the competitive programs. Special thanks goes out to the West St. Augustine CRA, St Johns County Recreation Department and Family First Coast YMCA for allowing us to use the facility!