Sarnia Braves: Welcome
WCBA 18U Braves
The WCBA 18U Braves will start the selection process for the 2015 edition on Wednesday September 3rd, 5th and 7th at Errol Russell park.
Further dates will be announced for tryouts and Fall ball games will follow along with practice sessions going into late October weather permitting. All WCBA players with the birth year of 1997, 1998 and 1999 are encouraged to tryout.
For any information regarding the tryouts contact Jim Bigras at 519-330-5050
OBA's
Well done to all teams participating in the OBA's. The Sarnia Braves would like to congratulate all teams on their success!
Sarnia well represented at the LDBA Playoffs
The Sarnia Braves would like to congratulate all teams that represented Sarnia in the London League Playoffs! You all did a great job!
The Major Peewee and Major Mosquito teams were finalists and the Jr. Rookie and Minor Mosquito teams were champions!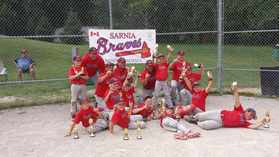 Jr. Rookie's
Tuesday, August 26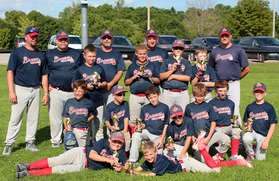 Minor Mosquito's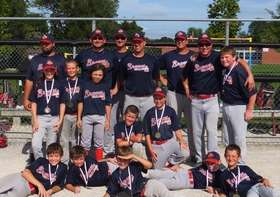 Major Mosquito's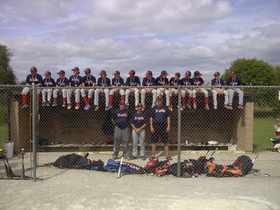 Major Peewee's
Congratulations to this weeks Cash Calendar winners!
Date Ticket# Amount Winner
Aug 26 #0820 $50.00 Chris Dougan
Aug 27 #0111 $50.00 Ivan Robinson
Aug 28 #0933 $50.00 Wayne Nichols
Aug 29 #0393 $50.00 Nancy Bickerstaff
Aug 30 #0443 $100.00 Jen Babub
Aug 31 #0403 $500.00 Bob Sauve
As Baseball season was over the draw was done at Tim Horton's Corunna on September 1, 2014 @ 6:00 by members of the Lambton Children's Safety Village - witnessed by Colleen Collins, Cherie Barnett, Julie Maw and Mary Ann Buntrock
You will be contacted by the ticket seller or a Braves representative in the near future! Thanks for supporting the Sarnia Braves Minor Baseball Association.
Click here for Diamond Closure information. Updated daily at 3:00 pm