Saratoga Sand Beach Volleyball Club: Welcome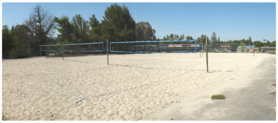 Saratoga Sand Beach Volleyball Club at West Valley College
Saratoga Sand Beach Volleyball Club
Sheri Hess (Current Valley Christian Girls VB Coach and past West Valley girls coach) will be running the Saratoga Sand and Beach Volleyball Club this summer (2012) at West Valley College.
Who: Girls (Ages: 14-18)
What: Learn and play the sand beach Volleyball game while having a great time with friends.
When: Mondays and Wednesdays 4:30-6:00 PM. Note: Some Fridays from 4:30-6:00 Where: West Valley College. Start Date: 5/21/2012 (May 21st thru end of July)
Why:
Many top indoor players are realizing that a good understanding of the sand game helps improve their indoor game.
Playing in the sand improves strength and conditioning for the indoor game
Playing sand teaches players to play smarter. With only two players on each team, players get the maximum numbers of reps and learn to work as a team. They will learn to cover angles and make smart shots against equally driven opponents.
Have a great time with your friends while getting exercise and learning new skills.
Cost: $40/week for Mon/Wed. $20 for Fridays when available.
For More Info., please contact Sheri at (559) 360-1943, email: sherihess1@aol.com