2013 Santos U18 Girls: Welcome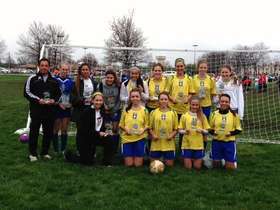 Bowling Green Spring Classic
Thursday, May 9
2013 Santos U18 Girls
This spring we are playing with mixed ages at the U18 level. It should be fun getting to know new players from all around the area.
Buckeye Premier and MOSSL games are added to the calendar.
UA FIELD HOTLINE 583-5345
Click on Links for soccer & Tournament info.
Click on "Events" at left to see calendar of games and practices. Click on the individual game to see location info. Click again for Yahoo directions.