Santa Susana Baseball: Welcome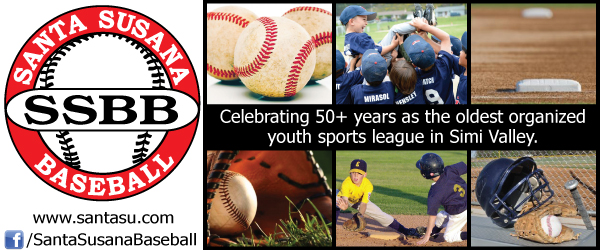 ---
Santa Su Baseball would like to thank the following people for joining us during Opening Day.
Jeff Weaver
American Idol Contestant Sadie Van
---
The Santa Susana Baseball League is a community baseball league run exclusively by volunteers with player divisions for boys and girls between the ages of 4 and 14. Our
baseball complex
is located in the scenic foothills of Simi Valley, California, at 4333 Township Avenue (between Tapo Canyon Road and Tapo Street).
The Santa Susana Baseball League has been serving the Simi Valley area for 50+ years. We are dedicated to teaching baseball skills, teamwork, and sportsmanship in the welcoming spirit of the PONY (Protect Our Nation's Youth) sports organization.
Join us and make new friends playing youth baseball the way it's meant to be played!
Santa Su Plays REAL baseball - Just like Major League Baseball!!
---
Are You Interested In Managing or Coaching?
We are now accepting applications for Managers and Coaches for the Spring Season.
Managers and Coaches must be at least 18 years old and complete a Live Scan background check.
NEW & RETURNING MANAGERS - Please contact Marvin Stone if you would like to Manage or Coach a team. Click here to download and complete the application. Please e-mail your completed application to vicepresident@santasu.com.
---
Subscribe to our e-mail list!
Are you receiving e-mails from SSBB? If not, you could be missing important reminders and updates! Please click the following link to be added to our database.
Once you have registered, please remember to check your e-mail and click on the confirmation link to complete the sign-up process.
Your privacy is very important to us and we will not share your e-mail address with any 3rd parties.
---