Santa Cruz Mid-County PONY: Welcome
Serving Santa Cruz County Youth Since 1957
Player Registration Is Now Open
Player registrations for the Spring 2019 baseball season are now being accepted. Registration is done by mail (no online registration).
Click here to download and print out the Registration Packet.
Walk Up Registration Sunday, January 13
Register in person at Aptos Junior High Gym 10 am-2 pm.
Mail-In Registration Deadline Is Wednesday, January 23
Register in person at Aptos Junior High Gym 10 am-2 pm.
Try-Outs/Player Evaluations Saturday, January 26
See Registration Packet for schedule. Try-Outs/Player Evaluations are used to balance teams. All players are placed on teams.
Polo Grounds Field Work
As the baseball fields at Polo Grounds are now closed until our spring season begins, Santa Cruz County Parks has started field maintenance work. Photos below show work currently underway on the infield including aeration, new topsoil and surface grading. In the coming weeks they plan to reseed the infield and a number of areas needed in the outfield.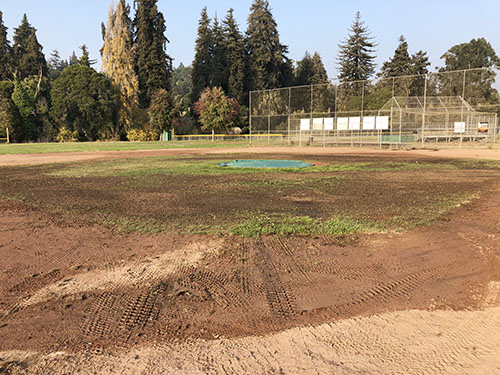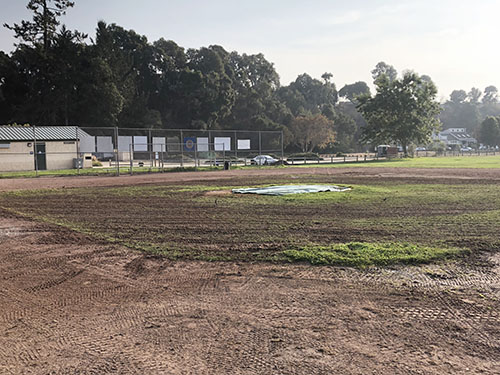 Next Board Meeting
Monday, January 14
Capitola City Hall - Community Room
420 Capitola Ave, Capitola
Tuesday, December 11 - 7:00 pm
PONY Baseball Adopts New USA Baseball Bat Standard (USABat)
New bat standard is effective January 1, 2018. For all the details, list of approved bats, etc. click this link.
Sign Up for Our Email List
Click here to sign up for our email list for latest information.
Mission Statement
The mission of Mid-County PONY baseball is to provide a safe environment in which to instill life skills including good sportsmanship, honesty, loyalty, respect and a sense of teamwork within the context of competitive baseball. In making decisions, the Mid-County PONY community will put the physical and moral welfare of our players first.
---------------
Mid-County PONY is a recreational baseball league for 13 and 14 year olds and under (age as of August 31, 2019) in the Live Oak, Capitola, Soquel and Aptos areas.
Click here for 2019 PONY Age Chart
Mid-County PONY Baseball
P.O. Box 1800
Soquel, CA 95073
---------------