San Diego Rowdies 18U: Welcome
San Diego Rowdies18U
View our Rosters and Profiles by Clicking Here!!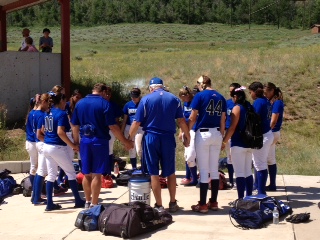 Welcome to the San Diego Rowdies 18U Website. We are part of the San Diego Rowdies softball organization that is committed to playing competitive softball in a positive team environment. We are also committed to the ideals of Faith, Family, and Friendship.
Player selection to the Rowdies is not based on any one thing or any one tryout but a collection of traits and qualities needed to develop a competitive softball team. Softball skill, motivation to play, committment to the Rowdie philosophy, positve attitude, and availability for practices and tournaments all go into the decision making.
While we want to win, we will never forget it is a game meant to have FUN and ENJOYED by players, parents, and coaches TOGETHER.
As Coaches our main goals are to help each athlete perform their best, both physically and mentally in game situations to help them aspire to reach their goals. The Rowdies are about sports, life, and teaching young ladies to respect the game as well as others.
View our Rosters and Profiles by Clicking Here!!
Monday, June 1
Jordan Stites Signs with Southern Virginia
Jordan Stites will continue her softball career by heading back east to play with Southern Virginia. Primarily an OF, Jordan has played 1B and 3B for the past couple of years with the Rowdies. Congratulations to Jordan...her hard work has paid off with a great opportunity moving forward!
Saturday, March 7
Arianna Marsh signs with Chico State
Arianna Marsh signs with Chico State to continue her softball career. Ari has been withthe Rowdies for the past 3 years and will take her softball talents north to Chico. Primarily a CF, Ari has played P, C, 1B,SS. and 2B for us over the years and will be a valuable asset to her new team. Congratulations to Ari !
Friday, July 18
Rowdies Carlie Daniel to attend Sonoma State
Carlie Daniel who played with the Rowdies over four years has signed to play with Sonoma State. After finishing a great career at Palomar College, she decided to continue her playing at Sonoma. Carlie won many awards at Palomar, including MVP of last years State Playoffs, along with helping them win the Junior College State Championship. She just finished up another great year at Palomar and we look forward to watching her play at Sonoma along with another Rowdie Gabby Dupree.
Thursday, July 10
Jessica Thompson Signs with Southern Nazerene University
Another Rowdie Jessica Thompson, formerly of Steele Canyon High School and Southwestern College has signed to play her next two years with Southern Nazerene Univeristy in Oklahoma. Jessica was with the Rowdies her junior and senior year of high school before attending Southwestern for the past two years. Her dream was to continue playing and we are glad to see her continue her softball career.
Friday, May 30
Gabby Dupree Signs with Sonoma State
San Diego Rowdies are proud to announce the signing of Gabby Dupree with Cal State-Sonoma. Gabby is in her second year with the Rowdies and just completed her senior season with Mission Hills High School. Congratulations and we look forward to watching you play at Sonoma!
Monday, February 10
Julia Bragado signs with Seattle University
San Diego Rowdies want to congratulate Julia Bragado with her signing on to play softball at Seattle University. Julia just finished up her senior season at Canyon Crest Academy and we look foward to seeing her continue to play at Seattle!