Sailfish Striders: Run for the Pineapple 5K
Monday, May 27
CONGRATULATIONS TO ALL OUR RUNNERS ON A GREAT RACE! FINISH TIMES ARE POSTED ON OUR RACE RESULTS PAGE.
SEE YOU AT NEXT YEAR'S RACE!
---
PHOTOS FROM THIS YEAR'S RACE
SARAH'S KITCHEN CHOSEN AS 2013 RUN FOR THE PINEAPPLE 5K CHARITY PARTNER
The Sailfish Striders Running Club made a donation of $2,500 from the 2013 Run for the Pineapple 5K proceeds to Sarah's Kitchen, an interfaith organization, which serves over 1,100 hot meals each week to individuals and families living on the Treasure Coast.  100% of all donations to Sarah's Kitchen are used to feed those in need.  Over 600 volunteers served more than 46,000 meals in 2012 at four sites in Ft. Pierce and Port St. Lucie.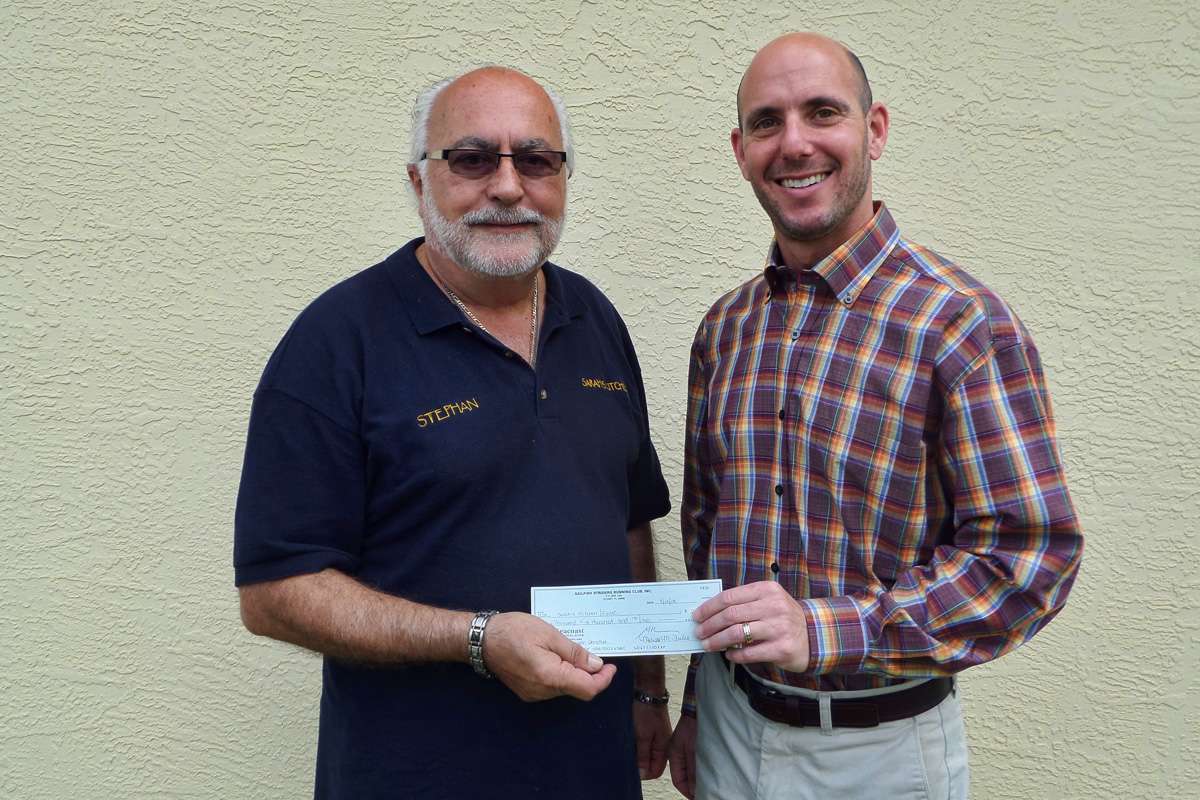 Gene Zweben, Co-President (R) and Stephan Lambert of Sarah's Kitchen.
OCEANSIDE PHYSICAL THERAPY, INC. IS PINEAPPLE SPONSOR
Bryan Graham, owner of Oceanside Physical Therapy, Inc., is sponsoring the finish line water station for runners at this year's Run for the Pineapple 5k!  Just think how good a cold bottle of water will taste after your race and you have Bryan to thank for it.  Bryan, a runner, and member of the Breakfast Club, is a great supporter of runners and races on the Treasure Coast.  We are fortunate to have his support for our race.  Please check out Bryan's Facebook page here.
---
DR. S. DONOVAN ESSEN IS MILE SPONSOR AT THE RUN FOR THE PINEAPPLE 5K
Dr. Donovan Essen, who owns a Palm City dental practice, is sponsoring Mile 1 of the 22nd Annual Run for the Pineapple 5k.  Dr. Essen supports local races and area runners through his Team Essen running group.  He is a runner and is training for a triathlon.  His wife, Samara, also competes in local races.  Dr. Essen was recently elected to the Board of Directors of the Sailfish Striders Running Club.  Click here for more information on Dr. Essen and his dental practice.  Please support the people and businesses that support us!
---
DR. BLATSTEIN IS BRONZE SPONSOR FOR THE PINEAPPLE 5K
Dr. Russell Blatstein, a podiatrist with offices in Jensen Beach and Port St. Lucie, is a bronze sponsor for this year's race.  Dr. Blatstein is offering a free consultation for Pineapple runners.  Please visit Dr. Blatstein's Facebook page by clicking here.