Saco Soccer Club: Alumni Report
Natalie Berry


Currently the Varsity Assistant Coach at Thornton Academy
4 year player and Captain at University of Maine
Midfielder
5-6
Saco, Maine/Thornton Academy

BEFORE UMAINE: A two-time All-Western Maine and All-State selections for Thornton Academy... also a member of UMaine alumnus Todd Sniper's Odyssey Soccer Club and the Maine Olympic Development Program... Odyssey was a three-time state champion and made an appearance in the Snickers Cup... named to All-Academic Team for two seasons. a member of the Maine State Champion track team... member of the National Honor Society... received the Outstanding Achievement Award in history and latin.

PERSONAL: Thornton Academy History Teacher.... daughter of Maureen and Steven Berry.



Sophia Louis
# 7 Sophia Louis
Senior
5-6
Center defensive back
Saco, Maine/Thornton Academy
BEFORE USM:
Sophia was a 4 year Varsity player at Thornton Academy. She played for our travel teams and also Odyssey Sport and ODP. All Academic and All Conference forward. Most improved player at TA.
PERSONNAL:
Major in buisness administration. Serves on the Student Athletic Advisory Committee. Sophia also works with incoming Freshmen to help with the transition to the college life.

Christina Cronin is selected as Soccer Maine's youth referee of the year!
Saco Soccer Club members receive recognition!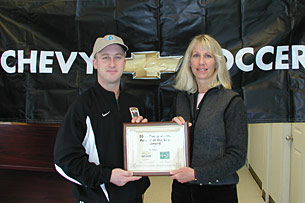 Pam McAvoy selected as Soccer Maine's Parent of the Year!
Youth official Christina Cronin and club registrar Pam McAvoy were recently honored at the 2004 Soccer Maine AGM held at Bowdoin college. Christina was honored for her quality officiating during the Fall season along with working in our U-10 festivals. Pam was also recognized for her many years of dedication and hard work to help our club grow strong and run smooth. We congratulate both Christina and Pam for their outstanding work and thank them as well.