Sachem Sports Club Girls Lacrosse: Welcome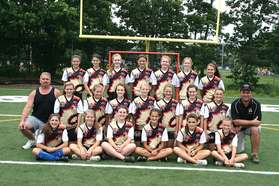 7th / 8th Grade Team
Home of Sachem Sports Club Girls Lacrosse
Our Spring Programs

On-line Registration for Spring 2014 is Now Open!
Registration for Spring 2014 will close Jan 31st, no exceptions!
www.sachemsportsclub.com
First Start Program This program is open to girls in pre-K to 1st grade. The program is designed to teach basic lacrosse fundamentals (scoping, catching, cradling, and throwing) in a fun and non competitive environment. Practices are offered twice a week and are in a "clinic" format. The girls move from one skill station to another so they are constantly moving and learning. Our program is tought by experienced youth coaches along with help from our Sachem varsity coaches and players. $65.00 per player ($35 for each additional sibling)
Sachem Travel Teams This program is open to Sachem girls in grades 2nd to 8th grade. This program is designed to teach lacrosse fundamentals, skills, and game positions in a safe and fun environment. Teamwork, good sportsmanship, and fair play are our core values. We are members of Suffolk County Girls Lacrosse League (www.scgl.com). Teams are based on current grade level and games are played on Sundays from April to June. 8 game schedule (4 home games and 4 away games within Suffolk County). This is an instructional league and is designed to foster a love for the game and to prepare players to make and play for their middle school and high school lacrosse teams one day. $125.00 per player ($95.00 for each additional player)
Other Programs - Camps, Clinics, and Tournaments Our Directors and coaches will schedule or communicate other lacrosse activities in the off seasons (summer, fall, winter) to our parents and players as they come up.
Please check this site for new or updated information.
Questions?
Call the Girls Lacrosse & field hockey coach's office at
(631) 610-3604
or e-mail the Director at:
coachchris34@yahoo.com