SA 5 Diamonds: Welcome
San Antonio 5 Diamonds Little League - 8214 S. Flores - San Antonio, TX 78221
---
Welcome to the heart of the Southside of San Antonio! We offer Little League sanctioned baseball and softball programs for boys and girls from ages 7 to 16! Come visit our fields and join us! Our league is located at 8214 S. Flores (between Formosa and Amber). We host SPRING divisions in non-sanctioned tiny tee (ages 3 & 4); in t-ball (ages 5 & 6); coach-pitch (softball (girls only) & baseball (boys) ages 7 & 8); Little League sanctioned minor (boys & girls ages 9 & 10); major (boys & girls ages 11 & 12); juniors (boys & girls ages 13 & 14) seniors (boys & girls ages 15 & 16) and Big League (boys and girls ages 17-18). Regular baseball rules apply for boys when playing in the 50/70 division (ages 12 & 13) and age 13 and older. Junior Division and older play on regulation baseball field (60/90). For each division (except Tiny T which is seperate from Little League), boys' age as of April 31 each year and girls' age as of December 31 of the preceding year. We are a volunteer organization and appreciate all community support. Thanks to all the people who generously volunteer their time, energy, and know-how! We are grateful for every minute! We are 100% self sufficient! We pay for every grain of sand, every seed of grass, electricity, garbage gobbler, ice, food products, paper products, repairs, supplies, player equipment, handsoap and sanitizers, maintenance on all equipment, gas for lawnmowers, weedeaters, and blowers, replacement of all field lightbulbs, paint, boards, nets, bricks, clay, dispensors, chalk, chalkers, etc.! We truly appreciate everyone's help and support. Thanks for making our park a lovelier place to play and for making our league such a success! We are extraordinarily blessed! Little League has amended its residency requirements to allow children to play in the local league whose boundaries where they attend school is located (f they do NOT already reside within the local league's boundaries). To verify enrollment, parents will need to bring an official school document, such as a report card of school enrollment form dated before October 1, 2013. Address verification are required every SPRING league, not for Summer or Fall leagues.
---
New age determination decision for 2016 season for Little League baseball can be read on the
www.littleleague.org
website.
---
ALL GAMES SCHEDULED FOR SUNDAY 11/01/2015 have been canceled due to continuous rain on Halloween. Be safe.
---
10/25 WAS RAINED OUT and WILL NOT BE RESCHEDULED DUE TO TIME CONSTRAINTS. THANK YOU!
---
Fall League plays only on Sundays. It is a preparation league for Spring 2016. Fall league age is SPRING 2016 league age. Schedules posted for Fall 2015 league on this website under HANDOUTS then under SCHEDULES. All coaches and volunteers MUST have backgrounds completed and a badge to be on the field of play. Start September 13 to November 15, 2015. 8 games will be scheduled within that time frame. Rainouts will not be rescheduled as we will not play through the November Thanksgiving break. All teams must pay umpire fees before the game at the plate meeting. Umpire fees for forfeited games will be paid by the team that forfeited prior to their next scheduled/played game. All teams MUST send 1 parent volunteer for concession duty for 1 hour prior to scheduled game start. Thanks for your support!
---
BOO FEST POSTPONED DUE TO RAIN
Look for the Pony Rides, 20 foot high inflatable slide, inflatable obstacle course, movie screening, photo booth, HAUNTED CONCESSION STAND, Haunted Hay ride, costume contest, pumpkin patch, karoake, face painting, etc.
Interested? Robert Martinez coordinating - 210-326-2033
---
Can you volunteer your time on the Board of Directors for 2016? Elections are Saturday October 24 at main concession 4pm to 8pm. Please nominate a dedicated volunteer or self nominate to sa5diamonds@yahoo.com. See the tab on the left for the Interest Form for the Board of Directors.
---
For volunteer badges and volunteer background check info, please see tab on the left
---
All Practice days and times for all 5Diamonds fields are coordinated by Sam Morales. Please call him at 210-831-3389 to get on field schedule. Unless scheduled through Sam, unscheduled or unauthorized use of fields is strictly prohibited.
---
Photography By Godsey: (210) 524-9594
---
Friday, May 15, 10:15am: Games scheduled for today, Friday, May 15 have been canceled due to non-stop rain since late last night. Decision for Saturday will be made Saturday, however we know that much help will be needed. Even if we can play afternoon games, we will. Thanks for your patience.
Wednesday, May 13: All games scheduled for 5/13/15 have been canceled due to rain.
FRIDAY, May 8, 3:56pm: All games scheduled for 5/8/15 have been canceled due to heavy rain and lightning. All teams should be prepared for rescheduled games next week in the 8pm time slots.

Wednesday, April 22, 4:16pm: Games scheduled for 4/22/2015 have been canceled due to heavy rain at the fields.

Saturday, April 18, 8:39am: Games scheduled for Saturday 4/18 9am to 12 noon have been canceled. Games with a start time of 1pm and later are moved to Sunday 4/19 same time and same field. Please text Elaine at 210-846-0415 ONLY if your team CANNOT make the game on Sunday.....Please arrive early on Sunday to Prep fields.
Friday, April 17, 3:55pm: All games at 5Diamonds have been CANCELED due to rain.
Thursday, April 16, 4:45pm: All games at 5Diamonds are playing as scheduled. However changes are subject to weather conditions.
Monday, April 13, All games at 5Diamonds have been canceled due to heavy rain flooding the fields. To ensure games are played on April 14, all parents and coaches playing on April 14 are asked to go early to work on the fields.
As of 1:00pm on Saturday, April 11th, all games at 5 Diamonds have been cancelled. Thank you for your patience!



---
Parents, for the safety of your children, all volunteers must wear 2015 badges to be on the field or in the dugout. A 2015 badge is your assurance that the holder has undergone and passed a Little League background. Please do not allow your coaches to be on the field or in the dugout without a badge.
5Diamonds Little League is proud to welcome back KINETIC KIDS to our complex for the FALL 2015 season. Please stop by any Thursday on Field #2 to welcome them.
Congratulations to the following 2014 5Diamonds All Star Champions!
Big League Baseball team are the District 21, Texas West Section 3 champions!

Big League softball team are the District 21, Texas West Section 3 champions and State finalist.
Senior League baseball won the District 21 title as well as the Texas West Section 3 championship
Junior League baseball won the District 21 title as well as the Texas West Section 3 championship
Intermediate team won the District 21, Texas West Section 3 championship. They were a semifinalist at the state tournament.
11u Major boys baseball WON the District 21 championship at Uvalde LL and won 2nd place in the Sectional tournament in San Angelo, TX.
Our Minor boys baseball team won the District 21 championship and won 2nd place in the Texas West Sectional tournament.
---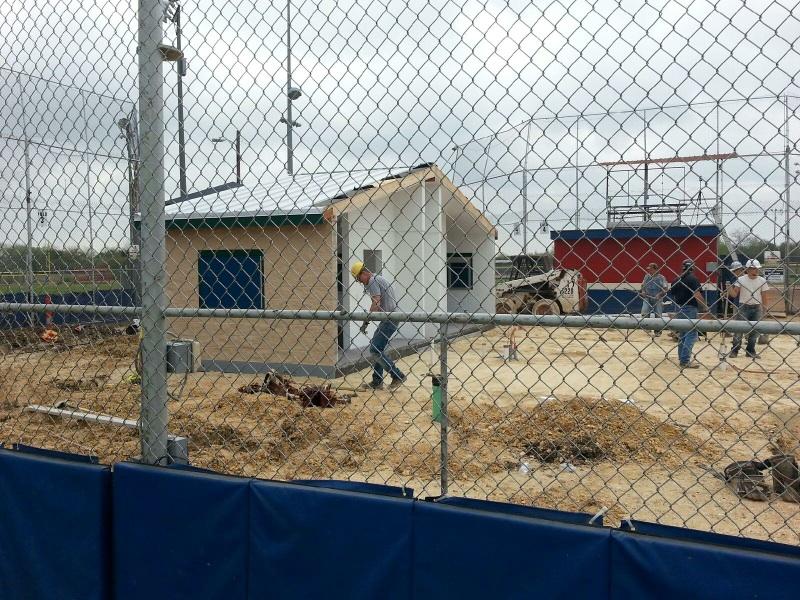 To Watch a Time Lapse Video of our Concession being built click on the link below
---
5Diamonds Board of Directors, our players, parents, coaches, and friends cannot express the debt of our gratitude to Toyota Motor Manufacturing Texas for supporting our programs and its children every year. Truly it comes from the heart of the Southside! Please accept our heartfelt THANKS!
---
The private airplane that crashed on 5diamonds property today, Saturday May 10, clipping the 5Diamonds field #3 outfield fence and landing between our fence and the creek fence, resulted in all games on field 3 being canceled by SAPD and Firefighters. Although a game was being played, no children were injured. Thanks to quick thinking coaches, the pilot of the private plane was removed and taken by ambulance to the hospital. Thanks for your patience as we reschedule games on Field 3. All other games on the other fields are not affected.
---
Weather affecting Games at 5Diamonds?
---
Spring 2015 league games will begin in March 2015. Spring League has mandatory residency requirements.

Little League requires that every team must have a person on their team who is AED/CPR certified. Please contact board member

We need your parent's time! Please help! To schedule your team's time on field maintenance, please call board member John Luna at 210-317-6575. Remember, this is not just for coaches, but for parents on a team practicing and playing at 5Diamonds. THANKS!

Any and all use of 5Diamonds' fields are by schedule only. To schedule a practice on our 5Diamonds field or the batting cages, text board member Sam Morales at 210-831-3389 with your name, team name, division, preferred time and day, and phone number (if different from number calling from). A text confirmation will be sent...if your preferred time slot is not available, you will be contacted to discuss options. A calendar of practice times and days is on the website to the left. Please check the CALENDAR before texting Sam. Time on the field is precious and FREE to all registered teams at 5Diamonds. Please be courteous to teams. THANKS! Please respect and stay off infield and pitcher's mound if damp.

All coaches, managers, and team parents MUST complete a background check and pass. All must attend training. A badge will be issued and must be worn for ALL Little League games at 5Diamonds and elsewhere.

If a player doesn't reside within the boundaries for 5diamonds, but attends a public, private, or charter school located within the 5Diamonds boundaries, proof of attendance is required for registration. Schools such as Brooks Academy, Ideas S. Flores, St. James, St. John Berchmann's, New Frontiers, Jubilee Academic Center, etc are physically located within 5Diamonds boundaries, therefore all children who attend those schools, regardless of home address, are eligible to play at 5Diamonds Little League. Players who reside within the 5Diamonds boundaries are still required to provide 3 proof of residence when registering. Generally speaking, boundary includes south of Highway 90 to the Bexar County line and east of Lackland AFB but also includes south of Commerce to General McMullen.

Lottery for April 5 booth assignments completed. .

Regular season runs (generally speaking) through Memorial Day Monday
Playoffs run (generally speaking) after Memorial Day to June 15
Closing ceremonies & All Stars announced on June 15
All Stars typically begin play last week of June.
5Diamonds Little League proudly boasts the following 2013 championships:
TX West State Champion - Big League Softball
TX West Section 3 Champion - Big League Baseball;
District 21 - 10/11 year old baseball champs;
District 21 - 11/12 year old Major boys baseball champs;
District 21 - 50/70 division boys baseball champs;
District 21 - Junior Division baseball champs;
District 21 - Senior Division baseball champs;
---
Go to HANDOUTS under FORMS to find the REMIND 101 text codes for each division. This allows you to receive text message specific to your division. Thanks!
---
PARENT VOLUNTEER TRAINING
Reservation must be made by calling
MARCO AYALA at at 210-834-4616
. The class is per person and good FOR A CALENDAR YEAR. You must have your background check done by the league directly, not with Coach Ayala. Background forms are under "handouts". Must be filled out completely to include SSN and have an enlarged copy of your Driver's License.
For the protection of all players, parent volunteers MUST display their 5Diamonds issued badge for every game of Fall Ball. A badge indicates to all parents that you have passed your background check and have attended a 5Diamonds training class. Thank you for your cooperation.
---
The new electronic MESSAGE BOARD has been installed and reaching out to interested parents (new and old) and our community! Thanks to Toyota Motor Manufacturing of Texas for their generous donation of seed money in making this dream a reality!
We ONLY post information for games that are CANCELED. We don't post weather information daily.

Demolition of the old concession stand has already happened. Please respect the construction zone fenced in by the company. We anticipate all new facility to be up and running by late April 2014. Thanks to everyone for their patience and support and for VOTING in the last bond election!

CREDIT CARDS ARE NOW ACCEPTED AT THE TBALL CONCESSION! We hope to get a system in place for the Main Concession within a month!

Be on the lookout for the completion of new batting cages next to the Senior Baseball field! If budget allows, we hope to construct a small batting cage next to the tball field in 2014.

Sprinkler systems are now in place on the tball and major boys field! Thanks for your support of our concessions and tournaments to help make that dream a reality!

If you see our new trees, plants and shrubs needing water, please don't hesitate to give them a sip! Thanks for your helping hand!
---
Hitting Drill
The tee ball drill that powers LSU baseball video is GREAT. It's not just for kindergarteners. Hitting the ball off a tee can make you a better batter. Here's how LSU's baseball team uses Tee Ball to get consistent hits.
http://www.stack.com/video/1549789487001/Tee-Drill-Fundamentals-With-LSU-Baseball/
---
Get to know GameChanger
Free scorekeeping and stat software for baseball teams and their fans to receive live updates and recaps. http://www.gamechanger.io/

---
OUR PLAYGROUND is OPEN! Thanks to the 208 volunteers who built it in 1 day on November 16, 2012! Take pride and report any individuals destroying our neighborhood by calling 3-1-1
---
INTERESTED IN COACHING or TEAM PARENT?
All coaches, managers, and team parents MUST undergo and PASS a background check. All parent volunteers (managers, coaches, and team parents) MUST be approved by a majority of the Board vote. Background check forms must be filled out completely with a copy of a current driver's license and $10 processing fee paid.
---
Any and all fundraisers done by teams registered with SA 5Diamonds MUST turn in any and all monies to the SA 5 Diamonds treasurer within 48 hours of the fundraiser. Accounting must be done of all money raised and spent. Liz Martinez - 210-638-9334
---
Bat regulations for 2014 season have been announced! See the Little League Website at www.littleleague.org. A list of bats can be downloaded. Most affected divisions are Minor Boys division and older.
---
Residency requirements: Child must live or go to school within boundaries set out by Little League which include Harlandale ISD, Southside ISD, South San ISD, some of Southwest ISD, the Highlands HS area, Burbank HS area, Brackenridge HS area, and some of the East Central ISD. These are general areas that are included in SA 5 Diamond boundaries. Boys and girls ages 4 to 18 (see birthdate deadlines above). NEW for 2014: Little League has amended its residency requirements to allow children to play in the local league whose boundaries where they attend school is located. To verify enrollment, parents will need to bring an official school document such as a report card!
---
If you have questions, please e-mail sa5diamonds@yahoo.com
---
If you would like to make a Donation to SA 5 Diamonds please click on the link below.
---
Board Members for 2015
President - Dennis Ortiz 210-722-6544
Vice-President - John Luna
Player Agent - Elaine Ortiz 210-846-0415
Assistant Player Agent -
Treasurer - Liz Martinez 210-638-9334
Assistant Treasurer - Patricia Elizondo
Concessionaire - Isabel Luna
Assistant Concessionaire - Zeneth Harris Robles
Secretary - Carmen Alvarado
Safety officer - Mike Robles
Fundraisers - VP for Tball field - VP for minor/major field -
VP for softball field -
VP for Senior field - Sam Morales
Centerfield