SA 5 Diamonds: Welcome
San Antonio 5 Diamonds Little League - 8214 S. Flores - San Antonio, TX 78221
Welcome to the heart of the Southside of San Antonio! We offer Little League sanctioned baseball and softball programs for boys and girls from ages 7 to 16! Come visit our fields and join us! Our league is located at 8214 S. Flores (between Formosa and Amber). We host SPRING divisions in non-sanctioned tiny tee (ages 3 & 4); in t-ball (ages 5 & 6); coach-pitch (softball (girls only) & baseball (boys) ages 7 & 8); Little League sanctioned minor (boys & girls ages 9 & 10); major (boys & girls ages 11 & 12); juniors (boys & girls ages 13 & 14) and senior division (boys & girls ages 15 & 16). Regular baseball rules apply for boys when playing in the INTERMEDIATE (50/70 field) division (league ages 11 to 13) and age 13 and older. Junior Division and older play on regulation baseball field (60/90). For each division (except Tiny T which is seperate from Little League), boys' age set yearly by Little League International and girls' age as of December 31 of the preceding year. We are a volunteer organization and appreciate all community support. Thanks to all the people who generously volunteer their time, energy, and know-how! We are grateful for every minute! We are 100% self sufficient!
5Diamonds is self-sufficient. We receive no monthly subsidy from any city, county, state or federal entity for daily expenses. We pay for every grain of sand, every seed of grass, electricity, garbage gobbler, ice, food products, paper products, ALL repairs and maintenance, supplies, player equipment, handsoap and sanitizers, maintenance on all equipment, gas for lawnmowers, weedeaters, and blowers, replacement of all field lightbulbs, paint, boards, nets, bricks, clay, dispensors, chalk, chalkers, waterhoses, plants, chalkers, etc.! We truly appreciate everyone's help and support. Thanks for making our park a more beautiful place to play and for making our league such a success! We are extraordinarily blessed!
Little League has amended its residency requirements to allow children to play in the local league whose boundaries where they attend school is located (f they do NOT already reside within the local league's boundaries). To verify enrollment, parents will need to bring an official school document, such as a report card of school enrollment form dated before October 1 of the preceding year. Address verification are required every SPRING league, not for Summer or Fall leagues. New Little League baseball age determination is August 31 starting Spring 2016 season for players born on or after 9/1/2005. Softball age determination date of December 31 has not been affected.
---
Weather update: MONDAY 4/17/17 - all games at 5diamonds have been canceled due to heavy rain and standing water on all fields. Please sign up to follow 5Diamonds on FACEBOOK to receive the quickest notice about the fields, league, etc. Thank you for your patience.
Tuesday 4/11/17 games at 5diamonds have been canceled due to heavy rain. Sign up to follow 5Diamonds on FACEBOOK to get the quickest notifications about the fields, league, etc. Thanks.
---
UPDATED SPRING 2017 schedules are posted on HANDOUTS tab to the left starting 3/17/17 for games starting Monday March 20.
---
Vice President / field scheduler - Sam Morales - 210-831-3389
Treasurer / concession scheduler Liz Martinez - 210-638-9334
Player Agent / season scheduler Elaine Ortiz - 210-846-0415
Trainer Marco Ayala - text only - 210-834-4616
President / Field maintenance Dennis Ortiz - 210-722-6544
---
CONCESSION DUTY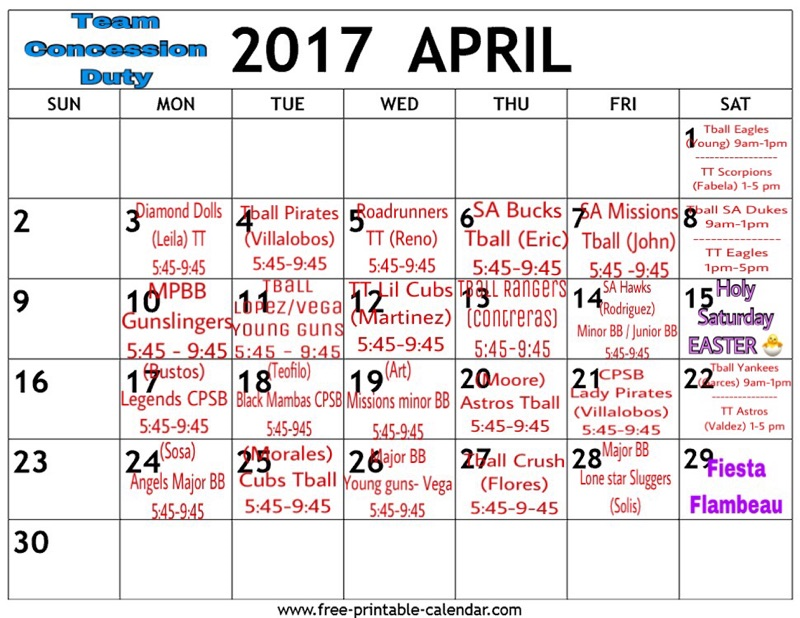 ---
Coaches Certification
If you can't make live training dates you may get certified through online ($26).
Note: In order to coach, a team parent, or in the dugout you must attend training and pass background check.
To register for training go to https://marcoayalaref.wix.com/5dcertification or text at 210-834-4616