Ryle Raiders Baseball: Welcome
RYLE RAIDER 2018 BASEBALL CAMP
June 11-14 9:00 a.m. – 11:30 a.m. Only one rain date will be available (6/15)
(See Baseball Camp Tab for Details and Flyer)
~
We will hold our banquet in the auditorium on June 11th at 6:30pm. Following will be cake and refreshments in the upper commons. We hope to see everyone as we celebrate the work and dedication of our young men.
~
---
In its 26th season, the Ryle high school junior varsity baseball team won the NKBCA JV regional tournament.
The championship team was led on the field by sophomore, Alex Pergram. As starting catcher, Pergram held running games in, check throwing out twelve runners on the season. He led the team in hits and extra-base hits. In 109 plate appearances, he averaged .398 as a batter. He had 41 hits total, including eleven doubles and a triple. The three-bagger came in the final game of the regional tournament. As a pitcher, Pergram posted an outstanding 1.37 earned run average in 30.2 innings of work. Alex was promoted down the stretch to the varsity team and is now seeing at-bats while playing third base for the big club.
The pitching staff was solid and deep. Helping bolster the rotation and filling in down the stretch was Brock Cordrey and Tyler Atkinson. Cordrey sported a tidy 2.44 E.R.A. in 28.2 innings of work, striking out 31 wouldbe hitters. Cordrey won three games and lost one in six starts and was vital in shutting down Conner in the semifinal game of the JV regional. Freshman Tyler Atkinson was the starter and winner of the JV regional championship game. In 20.1 innings of work, Atkinson went undefeated winning all four games he appeared in. He threw for a 1.72 E.R.A. and his strikeout to walk ratio was a ridiculous 8/1 (sixteen to two). Charles West was the workhorse of the team. The lefty bulldog led the staff in innings with 37.1. He threw for a 3.10 E.R.A. in his nine appearances, winning three of those contests. Colby Haines and Lex Heilman also sported E.R.A.s under 2.50, giving the future of Ryle baseball much to be optimistic about.
The JV Raiders could hit, too, batting for a team average of .295. Leading the team in average was Anthony Coffee with a robust .460. In the last 20 games of the season, Coffee hit for a .500 clip. His play at-bat was vital down the stretch as he found bases and applied pressure to defenses and pitchers alike. As a team, the Raiders scored a total of 238 runs this season. 24 of which were driven in by Wyatt Caldwell, which was good enough to lead all hitters. Caldwell mashed two homers on the season, laced a triple and recorded six doubles. The lefty hit for a .259 average in 114 plate appearances.
In his 26th year as junior varsity head baseball coach, Jim Demler and the junior varsity Raiders baseball program have won the NKBCA JV regional title for a seventh time. After the 2018 season where the JV Raiders posted a record of 22-10, "Coach D" and his JV teams have compiled an overall record of 490-221, a .689 winning percentage. Coach Demler led his JV teams to regional championships in 1995, 2004, 2007, 2008, 2012, and 2013 and, just recently, 2018.
Congratulations to the players, parents and coaches as they celebrate a championship year! Thank you for your work and dedication to the Larry A. Ryle high school baseball program.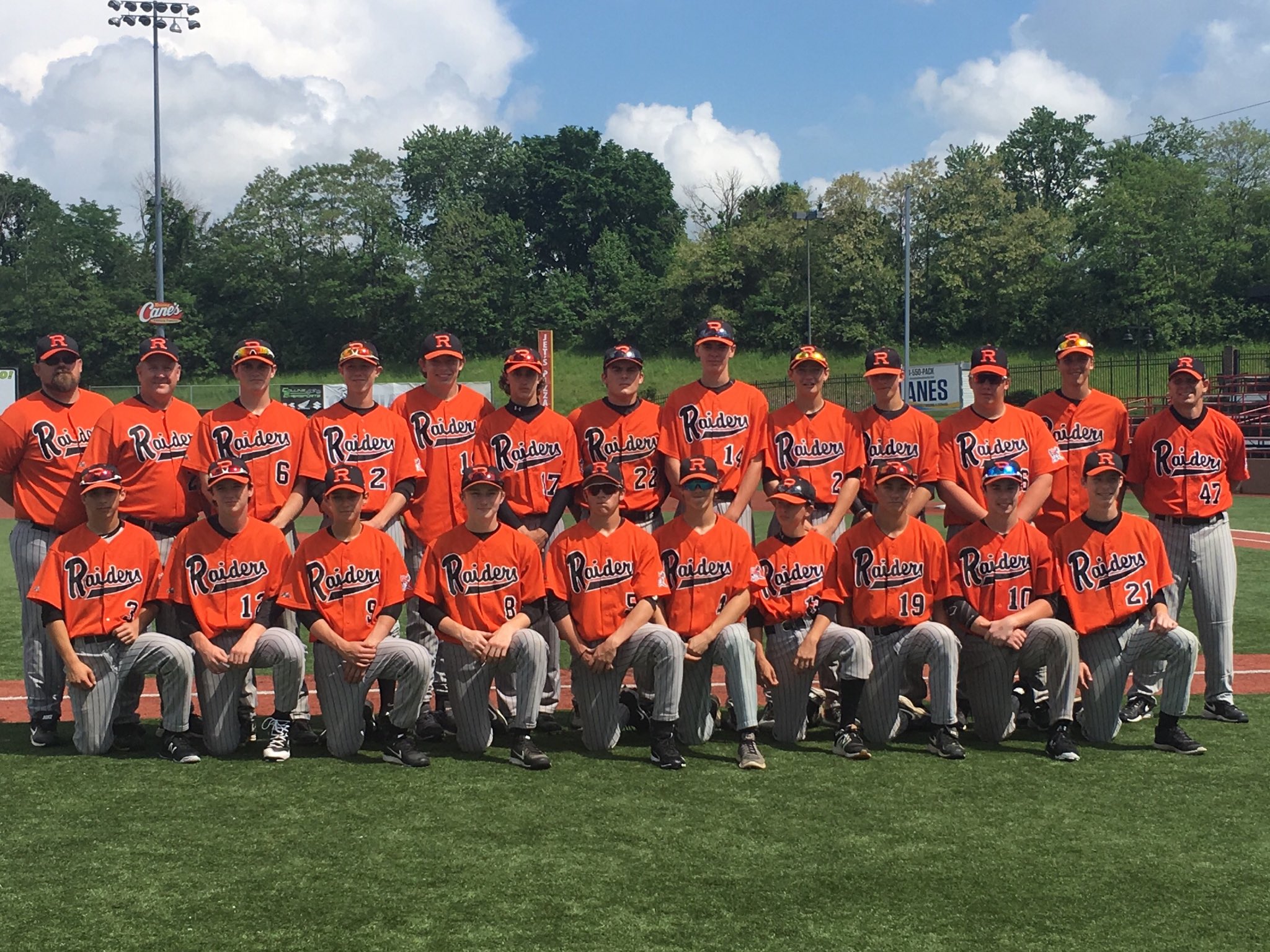 ---
~
Raiders finish second in districts; Look ahead to 9th region tourney
~
Lloyd throws gem vs. Boone Co. in district opener; Raiders advance to championship game
~
JV BASEBALL WINS NKBCA REGIONAL TITLE
~
CONGRATULATIONS TO COACH ROESEL ON WINNING HIS 500th GAME AS HEAD COACH OF RYLE BASEBALL!
~
CONGRATULATIONS TO OUR HEAD COACH, PAT ROESEL, ON BEING INDUCTED INTO THE KENTUCKY HIGH SCHOOL BASEBALL COACHES ASSOCIATION HALL OF FAME!
~
CONGRATULATIONS TO OUR COACHES, PAT ROESEL AND JIM DEMLER, FOR RECENTLY BEING RECOGNIZED FOR 25 YEARS OF SERVICE TO OUR SCHOOL, STUDENTS AND COMMUNITY. THANK YOU FOR YOUR OUTSTANDING WORK AND DEDICATION!
---