Ryle Girls Basketball: Welcome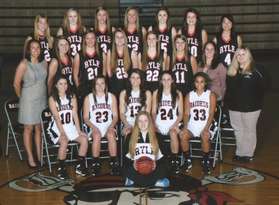 2013-2014 Lady Raiders
---
Ryle High School
Lady Raider Basketball
________________________________________________________

Head Coach - Karra Jackson
Asst Head Coach/JV Coach - Allison Timaji
Freshman Coach - Heather Loechel
Athletic Director - Jim Demler
Trainer - Brad Bolte
---
2014 Lady Raider News:
Ryle Lady Raider Car Wash!
Advanced Auto Parts on 42 (between Kroger and Speedway). Weather permitting
(if it rains the carwash will be rescheduled)
Support your Ryle Lady Raiders!
Ryle Lady Raiders Yard Sale
Lady Raiders will participate in the annual biggest yard sale with their table at St Timothy Church, Union, KY
Thank you future Lady Raiders!
Ryle Lady Raiders hosted two sessions this summer for hopeful Lady Raiders. Everyone had a great time and improved their basketball skills!
(See our "Album" tab for pictures)

Ryle Lady Raider 2013 - 2014 Season news
Congratulations to Madison Jones for her selection to the 2014 33rd District All-Tournament Team!
Good luck Seniors! MacKenzie, Rachael and Katie -
We will miss you!
Congratulations to the 2013-2014 Ryle Lady Freshman team.
They finished 19 - 1 for the year!
Great job, Coach Loechel and the young Lady Raiders !
Go Raiders!

---
Follow us on Twitter!

Lady Raiders Bball@Ryleladyraiders
---