Ryle Girls Basketball: Welcome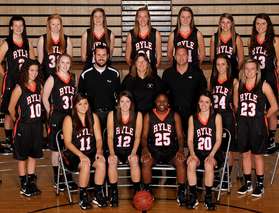 2012 - 2013 Ryle Varsity Team
---
L to R, Sitting - Monobe, Oliverio, Johnson, Connor; 2nd -Pennington, O'Sullivan, Coach Margrave, Coach Oliverio, Coach Schwartz, Senviski, James;

Back row - Martin, Taylor, Carothers, Lange, Stephens, Schwartz, Storer
---
Ryle High School
Lady Raider Basketball
________________________________________________________

Varsity Coach - Patti Oliverio
J/V Coach - Dusty Margrave
Freshman Coach - Heather Loechel
Trainer - Brad Bolte
Athletic Director - Jim Demler
---
---
2012 - 2013 Ryle Lady Raider Basketball
Lady Raider news - 2013
* 9th Region Championship Tournament Congratulations to the Lady Raiders for making their 5th straight appearance in the 9th Region Tournament! Dawn Johnson and McKell Oliverio were named to the 9th Region All-Tournament team! Way to go Lady Raiders!
* 33rd District Finals Lady Raiders battled in another epic "Boone vs Ryle" 33rd District Championship game. The Lady Rebels were able to pull off the final basket to win 55-54. Both teams advanced to the 9th Region tournament. Congrats to McKell and Dawn for being named to the 33rd District All-Tournament team!.
* 2013 Senior Night Ryle's four seniors, Katie Connor, Dawn Johnson, Anna Monobe,and McKell Oliverio were honored for their dedication to Lady Raider basketball. They celebrated their last night playing home at RHS by knocking off Walton 55 to 50! Congratulations seniors!

* McKell Oliverio joins Dawn Johnson in the 1000 point club! Both young ladies are also 5 year varsity players! Congratulations to both players for their outstanding achievements!
(see selected Varsity games in ihigh archives. Use iHigh link under "links" tab)
* Lady Raider Freshman news - 2013
Lady Raider freshman team won the NKY Regional Freshman Championship, held at Notre Dame Academy! They finish their season with 25 wins and just 2 losses, both in OT. The Frosh team also brought home the Championship trophy from the Northern Kentucky Holiday Tournament held at Scott. Congratulations young Lady Raiders!
Go Raiders!
---