Ryle Girls Basketball: Welcome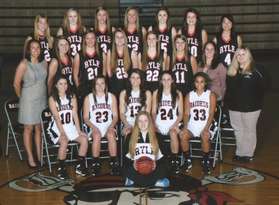 2013-2014 Lady Raiders
---
Ryle High School
Lady Raider Basketball
________________________________________________________

Head Coach - Karra Jackson
Asst Head Coach/JV Coach - Allison Timaji
Freshman Coach - Heather Loechel
Athletic Director - Jim Demler
Trainer - Brad Bolte
---
2014 Lady Raider News:
2014 - 2015 Ryle Lady Raiders News
Congratulations to the 2014-2015
Ryle Lady Raider Basketball Team
Good Luck on the new season!
The latest practice schedule is available
(under the Handout Tab)
Raiders will scrimmage at Louisville Male
on November 15, times TBA
Raiders will scrimmage Louisville Assumption
at Bullitt East HS, November 22
10 am to 1 pm
First game 2014-15 season - December 3
VS 8th Region Lady Pioneers
in Independance at Simon Kenton HS!
(see our calendar!)
Summer news!
Thank you future Lady Raiders! Ryle girls basketball team
hosted two camps this summer for hopeful Lady Raiders.
Everyone had a great time and improved their basketball skills!
(See our "Album" tab for pictures)

Thank you Ryle Lady families and players for your support at
the Yard Sale Fund Raisor!
Ryle Lady Raider 2013 - 2014 Season news
Good luck Senior Class of 2014!
MacKenzie, Rachael and Katie -
We will miss you!
Congratulations to Madison Jones !
2014 33rd District All-Tournament Team!
Congratulations to the Ryle Lady Freshman !
They finished 19 - 1 for the 2013/14 year!
Go Raiders!

---
Follow us on Twitter!

Lady Raiders Bball@Ryleladyraiders
---