RRHS Knights Football: Welcome
Welcome to River Ridge Football!!
The River Ridge Football Program is looking forward to what is sure to be an exciting season in 2014. We have laid the groundwork for consistent success over the past five years and fully expect to continue building a winning tradition.
The coaches and players continue in their commitment to building a tradition of excellence at River Ridge High School. Our work as coaches and players has just begun, we will continue to push these players on the field and in the classroom to be the best they can be every day. We will build a football program that the players, coaches, school and community will be proud to call their own.
The 2014 season starts NOW. Join us as we continue building on a tradition of excellence at River Ridge High school.
~Coach Braucht
---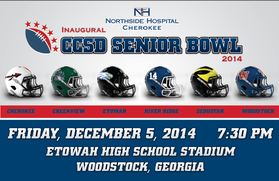 CCSD Senior Bowl 2014
Thursday, November 6
CCSD Senior Bowl 2014
Our School Board and Northside Hospital have partnered up to put on their very own Senior All-Star Football Game. The event will be held on December 5th at 7:00 PM at Etowah HS. All proceeds from tickets bought at River Ridge will get to stay at River Ridge. So please buy your tickets in advance from our Athletic Office. All of our seniors are signed up for this chance of a lifetime, so let's show our support and sell out our section.