Rome Youth Hockey Association: Welcome
For additional registration infor and
help completion omline registration
View the 2014-15 RYHA Commercial
For HELP on ONLINE Payment or
Editting Account Information
---
Rome Youth Hockey Association is so excited to announce tryouts for the 2015-16 season will be held at the Whitestown Recreation Center for the following levels: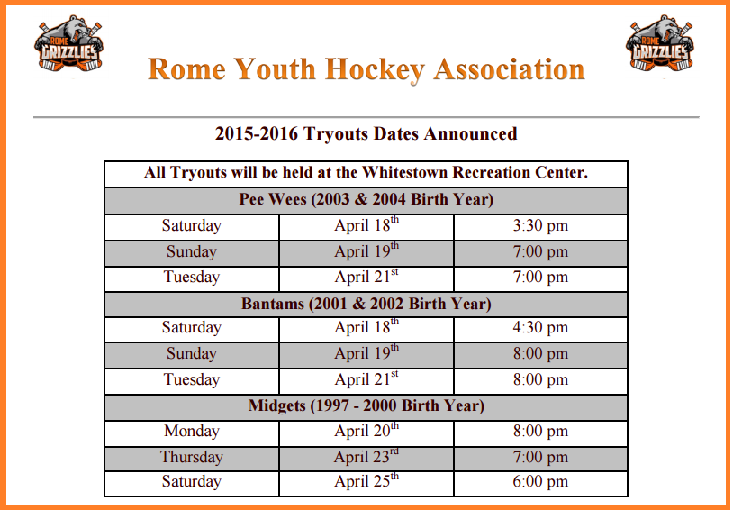 Other levels will be held later this summer. For more detailed info,
click here
---
RYHA Lifetime Member Coach Gary Bartell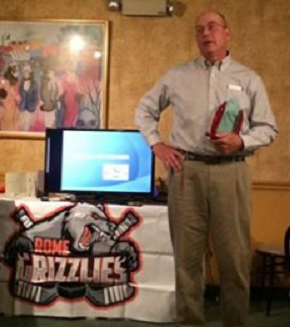 ---
President Chip Travis attended the Central Section Meeting - September 14,2014.
Good Evening Members.
Today I attended the Central Section meeting in Syracuse with Kim Millington our Registrar and Rob Kopek our Coaches Coordinator. Notes on the meeting with changes and things to be aware of this upcomiong season:
---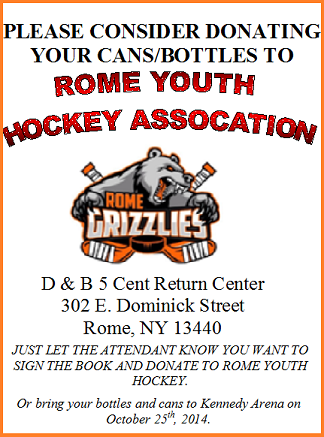 ---
---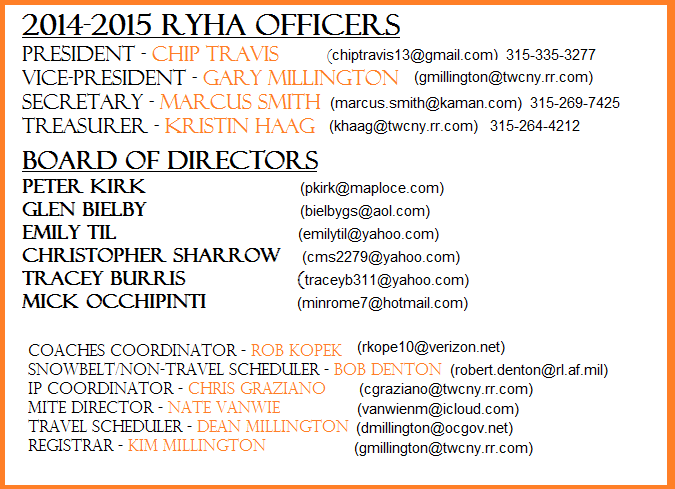 ---

John F Kennedy Arena Hot-Line
(315) 339-7769
---
All Amateur... All Hockey ... All NY state
NYHockeyonline.com
---
Children's Online Privacy Protection:
Please be aware that this site is for members ad fans including children and adults and any activity deemed inappropriate will be cause for an immediate ban from this site. If a child in your household under the age of 13 would like to create an account to access members only sections of this site, parental consent is required. Any pictures of children under the age of 13 to be displayed on this site must be submitted and approved by their parent. Several sections of this site are restricted to members only for the safety of the children involved in this program. Information collected about members is used to allow or deny access to member pages of this site. Email addresses and names may be used to send information that is specific to this site and the RYHA. Your information will not be sold or used in any other manner.