Team Mahurin: Welcome
Team Mahurin Basketball
Welcome to Dave Mahurin's web page. I've had this blog for several years, and I've used it for assorted reasons. At this point I'm utilizing it to continue to report on my family members who are playing in college, former RHS players also playing in college, former AAU kids spattered around the country, the current Rockville Rox team, and anything else that comes to mind. I was most recently the basketball coach of the Rockville Rox and have been the coach at South Vermillion, Adams Central, and an assistant at Martinsville (IN). I've also led the Pacesetter Select and Spiece Central AAU teams. Right now I'm retired from coaching.
This year I plan to travel and watch kids play as many games as I possibly can. Trying to see everyone play is a tough task in itself. However, I'm looking forward to it. For now anyway... I plan to keep the blog going with info about all these trips and kids. In past years I've offended some with my posts. However, I've mellowed in my old age.
Feel free to send me information and I'll pass it along. Hopefully there will be some things here that keep you checking back in.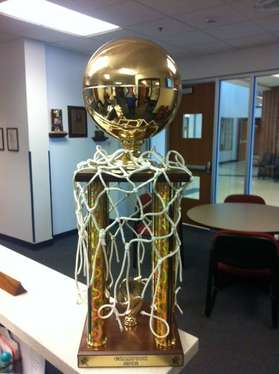 2012 PHC Champions
Monday, December 2
CROSSROADS LEAGUE PLAYER OF THE WEEK
RJ Mahurin, a senior from Indiana Wesleyan, was selected as the Men's Basketball Player of the Week. Mahurin led #2-ranked Indiana Wesleyan (8-1) to an 88-82 win over #9-ranked Bethel last Tuesday in the Crossroads League opener. Mahurin scored 33 points on 12-for-18 shooting from the field, including 7-for-10 from 3 point range. He also recorded 7 rebounds and 2 assists while knocking down both free throws in the contest. Mahurin, an Indiana State University transfer, was named Missouri Valley Conference Player of the Week last season during the same week for the Sycamores!
Sunday, December 1
Rox Drop Their Opener
Please remember...this is no longer coming from the coach. None of my thoughts matter in any way, but here they are anyway.
The Rox traveled to Danville, Indiana on Saturday night and lost to the host Warriors by around 20 points. The pundits will immediately panic and start claiming woe, but there were plenty of things that paint a positive picture of the future from the game. It was a good game to start the season because Coach Luce was able to play a lot of kids. It's very hard to know what kids can do on the court when you only play against yourself in practice.
The bad part of playing a lot of kids comes on the offensive end, and we struggled to get into any flow on that end of the court. This year's club just doesn't yet have a natural scorer. However, that comes from effort in the weight room and gym in the summer time. Too many kids want to rely on natural abilities and don't develop their bodies or skill sets.
I remember a rear-end thumping or two when we traveled to Danville too. This team just needs to try improve all year long. Developing roles and identifying those kids who can perform under the pressure of game competition will take a while. Everyone thinks it is easy to be a basketball player. However, when you turn the lights on, fill up the stands, and cue the band...collars often tighten up a good deal. That practice jumper kids take at "parade speed" is not the same as the jumper you get in a game. We've been blessed for a while with kids who made the game look easy. Again though...those kids worked their tails off all summer, every summer.
The coaching staff will likely start being able to define roles on the club. Young teams often don't really know what they're looking for when running an offense. You start getting some kids who want to shoot it every time they touch it and others will never look at the rim. Finding balance is the key. It will take some time to find the offensive flow.
This year's team will also need to find their niche. For years we made bones with the match-up zone, 22 press, run and jump, and pro-set offense. This year's group will need to find their strengths. Top priority will be identifying the players from the pretenders. It's all about attitude. Who are the whiners? Who is mentally tough? Who plays the hardest? Who becomes an attitude problem when chips are down?
If I was a member of this year's team, I'd be itching to get back into the gym. There is playing time available for those who earn it. We need floor leaders who are leading in the right direction...who can control their emotions when things don't go well. We need rebounders, defenders, scorers...there are tons of options. There should be no excuses.
Well...I'm fired up for Friday night's Banks game. We play North Vermillion in the first game at Turkey Run. I expect it to be a knock-down, drag-out affair. I'm sure our coaches will be looking for kids who show up Monday ready to get better. Four days of practice is a lot of time. I like our chances.
Friday, November 29
Thanksgiving Thoughts...
As we reach the first natural break of the season, things slow down just a little. Our house is bursting at the seems with our kids, a couple Belizian engineers, countless guests and of course the dog pack. Thanksgiving was hosted by my brother. I lost count on the actual number of antendees, and the event ended with a massive target shoot...a somewhat new tradition. It was a great time.
We are quite thankful for many things. We have a new member of the family in Jordan Leach, a RHS senior. He was facing a tough situation, and we have the space to make him comfortable. It was a no brainer for a kid I really like. All the other kids are doing well at their respective schools, and Pattie came through a health scare in relatively good shape. RHS is once again one of the best school's around, and I look forward to seeing our school grade released next month. For some reason we take a lot of shots from people who don't have the facts. Our high school was the highest rated school in the bi-county area last year, and I have that same expectation this year as well.
The Rox open their season Saturday night, and I look forward to seeing the kids play. I have no doubt they will represent us well. I honestly haven't had time to miss coaching simply because of the crazy schedule we're living. It has been a strange revelation that I get to go home after school. There are few places that I have to be!
The boys have really started to play well for IWU. The last game was fantastic as the Wildcats (#2 in the country) beat Bethel (#9 in the country) in a game pitting the two most fundamentally solid teams I've seen in a long time. RJ went nuts scoring 33 and Lane was really solid going 5 of 6 and adding 10 points. Team Mahurin scored half our points and won a huge game.
Beth is playing as well as I've ever seen. She is simply dominant when she stays out of foul trouble. She is big and strong and a mismatch for most. Her specialization in hoops has allowed her to improve fundamentally. I suppose my biggest regret is that I never got a real chance to coach her. I don't mean that to be arrogent; there are just few folks out there who coach bigs. She simply suffered from a lack of fundamental footwork. That's coming now that she has time and has a 6'11" coach! Teaching kids when to cut, why to cut, how to cut...it's all the simple things that many ignore. The biggest reason the boys have been so successful is they are sound fundamentally and understand the game. That's coming for Beth. She's always been the most athletic member of TM. Watch out!
Both Gary and Aaron have been successful. Gary is starting for Wabash and playing the point pretty well. Aaron is back hooping for Ancilla. He;s getting some looks now from 4 year schools, and I hope he moves on to play more after Ancilla. Both guys are representing the school in fine fashion.
The schedule has been tough, but it gets crazy now! There are games all next week. Many have watched the boys on the net (and thanks Daniel...I won't sit near the scoreboard anymore. I hate to scare you like that!) Beth's coach reports that her games are internet bound after Christmas. Gary's games are on many times as well. I may try to watch more from home, but I likely can't do that!
I wish everyone a happy holiday. If you need something, don't hesitate to ask. Good luck to all.
Tuesday, July 23
Thank You
As has been much more highly publicized than I hoped or expected, I have made the difficult decision to step down as head basketball coach at Rockville High School. I changed my mind so many times in the last month, it seemed as if I was playing a virtual tennis match.
I just don't have the time to do the job justice...and be a proud, supportive father... and lead Rockville High School as principal.
Since the news broke, I have been overwhelmed by the messages and calls I've received from former players. Coaching is about building relationships and helping boys transition into men. I've been very fortunate to coach some fantastic young men here at RHS.
A decade is a long time to coach in one place. From Steve Hartman to Aaron (not to forget Ryan) Bridge to Daniel Vauters to Josh Reed to the Wheeler twins, to Jordon McFall to Cody Jeffries...the list goes on and on. All great young men who helped make my career special. All of these guys and many more are part of my family and will be for life.
Why stop coaching now? It is just time. I've missed an awful lot of my kids' games and big moments over the years. It is time to put them first...before it is too late. RJ sacrificed his senior year at Indiana State in order to experience a year playing with his brother. He put family first. That's what we preach at our house...God, family, team, others, then self. I've given 25 years to team and others; next year will be family time.
I'll spend the year following Beth at Lincoln Trail and the boys at IWU. If that's not a full enough schedule, throw in Aaron (Ancilla), Jordon, (Lincoln Land), Gary (Wabash), and Joel (Trine). Don't forget Jeremy Lucas (playing that silly game with a ball and stick...professionally...I knew that would never pan out!), Zach playing baseball at USI and Drew playing football at Marian. There are also AAU hoopers like Jon (Kent State), Forrester (Maryville), and Sam (Rollins). Sam Lonergan who played in our last AAU tourney is even walking on at Michigan. My goal is to see as much as I can.
I am so very thankful to everyone who made the last 11 years possible. I had great assistant coaches and staff members. I have a wonderful wife, an incredibly supportive and talented (yet feisty daughter), and two of the best sons a man could ever have. Throw in unbelievable parents, and Rockville was the perfect environment to raise this family... and I ended up with quite a family.
Over the years I had some school board members who stood up for me when times were tough, an AD who did remarkable things for the entire program, a secretary who ran the show flawlessly, and numerous superintendents who were all supportive. Our office staff is the best, and without them I would have not made it this long. I thank you all.
Our loyal fans were the best...flat out...the best. Keep supporting the Rox!
Thanks to the Terre Haute media who seemed to adopt us. I'm going to miss Rick, Ross, Jason, and the crew. Who would have thought such a little school would make such a big splash?
To the players returning...you will be taken care of. We will find a coach of the quality you deserve. As always, there is great potential in the program, and with hard work you will succeed. I'll be in the stands supporting you all the way.
I'm sure at some point down the road you'll still find me in a dirty, dusty, old Boys' Club somewhere working with kids. It's in the blood! Until that day I'll live with being "dad" instead of "coach." And by goodness...if my kids don't play enough...we'll need to "fire the coach!!!" Wow...this parent thing might just be fun! Hah!
Thank you again, and best wishes to all,
Sincerely,
Dave Mahurin