Team Mahurin: Welcome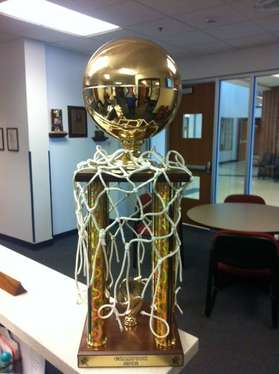 2012 PHC Champions
Team Mahurin Basketball
Welcome to the Team Mahurin web page. While this site has been the host for AAU and high school basketball teams over the years, now I'm now covering my kids playing hoops in college.
As most of you are aware, I was most recently the basketball coach of the Rockville Rox and have been the coach at South Vermillion, Adams Central, and an assistant at Martinsville (IN). I've also led the Pacesetter Select and Spiece Central AAU teams. Right now I'm in year one of my retirement from coaching.
Feel free to send me information and I'll pass it along. Hopefully there will be some things here that keep you checking back in.
Wednesday, April 9
New Video From WIWU
Here is a cool video from the NAIA National Tourney created by WIWU...
http://www.youtube.com/watch?v=1hCPOBKr7Oc
Friday, April 4
After Things Have Calmed Down
Well the calm after the storm is finally starting to allow things to sink in a little bit. I apologize for not posting much the past few weeks, but there was so much publicity out there that was created by professionals that I felt like my thoughts were not needed.
Beth has committed to Oakland University which is a D1 north of Detroit. She again really didn't wait too long and compare with her other offers, but that's her decision. She gets her second shot at D1. If she really gets into shape, she will be a wrecking crew. She just too big and too strong for most girls to guard her. I'm incredibly proud of her. She was named All-Regional by the junior college association and went on another tear this year. I'm very proud of her.
RJ has taken a job with a local bank and can't wait to start his "adult" life. I'm sure he'll be gald to talk "loan" with you here in a month or so! His career ended up about as well as it could have. Talk about a guy who took advantage of his opportunities. He and his lovely wife are set to move back to the area after graduation. I look for him to go into coaching, but time will tell.
Lane seems to really be happy at IWU. His second half of the season was unreal. He's become very, very good as most of us expected. I assume I'll spend the summer working with him and Beth as they prepare for next year. IWU did just sign a transfer from IU (along with three more freshmen who they shouldn't have been able to get!) so they appear to be stocked for another run at the national title. I'll I can say is there is not classier program anywhere in the country than at IWU. The faciltites are top notch, but it's the coaching staff that sets them apart. It is a unique place.
That leaves Pattie and I looking around for what we want to do next. We have several ideas raging from just staying here and doing what we've been doing to taking our coaching road show elsewhere. I simply have no plans to coach here again, but I might consider starting a program one last time. It would take the right fit...let's say...a beach...warm weather...that might work!
I do want to commend Coach Luce on his efforts this past season. I thought he handled the team well, and they achieved at a much higher level than most expected. If they could ever learn to swallow their egos and just work together, they could be very good. Keiontre Wiley is a special athlete and Lance Hopkins may be the most talented player we've ever had here. The key will be...will they work on weaknesses or just be satisfied being the best in Parke County?
Have a great day....
Tuesday, March 25
Remembering a Friend
My wife came home from church on Sunday with the bad news that longtime resident Ron Skelton had passed away earlier that morning. I had to sit and think about Ron for a couple days because he had been such a huge part of the Rockville community. His influence is everywhere, and I'm not sure his character can ever be replaced.
Ron was a medical marvel. He was one of the most poked, prodded, and treated guy I had ever met. Every time we talked he told me of a medical procedure he'd undergone at some point in his life. I lost track of the number of heart issues he'd overcome, and I kind of think he had too! Let's just say he'd been a founding member of medical history.
Ron was involved in everything from youth sports to local government. He had his thumb on the pulse of our community. If something was up, Ron knew all about it.
Ron was one of the few folks who ran for school board because he just wanted to help kids. There was no agenda, he didn't try to sneak personal vendettas into the procedures, and you could genuinely talk to him. He just cared about kids. If he was upset about something, he'd tell you. If he was happy, you'd know that too.
Ron loved athletics and took particular pride in the many athletic fetes the school achieved during his time on the board and afterwards. Lately, you could tell Ron was often struggling with his health, but he'd be in the gym or on the sidelines if humanly possible. He was all about the Rox, and he showed up any time he could.
I suppose I'll miss most Ron stopping by the office to pick up tickets and talking. Those conversations were priceless and will be deeply missed. I'm not sure I've been to an RHS softball or baseball game where we didn't visit for at least an inning. I'm quite thankful for those memories.
Most of you folks are quite aware that I'm a pretty private person. I'm not quick to buddy up with folks, and I keep my friends close. I Ron doesn't mind me saying I lost one of those friends this week, and I'll miss him deeply. Please keep Sandy and the entire family in your prayers.
Wednesday, March 19
A Picture Says a Thousand Words
The past year has been quite interesting. RJ's departure from Indiana State to play with his brother at Indiana Wesleyan has been analyzed, poked, and prodded. The move strained some long lasting friendships, caused hard feelings, and ended my relationship with several ISU folks.
However, the attached picture says it all.
We are only on this earth for a limited number of days. As a parent you hope and pray that your kids turn out well. Both young men here have had storybook athletic careers, but this picture depicts what is important in our home.
RJ was asked if he ever dreamed of winning the NAIA National Championship. His response..."I just wanted to play ball with my brother...but this is pretty cool!"
I'm incredibly proud of the young men they've become. I'm not overly sentimental but I must admit I had a hard time staying dry eyed at this point in the evening last night.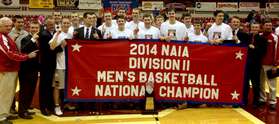 Champs!
Wednesday, March 19
National Champions
POINT LOOKOUT, Mo. -- Head coach Greg Tonagel and Indiana Wesleyan University won the NAIA Division II Men's Basketball National Championship to complete the most dominant run in the tournament's history.
No. 5 Indiana Wesleyan defeated No. 10 Midland (Neb.) 78-68 in the national championship game that was played in Keeter Gymnasium in Point Lookout, Missouri. The title game was broadcast on ESPN3.
"I can't put this into words," said senior guard Jordan Weidner (SR/Danville, Ind.). "It's such a reward for all the hard work, all the extra time, all the practices, and all the terrible ice baths. This just makes it all so worth it. And I couldn't have asked for a better group of guys to do it with."
Weidner and his teammates created a lot of new marks for the national tournament record books. But the one that stands out the most was that all five Wildcat victories were by double digits. It is the first time any team has accomplished that feat at the NAIA Division II Tournament since its inception in 1992.
"Most times when you win the tournament something lucky has to happen, like a buzzer beater or you dodge a buzzer beater," said freshman Lane Mahurin (FR/Rockville, Ind.). "In each game we have come out and said we are going to win this because we will play hard, and we did that."
"We were in control throughout the game," said Tonagel. "I felt good about our guys and they have been locked in since we got out here. To win every single game by double digits speaks of the focus and energy that we had. And with the senior leadership of Jordan, he just wasn't going to let us lose."
Weidner was named the 2014 Championship Outstanding Player for his performance over the last five games. Weidner averaged 23.0 points per game in Point Lookout while shooting 51.4-percent from the field. He pulled down 4.4 rebounds in the tournament and averaged 5.6 assists.
Freshman Lane Mahurin was honored with the NAIA Championship Hustle Award while Tonagel was named the NABC/NAIA Division II Coach of the Year. The Wildcats were also given the Dr. James Naismith/Emil Liston Team Sportsmanship Award.
"This is such an incredible group to be a part of," said Indiana Wesleyan associate head coach Jeff Clark. "If you had any idea of what was going on in the hotel and the locker room this past week, just the way the Lord was moving in their hearts, it was almost like basketball was secondary. These guys just latched on to everything Coach Tonagel said and everything our leaders did. It was a really special group to be a part of."
The Wildcats shattered the national tournament record for made free throws with 128. The previous record was 108 set by Northwestern in 2008. Weidner earned the second most free throws made in a single tournament with 36 and is fifth in his career with 64. IWU scored the eighth most points in a tournament with 440 points and had the seventh most rebounds with 215 this week.
In the championship game Indiana Wesleyan never trailed and once again got off to a quick start. With the game less than seven minutes old IWU already built a double digit lead at 17-7. But Midland went on an 11-2 spurt to close it to a single point at 19-18. Indiana Wesleyan stretched their advantage up to seven points again in the half before taking a 36-31 lead into halftime.
With a 40-36 lead early in the second half, Indiana Wesleyan exploded for a 9-0 run to gain its largest lead of the game at that point at 51-38. The lead grew to 56-40 with 12:09 to play but Midland responded with eight unanswered points to close the gap to 56-48.
After trading buckets, Indiana Wesleyan scored nine consecutive points for a 67-50 lead as 6:27 showed on the clock. Midland would not go quietly as they answered back with a 13-3 run to close the deficit to 70-63 with 2:22 to play. But an RJ Mahurin (SR/Rockville, Ind.) basket on the next IWU possession and a defensive stop secured the victory. Weidner, Zac Vandewater (JR/Warsaw, Ind.), and Lane Mahurin hit 5-of-6 free throws on the next three possessions to prevent any Midland comeback ideas.
"I'm just so proud of these guys," stated Tonagel. "I'm proud of these seniors. I'm humbled by this opportunity that was given to our team. This will be a lifelong memory."
Weidner led all players with 21 points and 5 assists while RJ Mahurin added 19 points, 4 rebounds, and 3 blocked shots. Lane Mahurin chipped in 11 points, 7 boards, and 3 blocks and Zac Vandewater added 10 points and 10 rebounds.
The motto of the 2013-14 season for the Wildcats was Fearless. That approach highlighted the best season in program history and was evident for all to see this past week in Point Lookout.
"Around mid-season we really started to hone in on it," Tonagel said of the team's drive towards the title. "We were given a vision last spring that this year was going to be about fearlessness. As our guys grew in that concept they would chose courage and faith over fear and the team took off. I saw a whole bunch of growth off the court and then we started to take off on the court. So much of our success on the court had to do with what was going on off the court."
The Indiana Wesleyan season comes to a close with a 31-6 record. The 31 wins are the most in program history, surpassing 30 win seasons in 2007 and 2010.
Monday, March 17
Fantastic web site with tons of info on the National Tourney.
http://wildcatcentral.wiwutv.com/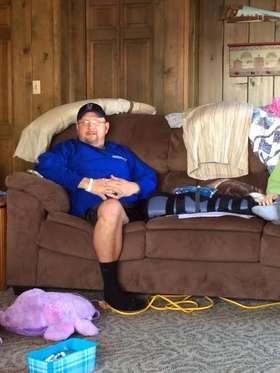 Shooter
Monday, January 20
Shooter Injured
Tragedy struck during an alumni game over the weekend as Brett "the Pistol" McMullen slipped while attempting a 360 slam dunk. McMullen was streaking down the lane early in the contest when he unceremoniously crashed onto the floor and injured his knee. He was later diagnosed with a torn patella. No only did McMullen hurt himself, the loss of McMullen cost his squad a chance for the win! McMullen will be out for the remainder of the season. Ironically, this was the same injury suffered by my dog Milo last summer. Similarly, Milo was jumping for his ball, lost his balance, and flipped over backwards! He was forced to sit out the entire summer season but is now back in action. Good luck Brett!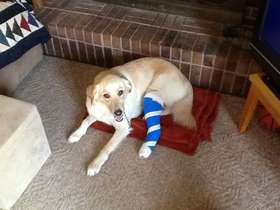 Milo