Team Mahurin: Welcome
Team Mahurin Basketball
Welcome to the Team Mahurin web page.   
I was most recently the basketball coach of the Rockville Rox and have been the coach at South Vermillion, Adams Central, and an assistant at Martinsville (IN).  I've also led the Pacesetter Select and Spiece Central AAU teams.   Right now I'm retired from coaching. 
Feel free to send me information and I'll pass it along.  Hopefully there will be some things here that keep you checking back in.
Thursday, March 6
IWU's Path is Set/Links to Live Video of Games
MARION, Ind. -- Indiana Wesleyan University is seeded No. 5 in the NAIA Division II Men's Basketball National Championship bracket which the NAIA national office released tonight during their Selection Show.
Indiana Wesleyan will play Reinhardt (Ga.) in the First Round of the tournament. The game will be played at 11:30 a.m. ET on Thursday, March 13 in Point Lookout, Missouri. The tournament is held at Keeter Gymnasium on the campus of College of the Ozarks, just outside of Branson.
The 32-team tournament will be contested March 12-18. The tournament seeds the top-16 teams while the other 16 are unseeded. The First Round is played on Wednesday and Thursday with the Sweet 16 beginning on Friday.
Indiana Wesleyan earned an automatic bid to the NAIA National Championship by winning the Crossroads League regular season championship. IWU has won six straight league titles with the last five being outright titles. Indiana Wesleyan is 26-6 this season and ranked No. 5 in the NAIA Division II Top-25 Coaches' Poll which was released earlier today. The Wildcats will make their seventh appearance at the national tournament and is 9-6 overall.
Reinhardt is new to the national tournament scene as they make their debut appearance. They earned an automatic bid to the tournament as the Appalachian Athletic Conference regular season runner-up. Reinhardt is 17-13 overall and is receiving votes in the final Coaches' Poll.
If Indiana Wesleyan wins on Thursday and advances to the Sweet 16, IWU could run into No. 12-seed Morningside (Iowa). The two teams met previously this season with Indiana Wesleyan winning 95-86 in Fort Lauderdale, Florida on December 19. The NAIA National Championship game will be contested on March 18 on ESPN3.
NAIA Web Site
http://www.naia.org//SportSelect.dbml?&&DB_OEM_ID=27900&SPID=100399&SPSID=646849
Schedule, Results, Box Scores
http://www.naia.org/ViewArticle.dbml?DB_OEM_ID=27900&ATCLID=208818361
Tuesday, March 4
Slow Week in College; Big Week for High Schools
Beth plays in her area juco tourney this week (Wednesday), and the boys are off. However, the Rox go for their 4th straight sectional at North Vermillion beginning Tuesday.
Beth's squad faces a number 2 seed who thumped them pretty solidly earlier in the year. Chances aren't the best, but you never know! She's simply been on a tear, and she's gonna have lots of decisions to make soon after the season.
The boys were knocked off in the conference semi-finals over the weekend. It was an OT loss against a good team, but there are still bad tastes in everyone's mouths. The officiating was really, really bad...almost criminal. RJ scored 29 despite sitting out half of the second half. Lane was really solid too with 17. The national tourney draw is Wednesday night at 9:00 pm. The loss didn't really hurt anything other than disrupting a 9 game win streak, but I hate to be cheated. I felt cheated after the game. It did gave old guys like RJ a few extra days off.
The Rox enter sectional play hooping up their best basketball of the year. It's been a great year for Coach Luce and the boys. Their 13 wins were not predicted by many who know the game, and they have a decent draw. The Rox should be a very tough out for the Warriors, but the Warriors are playing well too.
Another fun week approaches!
Thursday, February 27
Another Nice Game for Beth
Lady Statesmen beat Shawnee 77-59
A big second half gave Lincoln Trail College's women's basketball team the cushion they needed Monday night, as the Lady Statesmen got back on the winning track with a 77-59 win over Shawnee Community College.

The Lady Statesmen held a slim, 37-35, lead at halftime, but outscored Shawnee 40-24 in the second half to pull away for the win.

Lincoln Trail made 27 field goals in the game, including eight three-pointers, while Shawnee made 24 baskets with nine of them coming from long range. The Lady Statesmen held a big edge at the free throw line, making 15-21 foul shots (71 percent), while Shawnee was 2-3 at the charity stripe (67 percent).

Blayr Poston led LTC with 25 points, including five three-pointers, while Beth Mahurin tossed in 22, with 14 coming in the second half. Jazmyn Hardiman was also in double figures with 14 points, as was Taylor Birchfield with 11, while Jordan Like netted three points and Abigail Gober scored two.

Allison Garrett led Shawnee with 19 points, while Sidney Slaughter was also in double figures with 12 points.

Lincoln Trail (9-17) will play at Wabash Valley College for a GRAC contest Wednesday at 5:30 p.m.



At LTC Sports Center, Robinson

Shawnee Community College 35 24 - 59

Lincoln Trail College 37 40 - 77



SHAWNEE (59)

Skylar Blake 1 0-0 3, Chalice Gardner 1 0-0 2, Emily Terbrak 1 0-0 2, Ida Parrish 0 0-0 0, Allison Garrett 7 0-0 19, Tori Burton 3 0-0 8, Ortres Bridges 4 1-1 9, Karley O'Donley 0 0-0 0, Alex Brown 1 0-0 2, Sidney Slaughter 5 1-2 12, Courtney Marler 1 0-0 2, TOTALS 24 FG, 2-3 FT, 59 TP.

LINCOLN TRAIL (77)

Danielle Nettleton 0 0-0 0, Aaliyah Johnson 0 0-2 0, Jada Grady 0 0-0 0, Blayr Poston 9 2-2 25, Beth Mahurin 8 6-7 22, Autumn Brown 0 0-0 0, Jordan Like 1 1-2 3, Jazmyn Hardiman 4 3-4 14, Abigail Gober 0 2-2 2, Taylor Birchfield 5 1-2 11, TOTALS 27 FG, 15-21 FT, 77 TP.

3-point goals - Garrett 5, Burton 2, Blake, Slaughter, Poston 5, Hardiman 3.

Team fouls - SCC 20, LTC 11. Fouled out - none. Technical foul - none.

Next game - Lincoln Trail (9-17) will play at Wabash Valley College Wednesday at 5:30 p.m.


Thursday, February 27
Some Great Clips
Boys' Playing Together News Story from WIWU
http://www.youtube.com/watch?v=ixk591KQuQ4
This is also kind of cool...
Boys' Dunk Commercial
http://www.youtube.com/watch?v=l_5V8_jGTaY
ISU did a great job last year with this one...
RJ's Hometime Pride Video for ISU
http://www.youtube.com/watch?v=PG1mgXAADHc
Monday, February 24
Crossroads League End of Year Awards
The CL announced their end of year awards today, and it was a sweep for the IWU Wildcats.
Coach of the Year Greg Tonagel has done a masterful job winning 25 games (playing 3 freshmen a lot). This is his 6th straight conference championship!
Player of the Year Jordan Weidner is a slam dunk pick! He's scored over 2000 points for the Wildcats and is the assist leader for the school. He's a great kid, super player, and I couldn't be happier for him!
Newcomer of the Year was RJ.
Here is the press release:
Hartford City, IN—The Crossroads League released the men's basketball award winners this morning for the 2014 season. 1st Team, 2nd Team, 3rd Team, Honorable Mention, All-Newcomer Team, Newcomer of the Year, All-Defensive Team, Defender of the Year, Player of the Year, and Coach of the Year were voted upon by the head men's basketball coaches in the Crossroads League.
MEN'S BASKETBALL AWARD WINNERS
COACH OF THE YEAR: Greg Tonagel—Indiana Wesleyan
Coach Tonagel led Indiana Wesleyan (25-5 overall) to a 15-3 League mark and the Crossroads League Regular Season Championship. The Wildcats have been ranked in the NAIA Top 25 all season.
PLAYER OF THE YEAR: Jordan Weidner—Indiana Wesleyan
Weidner averaged 18.4 points per game, 5.1 assists per game, and 2.6 rebounds per game while leading IWU (25-5) to the League title. He also shot 48.7 percent from the field and 85.7 percent from the free throw line.
NEWCOMER OF THE YEAR: RJ Mahurin—Indiana Wesleyan
Mahurin averaged 18.1 points per game and 8.1 rebounds per game while shooting 53.6 percent from the field as he helped lead IWU (25-5) to the League title in his first year after transferring from Indiana State University.
DEFENDER OF THE YEAR: Zac Vandewater—Indiana Wesleyan
Vandewater recorded 39 steals this season (1.3 spg) and averaged 5.6 rebounds per game to help lead IWU (25-5) to the League title.
FIRST TEAM ALL-CROSSROADS LEAGUE
Jordan Weidner—Indiana Wesleyan
Shane Merryman—Huntington
Aaron Evans—Marian
Scott Kohne—Saint Francis
RJ Mahurin—Indiana Wesleyan
ALL-NEWCOMER TEAM
RJ Mahurin—Indiana Wesleyan
Austin Fox—Saint Francis
Derek Hinen—Huntington
Kyle Stidom—Taylor
Martell Medley—Mount Vernon Nazarene
Logan Irwin—Grace
ALL-DEFENSIVE TEAM
Zac Vandewater—Indiana Wesleyan
Greg Miller—Grace
Rob Hogans—Spring Arbor
Jason Riley—Marian
Patrick Oetting—Bethel
Tuesday, February 25
More Awards
Hartford City, IN—The Crossroads League Player of the Week award winners for men's and women's basketball have been released for competitions during the week of February 16th through the 22nd. Players are selected for this award by their performances and contributions during the week of competition.
The Crossroads League consists of ten colleges and universities in Ohio, Indiana, and Michigan and include: Bethel College (Mishawaka, IN), Goshen College (Goshen, IN), Grace College (Winona Lake, IN), Huntington University (Huntington, IN), Indiana Wesleyan University (Marion, IN), Marian University (Indianapolis, IN), Mount Vernon Nazarene University (Mount Vernon, OH), University of Saint Francis (Fort Wayne, IN), Spring Arbor University (Spring Arbor, MI), and Taylor University (Upland, IN).
CROSSROADS LEAGUE PLAYERS OF THE WEEK
Men's Basketball Co-Players of the Week: Scott Kohne, Saint Francis & RJ Mahurin, Indiana Wesleyan
Scott Kohne, a senior from Saint Francis, was selected as the Men's Basketball Co-Player of the Week. Kohne hit a fade-away 3-pointer at the buzzer to give No. 19 USF a 62-60 win over No. 12 Huntington on Feb. 18th. His game-winning shot was the #1 play on SportsCenter's Top 10 plays. Kohne added 24 points in USF's win at Goshen that locked up the No. 2 seed in the Crossroads League Tournament. For the week Kohne averaged 17.5 points per game and 7.5 rebounds per game while shooting 54 percent from the field.
RJ Mahurin, a senior from Indiana Wesleyan, was selected as the Men's Basketball Co-Player of the Week. Mahurin finished with a double-double on Tuesday as IWU clinched its sixth consecutive Crossroads League Regular Season Championship. He paced IWU with 24 points and 12 rebounds in the win over Goshen. He concluded the season with a 16 point, 5 rebound performance against #RV Marian on Saturday. For the week Mahurin averaged 20.0 points per game and 8.5 rebounds per game while shooting 52 percent from the field.
Sunday, February 16
Article on Boys From IWU Student Paper
When it comes to dynamic brother duos in professional sports, everyone can admire the passion and competition that siblings radiate on and off the field. And it's no different for Indiana Wesleyan University basketball brothers RJ (sr) and Lane (fr) Mahurin. When RJ had the opportunity to leave Indiana State University to play his final season with Lane as a Wildcat, it was a slam dunk decision. Staff writer Mike Bruce sat down with the Mahurins to learn more about their unique story.
MB: You were both born in Indiana, when is the first time you realized you wanted to play basketball?
RJ: That's a tough question, because I think I've always played basketball as long as I can remember. Dad was a coach at a little school called Adams Central, just south of Fort Wayne. I know he always took me to games or had me practice ever since I could pick up a ball. I've just always been around the game. We would play pickup games in the driveway with my sister too, which was always fun. Lane's got a little different story compared to me though.
MB: How many siblings do you guys have?
RJ: Us two and a sister. She's in the middle; we're all two years apart. I'm the oldest at 23. My sister's 21, and Lane is 19.
MB: When did you guys actually start playing together?
L: When we would play in the summer, I was only a seventh grader and I would play varsity with you.
RJ: It's mostly always been like an open gym setting. We've never actually been on the same team, which is what's made this year so cool because we've never been able to play on a real team together. For the most part it's just been in summers, practices, he (Lane) always practiced up. We've always just played together outside of a real basketball game. This year has been so cool because this is the first time we have been able to be in a real game setting with each other.
MB: That's great! So how did the recruitment process actually go? Go into your story. What happened?
L: It all started with a family friend or coach who started teaching at Rockville where we're from; he went to school here and he just loved it and wanted to bring me up for a game and I came up to watch. At that time I had an offer from ISU already and I was expecting to go Division I so I didn't think too much about it. Once the coaches saw me at the game, they started talking to me and we just got into a friendly relationship with a bunch of games, even in one game in high school I dislocated my knee and coach was there and came and prayed with me after the game. They're always around and always nice, and made me feel welcome, and I would go to ISU and play with the guys who were friendly, but the coaches weren't all the time. As I got older I found out that divisions didn't matter to me, it was just about being happy. And I found a lot of the places, higher up, there were a lot of fake people, fake coaches, and so finally one night after I had been here a couple times and talked to the coaches, I decided that this is where I wanted to be. I walked inside, it was after a high school game, we just won, we were at the coaches house celebrating and I walked up to RJ and I said, "Hey, I just committed to Indiana Wesleyan."
RJ: At that game I think four out of the five coaches made the drive over from IWU over to where he was playing and I just brushed shoulders with them and got to talking to them. So he commits, and I walk back in and what did I say?
L: You said "I'm a Wildcat now, I'm going to be a Wildcat too!"
RJ: That's right! I was at a point at Indiana State where some of the politics, you know, I don't want to make it sound like they're a bad school because there's a bunch of people I love and have respect for the coaching staff, but I was just getting to a point where for some reason I just didn't love it anymore. I thought about maybe making a move, I just felt like I was maybe holding things back. I played a lot of minutes and did a lot of stuff for [their team], so for me not to have heart in it, I just thought to myself: what can really give me that fire back? [Lane] decided to go to IWU, and I kind of just ran into the coaches and loved them and drove up here one day after I decided to leave Indiana State, just really loved the campus, just everything kind of fell into place. Then, two weeks later, I was at Indiana Wesleyan getting ready to play together. It just all happened really fast! I didn't know at the time what it took to really fall back in love with the game, but this move with my brother has really helped me to do that. Just talking to the coaches here, we're family, and winning isn't everything. It's not the coaches fault, but playing Division I, if you don't win games, you get fired. It's all about winning games. It's important here too. But to be on the same team, we're family and this is a great family, literally.
MB: You guys are awesome. So now the real question is, who's the better player?
RJ: We've heard that one a lot!
L: Yeah, there are different parts of our game that are better.
RJ: We're basically as far apart as you can get. I'm typically known as a better shooter, well not as much this season, but I've always been the better shooter and he has been more athletic. He can get to the rim and grab rebounds better than I do.
L: But you have always been a better natural scorer.
MB: So it's looking like RJ is the Kevin Durant, and Lane, you're more like LeBron?
L: (Laughing) Nah! I've always said RJ is better, he has always been the better scorer.
RJ: I think it's just that I've always been older, and I was Dad's first and always attached to him, whereas Lane wasn't as much. We're just kind of different!
L: I was into Halo, and then went through the skateboarding phase, whereas RJ never really did that. He was always in the gym. I would remember Dad telling me stories of RJ being a second grader playing in a league for fifth graders. His team won a tournament because RJ had like 40 points a game!
MB: What? don't believe that!
RJ: I just grew up in the gym, and I think maybe Dad just thought he pushed his first son so hard, that he would give his second son more space and let him pick it up on his own.
L: Well, I could never shoot. I was always a lot shorter when I was younger. My 7th grade year I was 5'3. A lot of the girls were taller than me and I was a point guard.
MB: Alright, I see what's going on. So 2 on 2, are you two a good combination on the floor?
RJ: I actually said this in an interview the other day. You know when you're on the floor and you just know where someone's at, he's just there and I can count on that. I don't know if that's necessarily true, but I definitely feel like I know where he's going to be. He's had passes where I barely catch them and it's just like he knows.
L: Yeah I'll just pass it right by a dude's head just because I know RJ will catch it. Just little stuff like that, nothing crazy.
RJ: It sounds crazy, but just playing during the summers you just pick up stuff like that. We both we're coached by our dad our entire career, so we were taught the same way and have learned the same our entire life.
MB: Is it weird to share the spotlight now?
RJ: It's not weird, no. I don't necessarily think of it that way. It's weird with this team because no one expects to go in and score a certain number of points. There really is no spotlight on our team. Jordan Weidner just broke the assists record, or he'll score a bunch of points in a game, and it won't go to his head. We're just trying to go out there and win.
L: On this team no one is too cool, which is really cool. There's the "I am third" mentality which just adds to the humility. It's not about me, it's about the team. That's certainly is not a problem for us.
RJ: For my last year, I just want my team to be successful.
MB: What are you goals for the season then? Do you see a championship?
RJ: I see it. There's always a lot of work to be done, but if we can execute I don't think there's a team we can't beat. This has definitely been the best defensive team I have been on..
L: I see it, I know we can do it. We have the talent for sure, we just have to string it together ourselves.
RJ: If we treat every game like it's the championship, we don't have a reason not to win.
L: Take it practice by practice. Those are huge, they're almost as important as games.
MB: So are there aspirations for you guys to play in the NBA?
L: Those dreams died after I found out how hard practice was in college. Even if I were talented enough, I think a college championship is more realistic.
RJ: Yeah I'm married now, that's more so in the plans [than the NBA]. When you're single, that's always part of your aspirations, but when you're married, you just want to start a family and get your life started. My body is so sore now, but I think this year, it's about time to win and be done.
MB: Can you talk about your faith a little bit?
RJ: Of course, I actually wasn't saved until my senior year of high school, and that's one of the reasons why I came here. When I started college, I was going to a bible study, and I was living with a guy who was responsible for a lot of my growth. I kind of fell away from God after that, but I just got tired of that. I'm used to it now, but I had never really prayed out loud before. I still get kind of nervous when I do, but I'm starting to get more to the point where I'm most comfortable. The coaches give you little thoughts to chew on, like spiritual things like a seven-day challenge from Romans 12, which challenges us and really helps because in today's society with technology. Going to Auckland [for the athletic department missions trip] was huge too, because I had the chance to feel the true feeling of fulfillment and that really got me excited about my faith. People were getting baptized in the ocean, and were there with a bunch of people and you knew God was there.
L: For me, I was by myself a lot when I was younger. I never really did anything bad, but I was a Debbie Downer and kind of dark. I was in some dark places and God really pulled me out of it. And I really hated having to choose a college. I wanted to go here, but it was hard choosing over the big ones. I was at a Division I school on a visit with my Dad, but I also liked it at IWU. He went to Marian University and he didn't like the idea of me going. We were sitting in his truck when a commercial for IWU came on the radio. That's as real as it could be, we didn't say another word, and he said "well how about that." And we just sat there in silence.
RJ: I think prayer has been huge on my decision to come here as well, to have a good feeling for direction. Things have just popped up, and now it's just time for me to follow His lead, and its just worked out.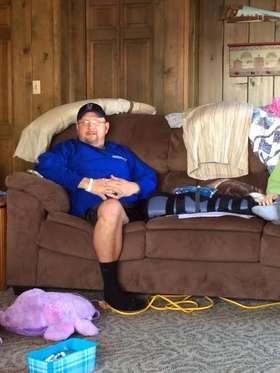 Shooter
Monday, January 20
Shooter Injured
Tragedy struck during an alumni game over the weekend as Brett "the Pistol" McMullen slipped while attempting a 360 slam dunk. McMullen was streaking down the lane early in the contest when he unceremoniously crashed onto the floor and injured his knee. He was later diagnosed with a torn patella. No only did McMullen hurt himself, the loss of McMullen cost his squad a chance for the win! McMullen will be out for the remainder of the season. Ironically, this was the same injury suffered by my dog Milo last summer. Similarly, Milo was jumping for his ball, lost his balance, and flipped over backwards! He was forced to sit out the entire summer season but is now back in action. Good luck Brett!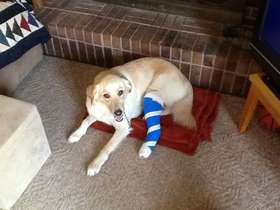 Milo