ROC Lady City Rocks - ICC Truth - ROC REV: Welcome
The ROC Lady City Rocks/ICC Truth Girls AAU Basketball Teams
Welcome to the ROC Lady City Rocks website. In this next step of our evolution, the ROC REV is proud to become a member of the City Rocks organization while continuing our affiliation with the
ICC Truth
. The ladies will continue to be dedicated to constantly improving their games and playing at the highest level possible.You may check out some of our History.
11th Grade Scrimmages 8:00 Monday & 7:30 Wednesday (4/21&23) at Discovery Charter School
Important General Tournament Info for Parents - Click here.
Foul Shootathon Fundraiser Pledge
Sheet
Weekly Practice Schedule:
WEEKDAYS
PLACE: Discovery Charter School, 133 Hoover Dr., Rochester, NY 14615
The Discovery Charter School gym has automatic doors. The doors at exit 19 open 15 minutes before your regularly scheduled practice time and lock 15 minutes after your practice time. Only the doors at exit 19 can be used for exit and entry!
Tuesdays
–
6:00 -8:00
Grades 7/8 and Grade 9 (Coaches Teri and Dee)
Thursdays 6:30 – 8:00 Grade 5/6 Team (Coach Terrace)
Thursdays 8:00 – 9:30 Grade 10 Team (Coach Mathis)
Fridays 6:00 – 7:30 Grade 11 Teams (Coach Rodney and Coach Pound)
Fridays 7:30 – 9:00 Grade 9/10 and Grade 12 (Coach Klein and Coach Hasenauer)
SUNDAYS
PLACE: Gates Chili High School Gym: 1 Spartan Way, Rochester, NY 14624
12:00 – 2:00 Grades 5/6, 7/8 & 12
2:00 - 4:00 Grades 9, 9/10, 10 and 11's
2014 Season Information:
Team Expectations Link
Practice Dates, Times and Fees Link
Check out this camp
HoopsStrength (Matt Jones)
Tuesday, April 15
ICC 10th Grade Champs This Past Weekend
The ICC 10th graders brought home some hardware for Coach Mathis. Lot's of smiling faces the results of hardwork and effort!
Tuesday, April 8
ICC Truth at Buffalo Tip Off Classic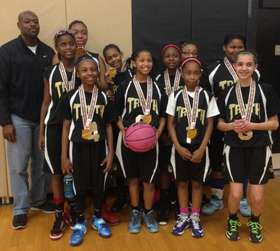 Coach Terrace and the 5/6 ICC Truth Team
ICC Truth 5/6 Grade Girls Runner Up at Buffalo Tip Off Classic
Conratualtions to the 5/6 Grade team for bringing home some hardware from their first tournament, The Buffalo Tip Off Classic. The girls went 3-1 on their way to the medals!
ICC Truth 7/8 Grade Girls Have a Great Tournament
Coach Dee is very proud of her 7/8 grade team for their excellant performance at the Buffalo tip Off Classic. The girls went 3-2 and played some great basketball together!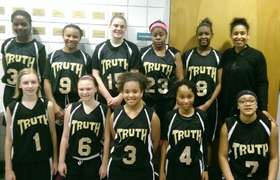 Coach Dee and the 7/8 ICC Truth Team
Sunday, January 5