Home of Riviera Little League in South Torrance: Welcome
2017 Spring Season
Registration tentatively scheduled to begin November 1, 2016
---
Fall Ball 2016 Registration
All children welcome ages 5-13 by August 31, 2017.
Players must live or attend school within Riviera Little League boundaries (South High School enrollment)
Fall Ball Schedule
Sept 18th thru Nov 20, 2016
Division Information

Divisions Ages

Division Rules

Registration Fees

U13-U12
50 pitching - 70 bases
$80.00

U12-U11
50 pitching - 70 bases
$80.00
U10-U9
46 pitching - 60 bases
$80.00
U8-U6
coach/machine pitch - 60 bases
$80.00
U6-U5
machine pitch - 60 bases
$80.00
Fees include player's jersey and cap. Personal helmets are recommended for all players.
ON-LINE REGISTRATION Now
For more information call 310.375.1583 or
contact the league president by email "president@rivieralittleleague.org"
---

Riviera Little League is proud to roll out a new texting communication tool that we will be using to communicate weather, field conditions and other events that pertain to Riviera Little League!
This new service is FREE and we are encouraging everyone to sign up for this service.
There are two ways to sign up!
Text RIVIERALL to 84483
Click HERE to add your mobile number or email address
Text HELP for help. Text STOP to cancel alerts at any time. For customer support contact info@rainedout.com or 800-230-1933. Message & data rates may apply. Privacy Statement
As part of this free service, RainedOut will add an advertisement at the end of the text. Riviera Little League does not endorse or recommend any products or services advertised at the end of a text sent via the RainedOut service.
---
* * * DONATE NOW * * *
Riviera LL has a 5 year loan with Musco Lighting to pay off the lights.
If payments are not made, Musco Lighting would remove the lights.
LET'S NOT LET THIS HAPPEN!!!
To donate, put "Lights" in the memo section of the check. You can leave it with the Snack Shack supervisor, give it to a Board member that's on duty (red polo shirt) or mail it to:
Riviera Little League
P.O. Box 1040
Torrance, CA 90505
If you own a business or know of a business who would donate, we will provide you with our FID number.
You can also donate online using the "Donate" button below
---
Thank You Martin Chevrolet for your support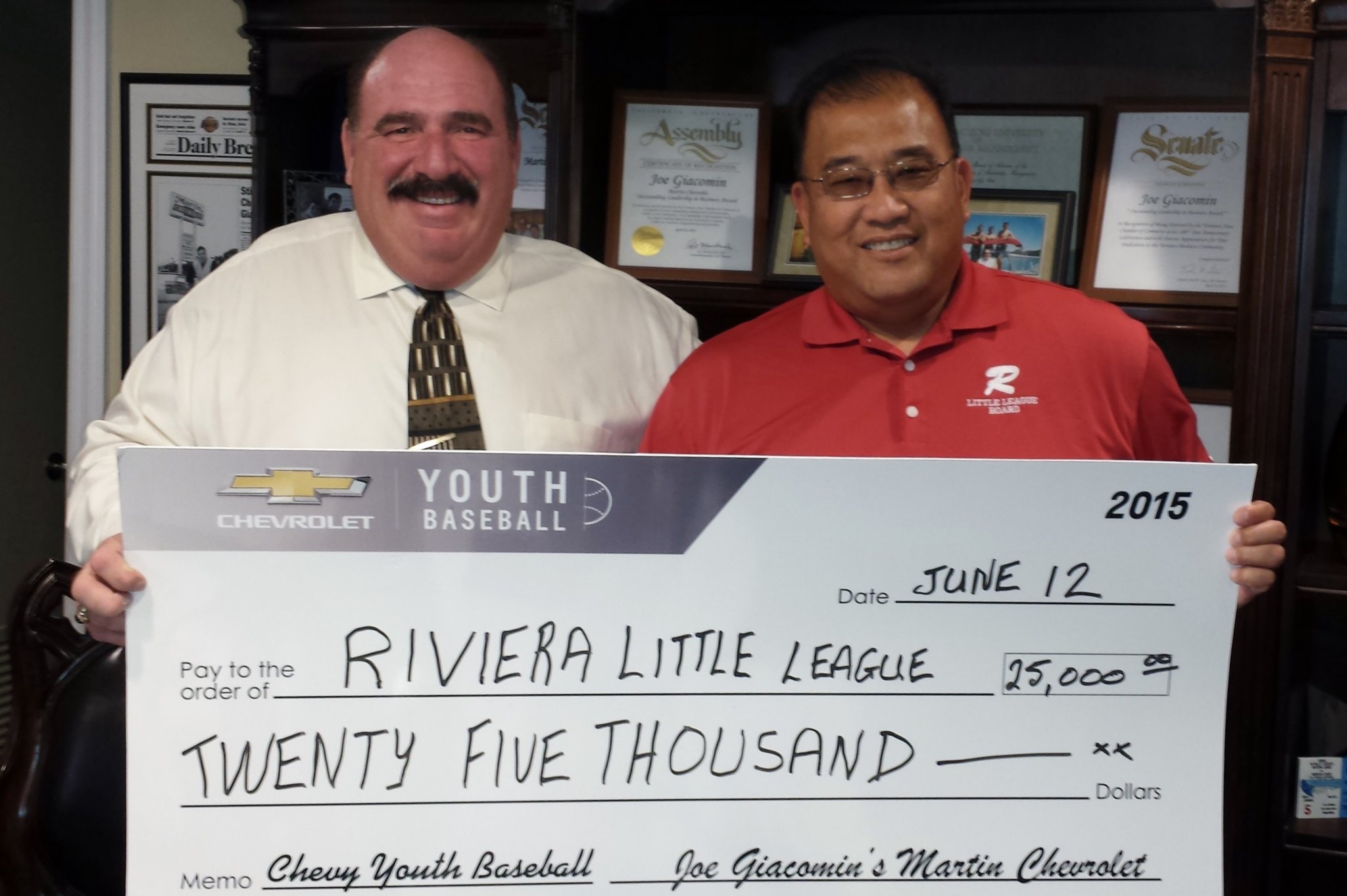 ---
REQUIRED FORMS
ALL teams must assign duties and need background checks. Manager, Coaches, Team Parent coordinator, Field Prep Coordinator and Scorekeepers
Send all forms to your manager
---
Riviera Little League 2016 Sponsorships Available
Riviera Little League is asking for your support for the upcoming 2016 season.
Sponsorship fees are critical for Riviera to help us maintain and improve upon our existing fields and facility.
If you have a business or know of a business that might be interested in sponsoring our league, please contact Jodi Clark @ jodiusc@yahoo.com and download the information sheet for more details.
Download Sponsorship Information Sheet
---
For Information on 2017 age requirements
---
Bat Rules
---
Riviera Little League
23701 Ocean Avenue, Torrance, CA 90505
Follow us:


Riviera Little League is part of District 27
Friday, June 17
2016 Riviera Little League Survey