2012 Girls Team Rankings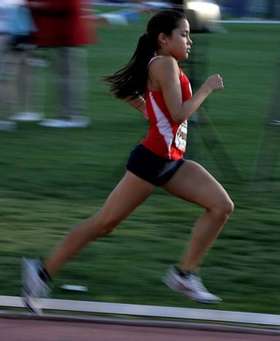 Ashley Helbig Leads Great Oak
Preseason All-County Girls Squads Released Below
After scrolling through a multitude of results from the 2011 season and taking some of this past Track season's accomplishments into consideration, we bring you our 2012 Riverside County Preseason Girls' Team Rankings.
After ruling the top of our charts from 2007-2010, Great Oak greets us at the top once again. Coming off of a tough November where they were unable to live up to CIF and State Rankings, Vista Murrieta leapfrogged the Wolfpack for our top billing after their standout podium performance at last year's California State Meet. Great Oak returns a strong crew as always with incredible, nationally ranked depth! We have them with 25 girls with sub-21 minute credentials and 11 of them under 20 minutes! They are led by senior Miranda Kewley, junior Ashley Helbig and sophomore Maiya Larsen. Helbig is on the cusp of moving into the national spotlight after an outstanding Track season. They should be ranked #1 in this summer's Division I CIF Rankings once again and be more motivated than ever to end there like they did in 2010 when they captured the state title.
Despite being hit hard by graduation, Vista Murrieta is still one of the top teams in the Inland Empire. Sarah Benson will lead this crew along with fellow seniors Brooke Evans and Bethany Belady. They have qualified for the state meet the past three seasons and now have the experience of getting on the podium after last year's 2nd place state meet finish! Boosting their group is also the transfer of Imogen Outlaw from Chaparral! Meanwhile, boasting last year's top freshman class, expectations are high from the Sharks of Santiago here in 2012. With a new coach and health on their side, this could be the year they compete for the state meet after making it to the CIF Finals for their first time in 2011. McKenna Genovese is a sub-18 minute athlete that lost her 2011 season to a stress fracture in October. On paper, we have them ahead of Vista Murrieta but we will error on the side of tradition and history. We have also heard that Santiago's #2 is still recovering from a torn ACL suffered this past soccer season and is questionable for this season.
For the third year in a row, Temecula Valley and Chaparral will be battling for that coveted 3rd spot to CIF out of the tough Southwestern League. Chaparral is 2-0 in getting the nod the past two years but on paper, we have Temecula Valley ahead of them going into August. Junior Angela Ziff qualified for the CIF Finals as an individual last year and she hopes to lead the young squad along with her in 2012. Meanwhile, with losing Outlaw to VM, Chaparral will have a their work cut out for them. But, they do tend to peak pretty well as we are anticipating the continued rise of sophomore Chandler Kerr who is coming off a great Track season. Martin Luther King is also right there with those two squads as senior Raelyn Werley looks be back and as healthy as ever. They come into 2011 with a heavy dose of senior experience and should give Santiago a push for the Big VIII (VI?) league title.

Xavier College Park is a virtual lock to be racing further into the season than most of our squads after performing so well at last year's State Meet. They are solid through four girls but will be seeking an additional sub-21 minute girl to compete the aforementioned squads. Valeria Ruiz continues to round out into one of the better small schools' athlete in the state.
Corona, led by two time state meet finalist Alicia Williams, graduated seven of their top nine girls. While they are in rebuilding mode, they are still looking to make it back to the CIF Finals for a 3rd straight year. San Jacinto is bringing back their best squad in school history and if they can find a 5th girl, can be a sub-100 minute squad on the Mt. SAC course. Murrieta Valley, Hemet and Murrieta Mesa are all right there as well as not much separates #8 through #11 squads! The Southwestern League has all six squads right in or near our top 10 squads!
Girls Preseason All-County Squads
1st Team
-Sarah Benson (Vista Murrieta)
**McKenna Genovese (Santiago)
*Ashley Helbig (Great Oak)
*Megan Huebner (La Quinta)
-Miranda Kewley (Great Oak)
*Alicia Williams (Corona)
*Angela Ziff (Temecula Valley)
2nd Team
**Jackie Crowther (Linfield Christian)
*Haley Dorris (Great Oak)
**Maiya Larsen (Great Oak)
-Kiarra McIntosh (Paloma Valley)
-Kim McNamee (Great Oak)
-Alexis Messerly (Great Oak)
*Fernanda Rodriguez (Rubidoux)
3rd Team
-Brooke Evans (Vista Murrieta)
-Briana Fonseca (Vista del Lago)
-Selena Gallardo (Tahquitz)
-Rebecca Morales (Indio)
-Valeria Ruiz (Xavier College Prep)
-Rachel Seymour (Great Oak)
-Raelyn Werley (ML King)
2012 Preseason Girls Team Rankings
1) Great Oak
2) Vista Murrieta
3) Santiago
4) Temecula Valley
5) ML King
6) Chaparral
7) Xavier College Prep
8) Corona
9) San Jacinto
10) Murrieta Valley
11) Hemet
12) Murrieta Mesa
13) JW North
14) Riverside Poly
15) Norte Vista/La Sierra