Rhode Island Rays Baseball Club: Welcome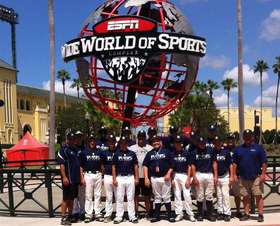 AAU National Championships
2014 Rhode Island Rays Baseball Club
RAYS 14U TEAM WILL BE COMPETING IN THE 14U BCS CHAMPIONSHIPS AT JETBLUE PARK IN FT MYERS JULY 4TH -9TH. YOU CAN FOLLOW US AT WWW.PERFECTGAME.ORG

FALLBALL TEAMS FOR 2014...

11U MIKE MAROT-NEAAU (players who completed 10u season in spring) (2 SPOTS)

13U KEN GIARD-AUTUMN BASEBALL LEAGUE-WOOD BAT (FULL)

16U MIKE GIARD-AUTUMN BASEBALL LEAGUE-WOOD BAT (1 SPOT)

*RAYS PLAYERS FILLOUT APPLICATION AND MAIL IN. IF YOU ARE NOT A CURRENT RAYS PLAYER AND WOULD LIKE A ROSTER SPOT PLEASE SEND ME EMAIL WITH PLAYERS NAME, AGE AND CURRENT TEAM TO REQUEST A SPOT. RIRAYSBASEBALL@VERIZON.NET
The RI Rays Organization Is Looking Forward To An Exciting 2014 Season.
The Rhode Island Rays Baseball Club is a youth baseball organization comprised of teams in the following age groups:10U,11U, 12U, 13U & 14U playing under the Amateur Athletic Union charter.
ROSTER SPOTS ARE STILL AVAILABLE FOR SPRING TEAMS FOR 2014..
IF YOU WOULD LIKE TO SET UP A PRIVATE TRYOUT PLEASE EMAIL RIRAYSBASEBALL@VERIZON.NET
If you have any questions or would like to schedule a game with the RI Rays
10U, 12U, 13U, 14U or 15U teams.