Rhode Island Rays Baseball Club: Welcome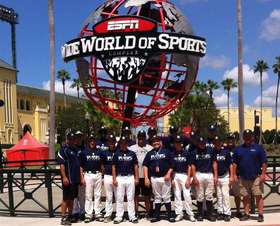 AAU National Championships
2015 Rhode Island Rays Baseball Club
The RI Rays Organization Is Looking Forward To An Exciting 2015 Season.
The Rhode Island Rays Baseball Club is a youth baseball organization
comprised of teams in the following age groups: 10U,11U, 12U, 13U & 14U
playing under the Amateur Athletic Union charter.
ROSTER SPOTS ARE STILL AVAILABLE FOR SPRING TEAMS FOR 2015.
If you would like to set up a private tryout
please email: RIRAYSBASEBALL@VERIZON.NET
If you have any questions or would like to schedule a game with
any of the RI Rays 10U, 12U,13U,14U or 15U teams
email: riraysbaseball@verizon.net
RI Rays 14U Team will be competing in the 14U BCS Championships
at JetBlue Park in Ft. Myers, FL July 4-9th.
You can follow us at www.perfectgame.org.