Rhode Island Rays Baseball Club: Welcome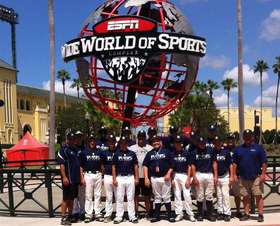 AAU National Championships
The RI Rays Organization Is Looking Forward To An Exciting 2015 Season.
The Rhode Island Rays Baseball Club is a youth baseball organization
comprised of teams in the following age groups: 10U, 11U, 12U, 13U & 14U
playing under the Amateur Athletic Union charter.
ROSTER SPOTS ARE STILL AVAILABLE FOR 12U TEAM (3) 2015.
If you would like to set up a private tryout
please email: RIRAYSBASEBALL@VERIZON.NET
If you have any questions or would like to schedule a game with
any of the RI Rays 10U, 11U, 12U, 13U & 14U teams
email: riraysbaseball@verizon.net
Wilson Uniform Care and Maintenance
DO NOT Leave wet or damp garments in a pile or in a laundry / travel bag
DO NOT Dry clean your uniforms
DO NOT Wash in warm or hot water
DO NOT Use chlorine bleach
DO NOT Dry on high heat
DO NOT Use fabric softener
General information call (800) 468-8647 with questions