Ridley Youth Lacrosse: Welcome
2016 INFORMATION

For Questions about our program, Please email:

2016 SIGN-UP INFORMATION

Please see the Registration dates below.

To save yourself time at sign-ups and for Mail-in sign-up:

Please visit our "Registration Forms" page on the left menu to view & Print our Registration form along with our information sheets for your sons grade level.

SIGN UP DATES

SATURDAY MORNINGS

JAN. 16th, 23rd & 30th 2016 9AM-11AM

SAT. JAN 23rd Sign-ups are CANCELLED due to the Snow Storm, our next scheduled sign up will be Wed. 1/27. Thank you.

WEDNESDAY EVENINGS

JAN. 20th & 27th 2016 6:30PM-8PM

LOCATION: FOLSOM AA Clubhouse, Route 420 next Marine Base

PLEASE BRING YOUR "CLUB ISSUED" EQUIP AND JERSEY FROM LAST YEAR (if we provided to you) FOR UPGRADING YOUR OLD EQUIP.

*** New Equip 1st come, 1st serve basis ***

(example: Helmet, Game Jersey, Gloves, elbow pads)

If you bought your own equipment please return the equipment we issued you. Only "club issued" equip needs to be returned to us.

MAIL-IN Registration needs to be RECEIVED by JAN 31st 2016.

A LATE SIGN-UP FEE MAY BE ISSUED FOR SIGN-UPS AFTER JAN 31st 2016.

Ridley Youth Lacrosse has been providing the youth of Ridley with the knowledge and skills of the game of Lacrosse for over 30 years. A long proud tradition with a number of young players that have made their mark not only at the High School level, but at the Collegiate level as well.

Our mission is to help guide the youth of Ridley with the Knowledge, Skills, and Love of the Game that has brought Ridley 6 State Championship Titles. Ridley Youth Lacrosse teaches boys from Kindergarten to 8th Grade. We offer an In-House Intramural program for boys K to 3rd Grade as well as travel teams for boys 4th to 8th Grade. Sign Up to become part of the Proud Ridley Tradition.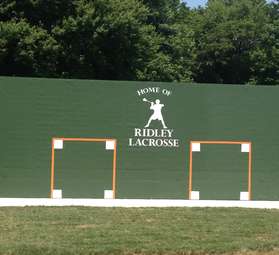 Our New Lacrosse Training Wall