Ridgefield Post 78 Baseball: Welcome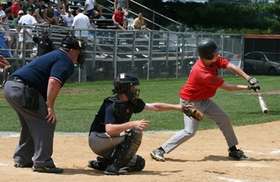 Strike 3
Wednesday, May 15
Ridgefield Post 78 Baseball
Ridgefield Post 78 JR Legion (17U) and SR Legion (19U) compete in Zone 5 Fairfield/New Haven County wood bat league of Connecticut American Legion baseball. In 2013 the SR team played 32 games and the JR team played 33 games.
2013 Senior Scores and Schedule can be found under the SCHEDULE tab. Zone 5, Connecticut Legion baseball and National Legion baseball sites can be found under the LINKS tab. Zone 5 play begins June 8.
2013 July CT ST Tournament Update The 2013 SR team finished 4th in Zone 5 with a 15-12 record. For the 2nd consecutive time in the current 10 years in the SR Legion league Ridgefield Post 78 qualified for a SR state tournament game. On Saturday July 22 East Haddam defeated Ridgefield 2-1 to eliminate them from post season play. The JR team finished at 16-8 in Zone 5 and lost 9-1 to Stamford Sunday July 27 in a state play in game. That is the 7th consecutive time that the JR team has qualified for post season play. The 16U team finished at 4-20 in their first season at this level.
Former players update Alex Tuccio 2012(Siena U) played 1st base and batted cleanup with the Danbury Westerners this summer. Mike Devivo 2012 was the starting centerfielder at Dickinson College this Spring. From the 2013 team Timo Muro (Ursinus), Collin Omeara (Anna Maria), Devin Martin (Union) and Adam Zandri (Springfield) will be competing this Fall at their respective universities.
2012 Graci Runnerup In June of 2012 Ridgefield came in 2nd in the Graci tournament defeating NY State runnerup Middletown, 3-1 and Champion West Palm Beach Florida, 2-1.

Shortstop routine play