Rialto Girls Softball Association: Welcome
Register for Spring 2017!
Tuesday, February 21
WELCOME TO BILL BATTS RIALTO GIRLS SOFTBALL ASSOCIATION
General Board meeting minutes now available for review -
click on "Virtual Office" and scroll all the way the bottom
REGISTRATION CLOSES SATURDAY 5/20 @ 12:00 PM
Games to be played every wednesday 6/7 to 8/2
We are still taking sign ups for Women's Division
Women's Division Cost:
$60.00 per player living in Rialto $65.00 per player outside Rialto
TBall to 18U WINTERBALL SIGN UPS -
Wednesdays at the park 7:00-9:00 p.m.
June 7th, 14th, 21st, 28th
July 5th, 12th, 19th, 26th
August 2nd, 9th, 16th
Saturdays at the park 10:00-1:00 p.m.
August 5th, 12th, 19th
Spring 2017
It is that time of year where you are running your child to the ball field for practice & then games. Umpires are also doing the same. We are reviewing rules, & tightening up our mechanics to be the best we can be. But just as your child will make mistakes along the way, so will umpires. We are all human and as a human beings, we tend to do better with encouragement then with criticism. Umpires are not all the same, just as coaches are not the same. Your child will not miss out on a scholarship or being seen by a recruiter because an umpire missed a call or saw something different then you in the stands. They are not the enemy and do not care who wins the game, they are only there to call the game to the best of THEIR ABILITY (which varies with experience). Use the time they are involved in sports to show by example how to deal with disappointment and to always show respect for an authoritative figure. These are the life lessons that are going to develop your child into a contributing adult in our communities. Life is NOT always fair and not everybody is going to see things the same way. Please do not allow yourself or others around you in the stands to verbally abuse umpires on the dirt. It is not in our job description to be society's whipping post for having a bad day at work. I am sure you would not appreciate a stranger to come into your place of employment & yell at you on how to do your job better. For the majority of us, we love the game & enjoy what we do. Let's not forget why we are all out there in the 1st place----our children are watching!
Thanks and have a great season. #eboard
A big thank you from RGSA to everyone who sponsored RGSA or any team in the 2017 season! Click on the "sponsors" link in the left menu to see the list of our sponsors.
Have a bat that's too light? A helmet or cleats that are too small? RGSA is now collecting used equipment to help out those players who may need new equipment but can't obtain it at this time. Please bring your no longer needed - but still in good useable condition - helmets, cleats, bats and gloves to the park during registration. Lets' all try to help more girls enjoy the sport of softball. It would be a shame to exclude any player just because she cannot afford any equipment!
If you have any questions about registration or the League, please e-mail to rialtogirlssoftball1960@gmail.com or contact Shelly Henderson at (909) 278-5071 or any Board Member listed in the link in the left menu.
All about tha base
Tuesday, June 28
10U & 12U ADVANCE TO STATE CHAMPIONSHIP TOURNAMENT!
Congratulations to the 10U Gold and 12U All Star Teams!
Both teams were finalists at the Eastern "B" District Tournament and both teams advance to the State Championship Tournament.
Great job ladies! Keep up the hard work!
Monday, June 20
14U & 10U Silver Advance to State Championship Tournaments!
14U Eastern District Champions
The 14U Gold team took 1st place at the ASA Eastern "B" District Tournament
and now advances to the "B" State Championship Tournament.
The 10U Silver team finished in 3rd place at the ASA Eastern "C" District Tourament
and will represent Rialto at the "C" State Championship Tournament.
Great job ladies!!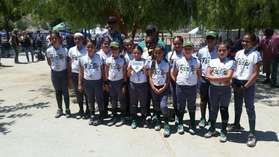 10U Silver Advances to State!
Tuesday, July 19
2016 ASA All Star Teams
Congratulations to the Players, Manager & Coaches
selected for the 2016 All Star teams!!
8U - Josh Hearell, Manager
3rd Place La Habra Tournament
10U Gold - Felipe Sandoval, Manager
1st Place La Habra Tournament
2nd Place Eastern "B" District Tournament
Advanced to "B" State Championship Tournament
10U Silver - Scott Malinowski, Manager
3rd Place Eastern "C" District Tournament
Advanced to "C" State Championship Tournament
12U - Jorge Martinez, Manager
2nd Place Eastern "B" District Tournament
Advanced to "B" State Championship Tournament
14U - Joseph Rodriguez, Manager
1st Place Eastern "B" District Championship
Advanced to "B" State Championship Tournament
Advanced to 14U National Championship Tournament
3rd Place Murrieta Tournament