Rhode Island Crush: Welcome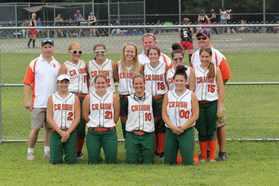 2012 RI Crush
RHODE ISLAND CRUSH SOFTBALL
Welcome to the new home of the RI CRUSH. We were a new organization for the 2011 season. We are presently a highly competitive 18 u Showcase team for the 2012 season. We have experienced coaches who are committed to teaching the fundamentals, honing skills and getting players ready to showcase their skills to colleges. In the summer, college showcase tournaments and National Qualifing tournaments are planned for the 2012 season. We are planning on returning to the Virginia Beach Showcase, playing in a national championship toury along with several other showcases and tournies on the east coast. Also a winter tourny is planned under the dome in up-state New York. If you are interested in RI Crush, have any questions or want to try-out, please call Coach Steve at 401-338-3929.
1 spot left for 18u (pitchers only please).
The Rhode Island Crush are looking to expand into 16u and 14u. If you are a coach with a team looking for a home, or a parent looking for a place for your daughter to play and learn, please consider us and give us a call at the number above. Coaches and players are always needed and welcome.
I would like to thank everyone (players and parents) for a tremendous 2011 season, with several girls being scouted and contacted by college coaches. It surpassed all of my expectations along with many other parents and coaches. In saying that the 2012 season is just around the corner and with the additions of several new players the sky is the limit with the talent that the 2012 team posseses.
The Crush would like to wish good luck to its returning players and a special welcome to its new players, Mckayla, Erin, Ashley and Morgan.