Renegades Softball Association: Welcome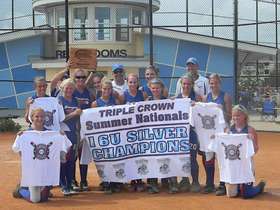 2012 Triple Crown Summer Nationals - 16U Silver CHAMPIONS - Myrtle Beach, S.C.
Sunday, May 19
WELCOME
Monster Bash Champions - 14U Campbell
Welcome to the Renegades Fast-Pitch Home Page. The Renegades Fast-Pitch Association are competitive traveling teams based in Elizabeth, Pa., about 20 miles south of Pittsburgh. The Renegades field competitive teams for Girls 10 and Under, 12 and Under, 14 and Under, 16 and Under and 18 and Under. The teams travel throughout the Eastern United States.
I would like to thank all of the fine players that attended try outs for the Renegades teams. For those that have been assigned to a 2013 Renegades team - welcome. An association meeting will be held in September for all teams.
Updated as of May 19th, 2013 -
THE 12U-SORTON TEAM - HAS A POSITION AVAILABLE FOR THIS TEAM. LOOKING FOR A CATCHER OR SHORTSTOP. CONTACT HOWIE SORTON FOR PRIVATE TRY OUT AT 412-443-5890,
THE 18U-SHERMENTI TEAM (SECOND YEAR 18U) WILL CONDUCT PRIVATE TRYOUT FOR THE REMAINING POSITION (PITCHER/OUTFIELDER OR 2ND BASE) -- PLEASE CONTACT NICK SHERMENTI 412-913-3452
CONGRATS to the below listed Renegades for making the PG 2012 ALL SECTION TEAMS:
Kelsey Geyer, Jessica Beitler, McKenna Kern, Deanna Hileman, Natalie Bashada, Ashley Baker, Haley Bashada, Portia McBride, and Delaney Cortazzo.
CONGRATS to Portia McBride and Haley Bashada being named to the PG SOUTH Top 10 Softball Players for 2012.
CONGRATS to Portia McBride - McKeesport Daily News "Softball Player of the Year" and Coach Harry Rutherford - McKeesport Daily News "Coach of the Year" for 2012.
Centerfield (Let's Go!)
Wednesday, October 23
Indoor Pitching and Hitting Practice - 2013 Season
Directions to the Blaine Hill Field
Tuesday, October 23
We are a Team - 2013 Renegades motto
Monday, August 27
History thru 2012
Sunday, December 24
Directions to Skillet Hill training facility