Tuesday, January 2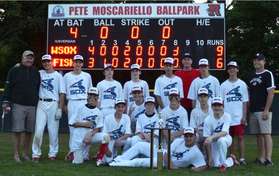 2017 RBRL Champs
2018 online Registration is now open for our Spring Season please click to go to registration
President Final Regular season rankings:
1. Phillies (11-3-1) blanked the AL #1 seed 8-0 on Friday say no more. Gave up only 60 runs on the season (thats the Pirates haul in a bad week), average 4 per game. Jack's constant downplaying of his team's talent over the years is just a ploy to emphasize what a great coach he is, I have at least learned that much.
2. White Sox (11-4-1) down 5-1 on Saturday in the 7th with the Royals faithful on-hand to claim the #1 AL seed they rallied to win in 9 innings. The story was already written about the team's collapse in the last week but now it has been retracted. Their +54 run differential is the best in the league handily.
3. Royals (11-4-1) lost out in a tie breaker for AL #1 but won championship from #2 slot in 2015. They have finished at or tied for #1 record in AL for the last 3 years, that is a dynasty by RBRL standards. Angels or A's in first round doesn't really matter pick your poison. Had the second best run differential +40 in the league and tied Pale Hose for second best runs allowed with 5 per game.
4. Angels (9-5-2) very good regular season could have been great as they let a few slip away. Their fate rests on their arms shutting down the more powerful lineups in AL. "You are what your record says you are"- Bill Parcells applies here.
5. Athletics (8-6-1) finished hot after a slow start. After the 8 hour stint Kevin and his wife did at the All Star game I told him I would never have fun at his expense in the rankings. So I guess all of that good material will go to waste, a shame.
6. Marlins (7-8-1) an under.500 team that no one wants to play. Can hit evidenced by a +26 run differential. The optimistic Blumenshine is a breath of fresh air and COY candidate. Returning arms for the playoffs House and maybe Croteau?? could be the difference makers.Big contributions out of 13's this year will put bulls eye on them next year as a prohibitive favorite
Playoff Seedings Final:
AL 1.White Sox 2.Royals 3.Angels 4.Athletics 5.Mariners
NL 1.Phillies 2.Marlins 3.Padres 4.Giants 5.Pirates
Presidents Week Four rankings:
1. White Sox (10-2-1)- Hard to put them anywhere else with their head to head record with the Royals/Angels and steamroling everyone else. Strong pitching rotation and hitting up an down their batting order makes them tough to beat at this point. Their +62 run differential is double that of the next best team.
2. Royals (9-3-1)- Team showing just enough, they play a lot of close games but good pitching gets this average hitting team by on most days. They aren't going to lose a game because of lack of preparation and coaching/player focus. There is a sense of the "Royal Way' which gives them some prestige and swagger that other teams still seek.
3. Angels (8-2-2) - If it wasn't for a bad loss to the winless Mariners on Saturday the Angels would be considered for the top spot. No one above them has a loss that bad therefore they are third fiddle for this week. Tough to choose the best of the 3 AL leaders and the AL playoffs are going to be a delight to witness.
4. Phillies (8-3-1) - Phils are easily the best of the AAAA division losing a close 2-1 game vs Royals a week ago and tying the Angels. "Moral" victories seem to be the theme of the season for the NL. "Sprinkles are for winners." Phils are easily the best bet to come out of the NL and when Jack gets to the WS, well he hasn't lost one yet 30 years later.
5. Marlins (5-4-1), Athletics (5-6-1)- Marlins always come to play and will bury teams that aren't as enthused and Blumenshine is in a close battle for Coach of the Year honors with Barbera. The A's have shown flashes but are inconsistent, great tie vs Royals on Friday then buried on Saturday by White Sox. They have a limited ceiling but enough for opponents to worry about.
Heading in the wrong direction: Giants and Padres
Congrats on your first wins this week: Pirates and Mariners
Presidents Week Two rankings:
1. Royals (6-1)- I like what I saw from the Royals this week as they are getting good contributions down the roster when some of the vets are missing. Algeri is mixing in the youth now in important slots which will pay off down the road. He knows the winning formula. When a "crossover" player from the Giants played with them on Sunday, he was rumored to say "welcome to the big leagues, son". (Same)
2. White Sox (6-1) - Love this team they respond well to the "its all for fun but we are going to pound you anyways" mantra of Coach Barbera. He seems to be owning his summer co-hort McCadden in the head to heads. I often wondered which coach was the secret to success of ther summer teams. I am not wondering as much lately. (Up One)
3. Angels (5-1) - This completes the trifecta for the AL Power teams that are basically laying waste to the rest of the league. Angels lost to Royals, White Sox lost to Angels, Royals lost to White Sox. It's pretty clear that the 3 teams are the class of RBRL to date. Roy's pitching rotation is WS worthy but they just suffered a season ending injury from one of their rookie stalwarts, unfortunate. (Down One)
4. Phils (4-2) - A lot of close games so far the team could be undefeated or below .500. Not a lot of hitting from this crew so far but pitching keeping them alive. Jack likes the personality of the team and some strong foul ball chasing from Squires/Tittemore goes a long way in this space. (Up One)
5. Giants (3-3), Padres (3-3-1) - Padres 2-0 and Giants 0-2 last week. The Pad's are going to make a run at the WS this year, of course almost all the teams are only 2 playoff wins from the WS, but it sounds dramatic to say it nonetheless. The Giants will be fine eventually but Chuck was very cranky with me this week, should have dropped him out of the top 5 on that alone. (Pad's Up Two, Giants Down One)
Still waiting On: A's (2-5)- tough division I know but when does pride kick-in?
2018 Look out: Marlins (2-3-1)- Have already slayed the Phils, Giants and tied the Pads. Rookie class has been very impressive, need T. House back!
President's Week One Rankings:
1. Royals (4-1) maintain their pre-season ranking with a strong weekend beating AL rivals Angels and A's after a tough loss vs. White Sox in a game that could have gone either way. Pitching has been a strong point behind Sannella, DiMare and Vozella. The rooks were big in their showdown win with Angels, kudos to David Lynch for his big contributions over the weekend. It's going to be tough to match some of their past gaudy records playing 12 games against the stacked AL Division. (Prior Rank 1)
2. Angels (3-1) were looking like the best team in the league through Saturday with a very strong pitching staff making up for some less then outstanding hitting so far. Despite the close loss to the Royals there was still consideration to give them the #1 ranking but Algeri already had told his team that the game was for the #1 slot so I didn't want him to look bad. The gleam in Roy's eye is not the thoughts of his new tractor but that of his impressive 13 year old class. (Prior Rank 5)
3. White Sox (3-1) look like as solid a team as we have with a sturdy top to bottom lineup, with versatility and a good pitching rotation. Presho, Dufton, Tully and Needham provide enough arms for the Pale Hose to be still playing in mid-June. So I don't think the Prez was the first person ever snookered by the charming Mr. Barbera, he all but asked that the team be allowed to play at the LL level this year. The "Who" wrote a popular song about how I feel right now. (Prior Rank 7)
4. Giants (3-1) were a bad blowout away from being a potential #1 but you can't get man handled by the upstart Marlins and not take a hit. Chuck doesn't put a lot of stock into his team's regular season record and I am pretty sure he never looks at the standings. He knows what he has and is pretty confident about his team's chances. There is hold-out on his team who is protesting the teams name change. There was even "1.2.3 Astros" rallying cry over heard. You know who you are and I will hunt you down! (Prior Rank 2)
5. Phillies (2-1) haven't been on the field much too early to tell what they have but if everyone shows and arms are fresh I still put them in the running with any other team. So far Jack is quiet about how things are settling in, usually there is a lot of hyperbole coming out his camp by now. I am keeping an eye on him but enjoying the peace and quiet. (Prior Rank 3)
Slow Start: Athletics (2-3)
Over performing: Marlins (1-1-1)
Best win and worst loss: Marlins 10 Giants 4
Keeping an eye on: Padres
Breaking News Hot!!
President's Pre-season rankings:
1. Royals- A three peat has never been accomplished but on that gray autumn day in2014 at Symonds Field when the 13's were being evaluated it was one of the fewmandatory Managers meetings that Steve Algeri attended (though I believe he waslate) and it has paid off with two championship rings (or atleast with 50 centname plates that go on the WS trophies). The depth of that class (now 15's) hasbeen the main component behind both World Series wins. It appears that Algerimay have struck gold again with a strong draft benefitting from the new draftrules that his main AL competitor recommended (careful what you wish for). The team may not win every game but from thesize of them they will certainly win the fight after every game. If the Royalspull off the trifecta Jack Webster's legacy may take a hit, just sayin!
2. Giants- The League just realized three years later that the Astros are not an NLteam anymore so with their usual practice of being ahead of the curve (likegetting rid of the in-person registration and hand written cards) they havereplaced the name with an actual NL team (and the uniform is going to bebeautiful). Coming off of a World Seriesappearance and being 4 innings away from a championship the squad is primed tofinish the job. Chuck committed larceny at the draft, as well he should beingthat it is "his class" (plus sabotaging the rankings for the others). The team also has size which gets mewondering if Chuck got confused at which sport he was coaching. We finally have 100% of Chuck after 5 yearsof his dual coaching responsibilities, this means more "selling out" on displaythan ever.
3. Phillies- News flash Jack Webster doesn't have aregular catcher for this year! Jack made his oft-used declaration at the first meeting last December. Of course never mind that his pitching isthe deepest in the league, so there is that. Jack described his sleep as"tossing and turning" the night before the draft being that it is once again the"most important draft in Phillies history." Jack's problems are small problemsin the bigger picture of life. Jack isusually a good sport about the minor barbs that come his way and all kiddingaside his teams win and have fun. The Phils rarely go three years without a WS appearance, this is the third year!
4. Athletics- After Coach McCadden benefitted from the olddraft rules last year he wanted them changed to help his team this year. I likehis style and he fits in well with our group of Managers in their not so subtleattempts to constantly better their position. A Cinderella story making the AL Final last year with a load of youngtalent they won't be sneaking up on anyone this year. If they fail it won't befrom the lack of coaching skill the resume is strong. He went off the "board" afew times during the draft we will soon see if it paid off.
5. Angels - The way the Angelsorganization runs under Roy Sletterink warms the heart of the Prez. It could have been his team 10-15 years ago when he was in his coaching prime. Last yearwas the first year in Roy's reign where his team did not end up in the ALFinal. It was an aberration, it felt like the year the Red Sox had the Chickenand beer episode in the clubhouse or worse the Bobby Valentine season. The chemistry just wasn't there, even Rich Bradley got nasty and ornery (notreally). Early reports about the team are glowing from the undergroundwhispers. Everyone knows the Prez favors the Angels and if you don't know whyyou aren't paying attention much!
6. Padres- Like the White Sox Ed Weatherbee has tenreturning players on a team that had a rare off-year after putting together twoWS appearances in the prior 3 years, including the epic series of all-time in2015 (the pinnacle event in the Prez's reign. ) I see the Padres as a surpriseteam, they have sneaky talent and "deep depth". Always known as a "chippy/chatty"team, having that edge seems to work for them.
7. White Sox- Theaffable and accomplished Pat Barbera is back as Manager in RBRL once again forthe first time since his amazingly average run with the Mariners ended in 2011.He has learned from his mistakes apparently after guiding his summer LL teamsand last year's PONY13 team to great success. His team brings back the mostreturning players along with the Padres, and that includes 5 whole wins fromlast year so take that as you will. The shock in coaching style from RichFischer's reign may take his team a while to get used to. Let's put it this waythere will be more humor and less stress on the Sox sideline this year! That may lead to doubling of last year's wintotal, or not.
The Futures League (Mariners,Marlins,Pirates)- New coaches in rebuildingprograms with the majority of the team being 13 years olds. They will take some lumps this year but will dobetter than expected (at least they can beat each other) and they will takemental notes on who to pay back for the next two years. The thought of having Joe Picano in theleague for 6 or 7 years straight well that makes the Prez "toss and turn" atnight!
AL Final: Royals overthe Angels
NL Final: Philliesover the Giants
World Series: Jack'slegacy lives as Phils upset the Royals (and without a catcher no-less)
Players/Families:
The 2017 Spring season on-line registration is now open. Click on this link to start the process
Click here to view Calendar and click on the games to view game stories
Playoff Preview
American League:
The Royals are the favorite based on talent, experience and seeding. They have had a few bumps in the road this year including an 8-0 thrashing by the Mariners on Saturday that led to the team pizza party to be cancelled after the game. I am not sure if the pizza party thing is a sign of trouble in paradise or a team that doesn't want to reward itself prematurely. Either way the team has been a little tight this year, we have yet to see their best consistently. It is World Series or bust for this group.
The Athletics are the hottest team in the league going 7-0-1 in the last half of the season. This should have been a good year based on their two years ago draft but preseason rankings slotted them the weakest prior to the drafting of 13's. Their new class has made a difference in key positions (catching /pitching) and lo and behold they are on a tear after a slow start. Not many holes on this team and I give them a 60% chance of reaching final and a 25% chance of reaching World Series. Experience will be the big question mark. reaching
The Angels I thought would get it together in time to give the Royals a run in AL Final. After picking up midseason they faltered down the stretch and needed help to avoid the play-in game. Still a team that is coached to play well in the big games where Roy is trying to continue his run of AL Finals. They will be a slight dog in the game vs A's and if the get by all bets are off as they have a 50/50 chance of going to the Series on the back of their veterans.
The young White Sox have played better the second half of the season but ended badly on Saturday. They have some top end talent to go with seven 13's, they could move on to play the Royals but they have to thread the needle to go any further than that.
The "mighty" Mariners should never be bet against in the playoffs, they have a history of rising from the ashes time of year. Not that this team is in the ashes as they had some big wins (Royals, Angels) to offset some head scratching performances. A big pitching performance can get them past the White Sox but not sure what they can piece together after that to advance.
National League:
The Marlins earned the #1 seed by edging out Phils in a showdown and shading the Astros in the same week. I give them an 80% chance to make the NL Final with a very talented group. I know they like to play the disrespect card and quite frankly they have a right to do so.
The Phillies look primed to be the favorite in the NL if everyone is around and available to pitch in both games. That is not saying that both the Astros and most likely Marlins don't have what it takes to knock them out. No one ever got rich by betting against Jack's teams in the big games.
The Astros may be destined to break my heart again this year. They are going to have a handful beating the Phillies and if they do it may free-up the team to breeze by their next opponent in the NL Final.
The Padres had a strange year with injuries and not being able to prevent runs from scoring. They are a much better team than their record and I give them the best shot of all of the play-in teams to go to the League Final
The Pirates are much like the Padres and a real enigma with a very strong 15 year old class. I wouldn't be shocked to see them in NL Final as they ended strong on Saturday. Were they just playing the regular season as practice? I guess we will find out this week.
2016 weekly award Winners click here
Week Five Presidents Rankings (through games of 5/27/16)
1. Royals (9-3-2) By default they maintain their #1 slot after a 0-1-1 week (the tie was a 1/2 inning completion of an April game). They had a practice last week and another scheduled this week. Competitors take note this team shows respect for the process necessary to win a championship.
2. Phillies (9-3-2) Won their only game of the week in dramatic fashion a sign that the team didn't lose their spirit after the injuries. They are getting healthier and all but one is back for the playoffs, so watch out.
3. Marlins (9-3-2) Using the Prez as motivation only can work so much as proven by their 0-2 week. Time to step it up #1 seed is meaningful in this side of the draw.
4. Angels (7-5-2) Were cooled off slightly with a loss against the red hot A's in a 1-1 week. Still has not changed my opinion of their prospects going forward.
5. Astros (6-4-2) They could have had a very productive week if they didn't cough up a fur ball in the Phillies loss being one out away from a nice win. They rebounded well on Friday to keep in the fifth spot. A lot of "could have" "should have" for this team.
Stalking: Athletics (7-6) are a bad first round matchup for someone in the AL so #1 seed is important.
PRESIDENTS WEEK FOUR POWER RANKINGS (thru 5/22)
1. Royals (9-2-1)- Back on top again after a stressful week of them looking up at another team in the rankings. Nothing a little therapy and a 3-0-1 performance couldn't cure, as the ship has been righted. They are giving up 4.3 runs a game. People, this is why their #1 so please no nasty emails/texts.
2. Marlins (9-1-2)- They are probably wondering what they have to do to get to #1 after a 3-0 week especially since they beat the Royals head to head. The answer is nothing just keep winning and they can laugh at me on the winners podium in mid-June.
3. Phillies (8-3-2)- The Phils didn't like the rarified air of #1 too much while nabbing both player/rookie of the week last week. Truth be told they had some key injuries in their 1-2-1 week. We may now have started a POTW jinx as both winners went down with injuries extending the DL list to 4 players.
4. Angels (6-4-2)- they are positioned for another run after last week. They had a 1-0-2 week including two great extra inning contests one going ten innings. In their tie with the Royals there was an insane level of intensity at the field from both coaches and players. For a minute I wondered if I had created a monster with these weekly rankings then I realized no I love it.
5.

Astros (5-3-2) –
A 1-1-1 week gets you dropped in this poll and I am getting worried that their promise will go unfulfilled. There is still clear distance between #6 but really fellas lets get it going!
Presidents Power Rankings through Week 5/15/16
I am using metrics this week instead of my usual random baseless observations and which Managers are on my "good list" at the time.
1. Phillies (7-1-1) - The Phillies have the best runs differential in the league by far at 4.6 no one else is even at 4. They handily beat the Royals on Saturday. They have good consistency through all three classes and a couple are having career years
2. Royals (6-2) – They get knocked out of the #1 slot by losing big matchups on consecutive Saturdays. And after a couple of losses Mrs #6 says if you are going to lose then you might as well try to get better grades instead and makes a strong statement. I am still not worried about the Royals as they have the lowest runs given up by game (3.75) by a healthy margin over anyone else. My experience tells me that's the most important stat come playoff time.
3. Marlins (6-1-2) – This "slight" should give them more motivational fodder vented at the poor President. Fact is they have two ties, ties are for the NHL, they are still hanging around the field waiting for the Home Run hitting contest to decide the winner. (But I really do like this team).
4. Astros (4-2-1) – Still waiting for these guys to bust loose. They have a signature win vs. the Phils on opening weekend and beat the Marlins. They have a 15 player roster that's a disadvantage as we all know but Chuck is a team player, league first!
5. Angels (5-4) – Team is coming on with three wins in a row. Roy figures it out eventually (4 straight AL Finals). Jon Weber filled in the last week for Roy and even he couldn't mess up a good thing that's the direction this team is moving.
Other: Athletics are the only team other than the top 5 to have a positive run differential.
Presidents Power Rankings (Week Two)
1. Royals (4-1) - Kept the #1 slot with their Mothers Day victory but with the White Sox suspended tie and a close loss to the Marlins and goes to show they don't have as much room for error as originally thought. To this point they are still the favorite at the start of every game.
2. Marlins (4-1-1)- A tie against a good Phils teams and knocking off the undefeated Royals the Marlins continue their disrespect tour. Tough to argue that they have a very talented team that is getting battle tested with the league's toughest schedule to date.
3. Phillies (4-1-1)- No surprise that Jack has the Phils playing best in the big games (Marlins, Astros). Bottom line is the their last two draft classes are paying off and Jack's teams rely on their entire roster, no one drafts the later rounds better. Scouting pays off.
4. Astros (3-2)- Big fall from last week but both losses were close and winnable. I still like this team a lot.
5. Padres (2-2)- A 2-0 week including a big win versus the Astros. The team has the pedigree to be successful and no one is fooled by Ed Weatherbee's "aw shucks" act, he likes to win.
Improving but not ready to break top 5 yet- Mariners, Athletics
Presidents Power Rankings Week One Edition:
Royals (3-0) – Team looks focused with 3 relatively easy wins and a fourth game that was suspended due to darkness with the score tied. No kinks in the armor showing yet on the mound or with their attitude. The rookies are fitting in well to the "Royal Way" and have already learned all of the nicknames. They even have "deep depth" with coaches when you have the luxury of bringing in John Sannella to "sub" in on Saturday.

Astros (3-0) - Chuck likes his team you can hear it his voice. His 15's are performing as expected and rookies are already contributing to wins. He is 3 deep with his assistants this year which says to me that everyone wants to get on the winning bandwagon.

Marlins (2-1)- Marlins lost their showdown with Astros by a run in a game that could have gone either way and they were missing a key member of their pitching staff. A third win was suspended due to darkness which may end up going their way in a brokered onvention. I must take a hit for my preseason rank for the fish and I have been reminded about it by many on that sideline, getting dissed by thirteen year olds is humbling.

Phils (1-1) – team has a light schedule so far, jury is still out , not enough of a sample to move them up or down at this point.

White Sox (1-1)- another team with a light sample but after an opening day thrashing by a good Marlins team and a suspended tie versus Royals, they put on the cleanest performance I have seen this year in beating the Angels 7-1. A very impressive rookie class caught my eye. Until I saw it in person I had forgotten about the Pat Barbera factor the guy is straight money as a coach (assistant).
Presidents Power Rankings (Pre-season version)
1. Royals- the defending champs are returning all but three players and have ten high schoolers on their roster of 14. Last year they surprised and were not the prohibitive favorite, this year how will they do as the favorite? The coaches and players take Spring Babe Ruth very seriously and they get points from me for that. The coaches often refer to their players by their uniform #'s even in the offseason and have been seen taking strolls around the lake discussing team strategy. They are a few steps ahead of all others talent-wise entering April.
2. Astros- saying Chuck is due would be an understatement. His draft class two years ago was underrated at the time now looks to be brilliant (so you know it must have been luck). The strong 15 year old class gives Chuck what we call "deep depth". It's all about developing reliable arms and getting these players to buy in to "selling out" (a football term that Chuck has translated to baseball).
3. Angels- Roy downplays his team every year, saying things like "no pitching", "we are going to be terrible". I don't know if it is a strategy (like Jack) or blissful ignorance. Bottom line is because of the "organization" his team is basically up by two runs before every game starts. The Angels will never lose because they are underprepared but they can and have lost because they "over think".
4. Phillies- Jack's teams according to him prior to most seasons couldn't beat the Little Sisters of the Poor. His teams always either overachieve or with his stacked teams basically run the table. There is enough to work with and solid pitching that no one is going to want to draw the 8-time champs come playoff time.
5. Pirates/Padres- I like the Padres because they have been there before and have some good top-end talent. They will need to thread the needle this year after losing a strong graduating class including the leadership of "The Legend". The Pirates have struggled as a franchise since their 2012 dominant season leading to a championship. Will their veteran and talented roster translate to the field? They got a later start this Spring than all the other teams so I am going to be in the "show-me" mode with them for awhile.
Tough omission: Marlins- sneaky good with pitching
National League- The senior circuit for most all of my tenure has been stronger then the AL but last year was an exception. The ship has been righted and all five teams could be worthy of a WS appearance in 2016. Nothing will surprise me once the playoffs start but I am going to go with the Astro's breaking down the door finally after knocking on it for years, as they best Chuck's nemesis (Jack) in the NL Final.
American League- Heads will roll on Howard St. if the defending champs mess this one up. Will see how much late help the Angels get from Southboro to totally rule them out. The Mariners will be much improved and have a shot at the AL Final if Matty Tighe goes out in the playoffs like his brother did when he was 15. Enjoy any wins versus the A's this year as there won't be many the next two seasons and ditto for the White Sox or are in rebuilding mode. I like the Royals to go back with a chance to repeat like their brethren from 2010 did by edging out the Angels again in the AL Final.
World Series- Will be worthwhile just watching Chuck on this stage as he faces off against the man he has been in an "uneasy alliance" with for many years. In the end the Royals who have "been there, done that" will remain cool and focused and prevail providing they remain hungry. They will also become the first franchise to achieve two "back to backs" and their 5 titles will be creeping up on the Phillies 8.
Full Regular Season game schedule now posted on the RBRL Calendar
We have achieved our goal of $8000 for the Moscariello Ballpark scoreboard and park signing! Thank you to all of the RMHS alumni and baseball community contributors for your generosity. Anyone whom still would like to make a donation to upgrade the Moscariello Ball Park venue can do so by sending a check (made out to RBRL) to: Jeff Pierce, 12 Pearl St. Reading, MA. Thank you!
All practices now displaying on RBRL Calendar page.
Royals 2015 Story "From Worst to First" click here (see story in menu)
Week Four awards announced! (Click Here)
The Presidents Pre-Playoff Power Rankings:
1. Angels (11-5) Odds on World Series Champion favorites when they are on their game they are head and shoulders the best team in RBRL. When they sleep-walk through a game like with Friday nights 9-0 pasting by the Marlins they are beatable. Long arduous season playing with Roy's required intensity can wear his teams down but they appear refreshed for another post season run. Past three seasons for Angels (AL Final loss-AL Final loss- WS loss) predicting this is the year they break down the gate. Roy's pre-season refrain of "no pitching" was quickly rectified on draft day getting a top 13 year old arm and with Connor Ehl's breakout season on the mound.
2. Astros (11-5) In a rebuild year Chuck has turned some magic with less hitting but strong pitching and defense. Least runs allowed in the league by an 18 run margin. Often on the mound it is Petrillo and Gibbs and pray for rain but the formula is working and everyone "does their job", players one through thirteen. Solid favorite here to return to the World Series for first time since they took El Prez's team (Athletics) down in 2005.
3. White Sox (8-6-3) Strange season for a team that should have opponents crying "uncle". Finally peaking and at the right time, have gone 5-0 since the Memorial Day weekend meltdown versus the Royals. Only the Angels have more firepower in their batting order and I am predicting that the schizo Sox advance past the Royals.
4. Royals (10-4-2) Can't take their record away from them with the least losses in the league but finished the regular season (2-4) and sensed some swagger lost during the final two weeks of the season. Algeri's post game speech on Sunday had a tinge of sadness in it (yes the man has emotions) as he departed for a short getaway knowing he may not be there for his teams last game. Team needs to improve from Sunday's sloppy effort to see their coach back in the saddle for AL Final. Team is one year away from championship form in my judgment.
5. Padres (10-5-1) Padres threw away "literally" their chance at the #1 NL seed in their Saturday showdown with Astros. They still have enough to advance to the Spring Classic. The fun loving Pad's are going to have to get more focused if they are to beat the hot Marlins on Tuesday, will be curious if there is any hangover effect from the late game collapse on Saturday.
Barely on the outside: Marlins (9-7) Jack Malley's three year plan "man or myth" we will find out this post season. Regardless the "king slayers" are making Jamie Lannister proud these past couple of weeks.
RBRL unveils Morton Dugout project plans and fundraising page please click for details
BASEBALL LINKS:
RBRL CALENDAR
ARCHIVES:
Webster's Phillies Sit on Top of the RBRL throne (again)
Week Six RBRL Recap and POTW Awards are now posted
Read Week Five Recap in the Reading Patch
Week Three Recap and Awards now posted (click)
Week Two Recap and Player of the Week in the Reading Patch (click) .