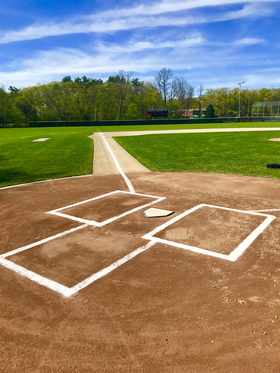 Morton Field 5-11-18
Friday, May 11
Summer Baseball Registration Link (click)
Click on RBRL Calendar for game and schedule updates
President's Power Rankings through May 20th
The AL is top heavy which has distorted the records of the bottom two teams who may be closer to .500 with a NL schedule. The NL has four of the five teams .500 or better with no one running away. I think this is one year when the Prez's preferred draft template is paying off with some parity. I do regret one move, which will remain confidential, that I wasn't keen on but let it pass. If that move wasn't made even more parity might exist than we already have.
1. Athletics (8-3-2): Despite an unexpected loss on a shorthanded day on Sunday vs. the Padres, everything my eyes tell me are that they are the League's best team. Their pitching is lined up every game and dependable. Fig, Greatorex, Harrigan with a little of Wright thrown in. Reminds me of the White Sox set rotation last year. And one of their best pitchers McCadden hasn't been used yet and I assume will be available come playoffs. The team is lined up to break the curse on the Prez's old team who has failed for the past 13 years to make the WS since the Prez last took them there.
2. Mariners (8-3): Tough to judge this team other than "you are what your record says you are." But beneath the surface you see that half their wins (4) were in extra innings. Should that be judged as a luck factor or clutch factor? They are 2-3 against the top of the AL. Will put them at tenuous #2 right now.
3. Angels (6-3-2): For the second year in a row I see the Angels underperforming a bit in the regular season struggling to hit double-digit wins after just 9 last year. This veteran team is going to a be a matchup nightmare in the playoffs rolling out a lot of seasoned older arms (Webb, Fiscus, Connolly) and have good 13-year-old arms who may not see a sniff of the post-season. They need to field better if Roy is going to get back to the WS for the first time since 2014.
4. Giants (6-4): I have seen this team play 3 games and I amazed at the pure size of the team with the potential to overpower any opponent. But still waiting for them to put it together with the defense and pitching. Their +32 run-differential, while averaging almost 10 runs a game, should get them to the promised land. Lack of shut down pitching being their potential downfall.
5. Padres (7-5): I saw both Padres games this weekend (that's called doing your research or just having a dull life). They also benefit from strong veteran pitching (Ucci, Heithaus, Shin). They don't hit a lot but count on their opponent's miscues and a few key hits. They've allowed the least amount of runs of any team (5 per game) and have a +22 run-differential for third best in the League. I must say Shin is an impressive SS.
Just missed: Marlins (6-5). Intriquing: Phillies (5-5-1). I am not counting out: White Sox (3-8-1).
President's Power Rankings through May 6th
1. (tie) Angels (4-1-1), Athletics (4-1-2) - Sorry couldn't decide between these two, their game on Thursday was going to decide it and then of course they tie the game. I am very impressed with "the program" called the Angels they have a very organized pre-game and post-game routine. Being close to their dugout there is also no doubt that they resemble the personality of the 2004 Red Sox. The four coaches are there apparently to play the role of "straight men" to their comedic act. The Athletics find ways to win and this week found ways to tie but in either case they are deep and good. The only disappointment is that the beautifully well written and entertaining game write-ups by "Oak" are being brutally edited of any fun by our new junior editor (trainee) who is still in his 90-day probationary period.
3. Mariners (6-2) - One bad inning against the Angels cost them the dreaded #1 ranking. They have some strong older leaders like Dante Barboza who sprints to the field after his JV games and practices to protect his place in the batting order on game days. His other two JV counterparts just let him get their first because it's that important to him. Yes, I do have favorites in case there was ever a doubt! Remember, they are doing this in spite of Chris Costa, or maybe because of Chris Costa. I am still undecided.
4. Marlins (5-3) - They are officially 4-3 but they had a 9-run lead with 3 outs left against the Phils so I am putting that one in the books for the continuation, in what could have been a 4-0 week if they didn't lose to the Mariners late in extras on Sunday. Some think they are the deepest 1-15 team in the league. They know how to beat the AL teams, they are not intimidated and are battle proven.
5. Giants (3-3) - Never in my history have I seen a team so negatively affected by having the #1 ranking and the target on their back. I am only leaving them in the rankings to spare the embarrassment of totally dropping out of the rankings in one week (0-3). Hey, it is on me as well after I compared them to the 1927 Yankees (110-44, dated reference) last week. I had the pain of watching one inning of their game Saturday in which the first nine Phils batting in the inning scored before there was an out made in the field (and there were outs to make!). It set our Spring League back to AA Little League. It was as if the ghost of Jack was haunting Chuck. I mean even the mild mannered Jack Malley lost his composure. Better days ahead no doubt.
Best of the rest: Padres (5-2) - I will know more after they play Marlins and Angels this week, plus they tweaked the Prez in their game summary (never works).
Headed North: Phillies (3-4), White Sox (1-5-1); Going South: Royals (2-5); Still Hopeful: Pirates.
President's PowerRankings through April 28th
So far the pre-season rankings look in order. The ALis like the old NFC North -- just beating each other up every game. Even the 0-4White Sox (as many games as they lost all of LY) could easily be 3-1. You canthrow a blanket around that division right now, they are all equally dangerous.The NL is a step or two behind with less seasoned rosters. I would have beeninterested in an early-season potential WS matchup between the Angels and Giants lastWednesday but Roy made it rain presumably because he felt his team was not ready yet.
Giants (3-0) have steamrolled their opponents to date 38-4 with two mercy-rule wins and have given up just two hits. Chuck hasn't been this pleasant to be around since before he was voted on to the School Committee. The "Say Hey Kids," aka the "Weekend Warriors," have benefitted from having all of their games on weekend days, so don't expect this level of dominance for regular season weeknight games. The size of this team is quite daunting as they could probably roll over his Pop Warner A team from last season. Strong veteran leadership and camaraderie was witnessed on the bench last Saturday, like to see it.

Athletics (3-1) McCadden is piecing together a nice team where his new draftees are making an immediate impact more than any team I have seen yet. He likes to go long with his arms (like Roy) and so far with Harrigan and Figueroa they have complete-game pitching wins. Writing his own game recaps this year, says to me he's more focused and committed this year, or Oak is big-timing him.

Mariners (3-1) Costa said "don't rank us high we like the underdog role" so now let's see how they do as a favorite. The raucous M's have taken on the personality of their Coach and I will let others judge on whether that's a good thing. After the game on Saturday they had a prolonged team meeting where there was some sort of rhythmic clapping and I think I heard a rallying cry that said "Let's get Tropical." Needless to say it looks like they have taken the mantle of the "team you most want to beat" from the Royals.

Angels (2-1) not overwhelming anyone yet but another bigger, stronger team, well coached (if not over coached), and committed. Could be (1-2) if it wasn't for a young 13-year-old Merkle stepping up on Saturday with a big fielding play. Pitching looks strong but have to straighten out the defense. Wish I could make some stuff up to say here but it's been uneventful in Halo town so far.

Royals (2-2) are what we thought they were (.500), but Algeri fed me some stats today that says they were two clutch hits away from being 4-0. I assume those two hits were grand slam home runs hit from the bottom of his order. After three years at being near the top of the weekly rankings this ranking will no doubt illicit some lineup changes and some more special defensive plays like he had Saturday when "Georgia" and "Alabama" were called out. Have to mention one kid, Kessinger, who made three nice fielding plays (two in OF) on Saturday then left for soccer, I was impressed, a confident 13-year-old.
Honorable Mention:Padres (3-1) Need to see more of them being in the NL is hurting theircause.
President's Pre-season Team Rankings (have fun with it):
American League:

Angels - Well balanced team with some plus level 15-year-olds and coming off two straight strong draft classes. Roy's teams will never suffer from lack of preparation. They scheduled 10 pre-season practices/scrimmages over 2 weeks (weather permitting) trimmed down from his 14 his first year of managing. Appreciated by the Prez who had 6 pre-season games during school vacation week at Hunt Field in his LL coaching days. That puts them at least two weeks ahead of most of the other teams. Experienced and successful coaching staff knows the winning Babe Ruth formula. Pre-game field prep impeccable!

White Sox - Defending champs have a group of 15's that can carry a team to a flag including Steve Needham last year's World Series MVP and probably regular season MVP as well. Every team tried to find the next "Duffer" in this year's draft, his prototype is the latest fad in a copycat league but the Chisox still own the original. The "sometimes" laid back Coach Barbera doesn't get too worked up until the playoffs as he just rolls the balls out and wins. His record with Spring and Summer championships in Little League and Babe Ruth the past 4 years is impressive, not sure if he has the knack or it is just dumb luck, but I am voting for the former. Not a psychologist but known to play one at the field.

Mariners - A lot more will be expected from Coach Costa and his team this year. With a very young team last year I will give him a pass for the two-win campaign but that will not extend to this year. Costa never short on opinions or sending a jab the President's way, but still hard not to appreciate a colorful personality amongst a relatively vanilla offering of RBRL coaches. Two good drafts in a row should complement Dante's 15-year-old sophomore posse and make the M's a force even with the brutal AL in-division schedule.

Athletics - Coach McCadden is another one (like Barbera) who leaves a long trail of success behind him. An unexpected loss of an impactful 15-year-old knocks the A's down a peg but not out of contention. They return their No. 1 pitcher and catcher from a team that was a few outs away from knocking off the eventual WS champion in last year's AL semi. A rich 13-year-old draft class will help the rebuild and make an immediate impact including the Prez's anticipated new favorite player.

Royals - How the mighty have fallen. Last year's attempt at immortality (3 straight league championships) ended with a thud in the AL semis to Roy and the Angels and now are picked last in the tough AL loop. There could be a hangover and loss of swagger in blue (not royal, but back to powder this year) with only 3 remaining players that have tasted the victory pizza ("Losers don't get pizza, Wheels"). Algeri's quirky managing style (that's being kind) has led to results all over the board in his 7-year RBRL managerial career. From taking a 3-12-1 Blue Jays team to the World Series in 2011 (thank you Sean O'Neill, Tommy White, Ryan Wynns), to lining up for a post-game handshake before the game was over during the "down years," to running off a 32-12-5 regular-season record over the last three. It is anyone's guess what unorthodox coaching methods Algeri will unveil this year. Strong draft class and a 14-year-old "assignment," that I am sure the Prez will get hammered for once he is seen, will certainly allow for the Royals to hang around the .500 mark.
National League:
Giants - After spending a quality hour with Chuck this past week I am bullish on the "Say Hey Kids" (new sponsor name, really). So far his HS Varsity, JV and Freshman players all showing up for practices and that's a good sign. The only female in our league is back for her second year and received high praise. Chuck demands that his players "sell-out." I am not selling but buying on the upside prospects of this potential juggernaut. The playoff Giants will look a lot different than the regular-season Giants (you know what I mean).

Marlins - The "Fish" lost just three players off of last year's WS runner-ups albeit important cogs in their miracle late season run. Josh has been killing it in the player drafts basically out smarting everyone in the room. An over used expression but he is "playing chess while the others are playing checkers," and that often extends to the field. Nicest guy in the room but he is happy to rip your heart out once the game starts. Everyone on the team can hit it's just a matter of finding the dependable arms. Walshie's feistiness will be fun to watch again which includes his stare down with Craven after plunking him in last year's WS (not sure he understood who he was dealing with). Keep wearing those high socks, kid! Love old school.

Phillies - The Jack Webster Era is over but the legendary Babe Ruth franchise name lives as tribute to Jack. The prohibitive favorite from last year went down in a shocking NL Final where we had the "Croteau moment." This year they were expected to knock down the door and take it all but they lost their two returning sophomore superstars to other commitments and their stock went down to being just a nice competitive team. They did return the "Baby Faced Assassin" who can no longer just be the secret weapon but now has to be the leader of the pack. How far his arm can go will tell a lot about the team's fate. And in true Jack Webster tradition they appeared to have received maximum value for their draft pick position.

Padres - New management with the Padres makes this a bit of wild guess by the Prez as more info is needed on the intended strategies that Coach Gorski attends to use. More than anything Babe Ruth is a coach's league, there is a formula, and the coaches that know how to use it more often than not are successful. Gorski's roster has some talent: a pair of workhorse 15-year-old arms, a 14-year-old class that will be much improved from last year and a skilled incoming class. Expect to see the Prez lurking at a lot of the Pads' games this year, time to put them back on the map after a couple of off years.

Pirates – Coach Picano has laid out a rebuilding plan that should start to pay off when his youngest boy turns 14. He was forced to tell his older two boys that they would never be part of a winning organization. I would like to say that last year his young team (2 wins) wasn't expected to do much but then I looked at his 15-year-old class last year and thought "you blew it!" When we "hired" Joe we knew we were getting him for 7 years and yet we still brought him on board. His charm goes a long way. Joe spent the off season not thinking of a better way to manage but to lay out his case for the first draft pick, so he ended up getting the "prize" so let's see what he does with it. Joe bought in two seasoned and knowledgeable coaches so the team should start to learn the fundamentals of the game. Lest anyone think I am denigrating the talent of the Bucs I am not, just having fun with Joe. It is .500 or bust this year I am hopeful.
AL Final : Angels over White Sox
NL Final: Giants over Philles
World Series: Angels over Giants
President's final 2017 regular season rankings:
1. Phillies (11-3-1) blanked the AL No. 1 seed 8-0 on Friday say no more. Gave up only 60 runs on the season (thats the Pirates haul in a bad week), average 4 per game. Jack's constant downplaying of his team's talent over the years is just a ploy to emphasize what a great coach he is, I have at least learned that much.
2. White Sox (11-4-1) down 5-1 on Saturday in the 7th with the Royals faithful on-hand to claim the #1 AL seed they rallied to win in 9 innings. The story was already written about the team's collapse in the last week but now it has been retracted. Their +54 run differential is the best in the league handily.
3. Royals (11-4-1) lost out in a tie breaker for AL #1 but won championship from No. 2 slot in 2015. They have finished at or tied for #1 record in AL for the last 3 years, that is a dynasty by RBRL standards. Angels or A's in first round doesn't really matter pick your poison. Had the second best run-differential +40 in the league and tied Pale Hose for second best runs allowed with 5 per game.
4. Angels (9-5-2) very good regular season could have been great as they let a few slip away. Their fate rests on their arms shutting down the more powerful lineups in AL. "You are what your record says you are"- Bill Parcells applies here.
5. Athletics (8-6-1) finished hot after a slow start. After the 8 hour stint Kevin and his wife did at the All-Star game I told him I would never have fun at his expense in the rankings. So I guess all of that good material will go to waste, a shame.
6. Marlins (7-8-1) an under.500 team that no one wants to play. Can hit evidenced by a +26 run differential. The optimistic Blumenshine is a breath of fresh air and COY candidate. Returning arms for the playoffs House and maybe Croteau?? could be the difference makers.Big contributions out of 13's this year will put bulls eye on them next year as a prohibitive favorite
Playoff Seedings Final:
AL: 1. White Sox, 2. Royals, 3. Angels, 4. Athletics, 5. Mariners
NL: 1. Phillies, 2.Marlins, 3.Padres, 4.Giants, 5.Pirates
Presidents Week Four rankings:
1. White Sox (10-2-1)- Hard to put them anywhere else with their head to head record with the Royals/Angels and steamroling everyone else. Strong pitching rotation and hitting up an down their batting order makes them tough to beat at this point. Their +62 run differential is double that of the next best team.
2. Royals (9-3-1)- Team showing just enough, they play a lot of close games but good pitching gets this average hitting team by on most days. They aren't going to lose a game because of lack of preparation and coaching/player focus. There is a sense of the "Royal Way' which gives them some prestige and swagger that other teams still seek.
3. Angels (8-2-2) - If it wasn't for a bad loss to the winless Mariners on Saturday the Angels would be considered for the top spot. No one above them has a loss that bad therefore they are third fiddle for this week. Tough to choose the best of the 3 AL leaders and the AL playoffs are going to be a delight to witness.
4. Phillies (8-3-1) - Phils are easily the best of the AAAA division losing a close 2-1 game vs Royals a week ago and tying the Angels. "Moral" victories seem to be the theme of the season for the NL. "Sprinkles are for winners." Phils are easily the best bet to come out of the NL and when Jack gets to the WS, well he hasn't lost one yet 30 years later.
5. Marlins (5-4-1), Athletics (5-6-1)- Marlins always come to play and will bury teams that aren't as enthused and Blumenshine is in a close battle for Coach of the Year honors with Barbera. The A's have shown flashes but are inconsistent, great tie vs Royals on Friday then buried on Saturday by White Sox. They have a limited ceiling but enough for opponents to worry about.
Heading in the wrong direction: Giants and Padres
Congrats on your first wins this week: Pirates and Mariners
President's Week Two rankings:
1. Royals (6-1) - I like what I saw from the Royals this week as they are getting good contributions down the roster when some of the vets are missing. Algeri is mixing in the youth now in important slots which will pay off down the road. He knows the winning formula. When a "crossover" player from the Giants played with them on Sunday, he was rumored to say "welcome to the big leagues, son". (Same)
2. White Sox (6-1) - Love this team they respond well to the "its all for fun but we are going to pound you anyways" mantra of Coach Barbera. He seems to be owning his summer co-hort McCadden in the head to heads. I often wondered which coach was the secret to success of ther summer teams. I am not wondering as much lately. (Up One)
3. Angels (5-1) - This completes the trifecta for the AL Power teams that are basically laying waste to the rest of the league. Angels lost to Royals, White Sox lost to Angels, Royals lost to White Sox. It's pretty clear that the 3 teams are the class of RBRL to date. Roy's pitching rotation is WS worthy but they just suffered a season ending injury from one of their rookie stalwarts, unfortunate. (Down One)
4. Phils (4-2) - A lot of close games so far the team could be undefeated or below .500. Not a lot of hitting from this crew so far but pitching keeping them alive. Jack likes the personality of the team and some strong foul ball chasing from Squires/Tittemore goes a long way in this space. (Up One)
5. Giants (3-3), Padres (3-3-1) - Padres 2-0 and Giants 0-2 last week. The Pad's are going to make a run at the WS this year, of course almost all the teams are only 2 playoff wins from the WS, but it sounds dramatic to say it nonetheless. The Giants will be fine eventually but Chuck was very cranky with me this week, should have dropped him out of the top 5 on that alone. (Pad's Up Two, Giants Down One)
Still waiting On: A's (2-5)- tough division I know but when does pride kick-in?
2018 Look out: Marlins (2-3-1)- Have already slayed the Phils, Giants and tied the Pads. Rookie class has been very impressive, need T. House back!
President's Week One Rankings:
1. Royals (4-1) maintain their pre-season ranking with a strong weekend beating AL rivals Angels and A's after a tough loss vs. White Sox in a game that could have gone either way. Pitching has been a strong point behind Sannella, DiMare and Vozella. The rooks were big in their showdown win with Angels, kudos to David Lynch for his big contributions over the weekend. It's going to be tough to match some of their past gaudy records playing 12 games against the stacked AL Division. (Prior Rank 1)
2. Angels (3-1) were looking like the best team in the league through Saturday with a very strong pitching staff making up for some less then outstanding hitting so far. Despite the close loss to the Royals there was still consideration to give them the #1 ranking but Algeri already had told his team that the game was for the #1 slot so I didn't want him to look bad. The gleam in Roy's eye is not the thoughts of his new tractor but that of his impressive 13 year old class. (Prior Rank 5)
3. White Sox (3-1) look like as solid a team as we have with a sturdy top to bottom lineup, with versatility and a good pitching rotation. Presho, Dufton, Tully and Needham provide enough arms for the Pale Hose to be still playing in mid-June. So I don't think the Prez was the first person ever snookered by the charming Mr. Barbera, he all but asked that the team be allowed to play at the LL level this year. The "Who" wrote a popular song about how I feel right now. (Prior Rank 7)
4. Giants (3-1) were a bad blowout away from being a potential #1 but you can't get man handled by the upstart Marlins and not take a hit. Chuck doesn't put a lot of stock into his team's regular season record and I am pretty sure he never looks at the standings. He knows what he has and is pretty confident about his team's chances. There is hold-out on his team who is protesting the teams name change. There was even "1.2.3 Astros" rallying cry over heard. You know who you are and I will hunt you down! (Prior Rank 2)
5. Phillies (2-1) haven't been on the field much too early to tell what they have but if everyone shows and arms are fresh I still put them in the running with any other team. So far Jack is quiet about how things are settling in, usually there is a lot of hyperbole coming out his camp by now. I am keeping an eye on him but enjoying the peace and quiet. (Prior Rank 3)
Slow Start: Athletics (2-3)
Over performing: Marlins (1-1-1)
Best win and worst loss: Marlins 10 Giants 4
Keeping an eye on: Padres
President's 2017 Pre-season rankings:
1. Royals - A three-peat has never been accomplished but on that gray autumn day in2014 at Symonds Field when the 13's were being evaluated it was one of the fewmandatory Managers meetings that Steve Algeri attended (though I believe he was late) and it has paid off with two championship rings (or at least with 50 cent name plates that go on the WS trophies). The depth of that class (now 15's) hasbeen the main component behind both World Series wins. It appears that Algeri may have struck gold again with a strong draft benefitting from the new draftrules that his main AL competitor recommended (careful what you wish for). The team may not win every game but from thesize of them they will certainly win the fight after every game. If the Royalspull off the trifecta Jack Webster's legacy may take a hit, just sayin!
2. Giants - The League just realized three years later that the Astros are not an NLteam anymore so with their usual practice of being ahead of the curve (likegetting rid of the in-person registration and hand written cards) they havereplaced the name with an actual NL team (and the uniform is going to bebeautiful). Coming off of a World Seriesappearance and being 4 innings away from a championship the squad is primed tofinish the job. Chuck committed larceny at the draft, as well he should beingthat it is "his class" (plus sabotaging the rankings for the others). The team also has size which gets mewondering if Chuck got confused at which sport he was coaching. We finally have 100% of Chuck after 5 yearsof his dual coaching responsibilities, this means more "selling out" on display than ever.
3. Phillies - News flash Jack Webster doesn't have aregular catcher for this year! Jack made his oft-used declaration at the first meeting last December. Of course never mind that his pitching isthe deepest in the league, so there is that. Jack described his sleep as"tossing and turning" the night before the draft being that it is once again the"most important draft in Phillies history." Jack's problems are small problemsin the bigger picture of life. Jack isusually a good sport about the minor barbs that come his way and all kiddingaside his teams win and have fun. The Phils rarely go three years without a WS appearance, this is the third year!
4. Athletics - After Coach McCadden benefitted from the old draft rules last year he wanted them changed to help his team this year. I likehis style and he fits in well with our group of Managers in their not so subtleattempts to constantly better their position. A Cinderella story making the AL Final last year with a load of youngtalent they won't be sneaking up on anyone this year. If they fail it won't befrom the lack of coaching skill the resume is strong. He went off the "board" afew times during the draft we will soon see if it paid off.
5. Angels - The way the Angelsorganization runs under Roy Sletterink warms the heart of the Prez. It could have been his team 10-15 years ago when he was in his coaching prime. Last yearwas the first year in Roy's reign where his team did not end up in the ALFinal. It was an aberration, it felt like the year the Red Sox had the Chickenand beer episode in the clubhouse or worse the Bobby Valentine season. The chemistry just wasn't there, even Rich Bradley got nasty and ornery (notreally). Early reports about the team are glowing from the undergroundwhispers. Everyone knows the Prez favors the Angels and if you don't know whyyou aren't paying attention much!
6. Padres- Like the White Sox Ed Weatherbee has tenreturning players on a team that had a rare off-year after putting together twoWS appearances in the prior 3 years, including the epic series of all-time in2015 (the pinnacle event in the Prez's reign. ) I see the Padres as a surpriseteam, they have sneaky talent and "deep depth". Always known as a "chippy/chatty"team, having that edge seems to work for them.
7. White Sox- Theaffable and accomplished Pat Barbera is back as Manager in RBRL once again forthe first time since his amazingly average run with the Mariners ended in 2011.He has learned from his mistakes apparently after guiding his summer LL teamsand last year's PONY13 team to great success. His team brings back the mostreturning players along with the Padres, and that includes 5 whole wins fromlast year so take that as you will. The shock in coaching style from RichFischer's reign may take his team a while to get used to. Let's put it this waythere will be more humor and less stress on the Sox sideline this year! That may lead to doubling of last year's wintotal, or not.
The Futures League (Mariners,Marlins,Pirates)- New coaches in rebuildingprograms with the majority of the team being 13 years olds. They will take some lumps this year but will dobetter than expected (at least they can beat each other) and they will takemental notes on who to pay back for the next two years. The thought of having Joe Picano in theleague for 6 or 7 years straight well that makes the Prez "toss and turn" atnight!
AL Final: Royals over the Angels
NL Final: Phillies over the Giants
World Series: Jack's legacy lives as Phils upset the Royals (and without a catcher no-less)
Playoff Preview
American League:
The Royals are the favorite based on talent, experience and seeding. They have had a few bumps in the road this year including an 8-0 thrashing by the Mariners on Saturday that led to the team pizza party to be cancelled after the game. I am not sure if the pizza party thing is a sign of trouble in paradise or a team that doesn't want to reward itself prematurely. Either way the team has been a little tight this year, we have yet to see their best consistently. It is World Series or bust for this group.
The Athletics are the hottest team in the league going 7-0-1 in the last half of the season. This should have been a good year based on their two years ago draft but preseason rankings slotted them the weakest prior to the drafting of 13's. Their new class has made a difference in key positions (catching /pitching) and lo and behold they are on a tear after a slow start. Not many holes on this team and I give them a 60% chance of reaching final and a 25% chance of reaching World Series. Experience will be the big question mark. reaching
The Angels I thought would get it together in time to give the Royals a run in AL Final. After picking up midseason they faltered down the stretch and needed help to avoid the play-in game. Still a team that is coached to play well in the big games where Roy is trying to continue his run of AL Finals. They will be a slight dog in the game vs A's and if the get by all bets are off as they have a 50/50 chance of going to the Series on the back of their veterans.
The young White Sox have played better the second half of the season but ended badly on Saturday. They have some top end talent to go with seven 13's, they could move on to play the Royals but they have to thread the needle to go any further than that.
The "mighty" Mariners should never be bet against in the playoffs, they have a history of rising from the ashes time of year. Not that this team is in the ashes as they had some big wins (Royals, Angels) to offset some head scratching performances. A big pitching performance can get them past the White Sox but not sure what they can piece together after that to advance.
National League:
The Marlins earned the #1 seed by edging out Phils in a showdown and shading the Astros in the same week. I give them an 80% chance to make the NL Final with a very talented group. I know they like to play the disrespect card and quite frankly they have a right to do so.
The Phillies look primed to be the favorite in the NL if everyone is around and available to pitch in both games. That is not saying that both the Astros and most likely Marlins don't have what it takes to knock them out. No one ever got rich by betting against Jack's teams in the big games.
The Astros may be destined to break my heart again this year. They are going to have a handful beating the Phillies and if they do it may free-up the team to breeze by their next opponent in the NL Final.
The Padres had a strange year with injuries and not being able to prevent runs from scoring. They are a much better team than their record and I give them the best shot of all of the play-in teams to go to the League Final
The Pirates are much like the Padres and a real enigma with a very strong 15 year old class. I wouldn't be shocked to see them in NL Final as they ended strong on Saturday. Were they just playing the regular season as practice? I guess we will find out this week.