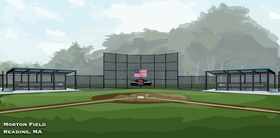 Morton Field Depiction for Spring 2015
We need your Support!
 RBRL unveils Morton Dugout project plans and fundraising page please click for details
  As of February 14th
ABC Fundraising®


Latest News:
2015 Spring Registration now Open for Returning Players  
RBRL Pre-season Clinic info for Personal Best Program
2014 Season News:
Webster's Phillies Sit on Top of the RBRL throne  (again)  
Week Six RBRL Recap and POTW Awards are now posted 
Presidents Power Rankings  through June 7th
Phillies (14-3)  Phillies lost two games this week after they clinched NL #1 seed. I will give them a pass for that as they finished off the regular season by winning their last game against last week's #2.  However some hitting worries may be arising in the pinstripe camp as they were shut out in both losses.
Angels (12-4) Roy should thank me for providing some bulletin board material last week.  The team responded by not giving up a run in a 2-0 week including shutting down the Phils in the battle of Waterloo. Slight edge for the Phillies nonetheless for the #1 position in the Final BCS poll.
Padres (10-7) A solid 2-1 week for the Padres and from where I sit still have the deepest talent in the league. Everyone looks like a "player" on this team.  Ed's keeping the title talk on the "down-low" but he always seems to be smiling.
White Sox (9-7-1)  The President doesn't like to be embarrassed and that's exactly what the Chisox did to him in a 0-3 week after they were proclaimed the favorite here last week.  Momentum is only as good as your next games starting pitcher, let's see who that will be, come Tuesdays match-up with the hot Mariners.
Astros (9-7)   Chucks squad starting to play up to their potential in their Saturday beat down of the Padres in a 2-0 week.  They may end up being the "hot" team making a run to the World Series (like the Mariners).  In Chuck's fourth try at the Spring Classic, the President might have a slight rooting interest here.
Also Receiving votes:  Mariners, Athletics, Royals
Read Week Five Recap in the Reading Patch
 Week Three Recap and Awards now posted (click)
Week Two Recap and Player of the Week in the Reading Patch (click) 
.
Week One Recap now posted on the Reading Patch
*****Week One Players of the Week click here or on Menu*****
Reading Babe Ruth players have a big hand in State Hockey title victory:
Dateline March 16, 2014 at the TD Banknorth Garden, current Pirate player Matt Thomson scored the game winning goal with a slap shot from the left point on the power play which proved to the difference maker in the Rockets 4-1 victory over Braintree. 
Prior to that Jake Barbera from the Mariners 2011 class put Reading on the board 1-0 with a nice feed from Mike Thomson his former Mariner teammate.  The back breaking goal was scored by former Angel Sean Verrier with a highlight reel marker after a nice rush and pass from former Blue Jay Mike Seibold.
Thomson left no doubt with his empty netter in the last minute for the final 4-1 count.
Congratulations to the many RBRL current and former players that are members of the 2014 D1 State Champs. 
ARCHIVES:
Please contact Jeff Pierce at 781-944-7552 or
japierce1@comcast.net
if you have any questions.
BASEBALL LINKS:
RBRL CALENDAR