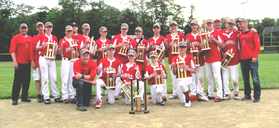 2018 Reading Babe Ruth League champion Angels
Thursday, June 21
2019 Spring Registration is now open (click here)
Angels win first RBRL World Series since 2006
By Jeff Pierce, RBRL President
The 2018 RBRL World Series came to an exciting and pressure-packed ending on Thursday evening, June 14 before a large crowd at Morton Field. The Angels prevailed, 3-2, in the third-and-deciding game of the best-of-3 World Series in a tightly- and quickly-played contest to give coach Roy Sletterink his first championship in his 7-year coaching tenure and the second in franchise history (2006).
If the fans came down to the ballpark to see fireworks at the plate they would have been sorely disappointed as the two teams combined for just five hits in Game 3. For the three-game set the Padres only had four (after being no-hit in Game 2). Instead this World Series was highlighted by two strong pitching staffs and, except for Game 2's aberration, superb defense all over the field, to the delight of the League Officials.
*** President's Playoff Preview and Final Rankings ***
1. Athletics (11-4-2): In a year where you could throw a net around the top few teams someone had to be anointed #1 so it's the A's as the AL regular-season champ that was decided by the second tiebreaker (better division record). An A+ pitching team with average hitting, Kevin usually pulls the right levers when it counts in the summer, so let's see if he can do it in the spring. "Six, Two and Even" that they make it to the World Series (look that one up!).
2. Angels (11-4-2): Lost to the A's on Thursday with a chance to clinch the #1 seed. I really expected much more of the Halos this year but the consistency has not been there and Roy has had to rely on young arms to carry them at times. Now they will be in a brutal 2/3 matchup with the "15-year-old heavy" Mariners in the AL semis which may make for a quick exit. Still the prototype on how a team should be run with A+ player experience.
3. Mariners (11-5-1): Be careful what you wish for as Costa scrambled to get that make-up game played on Sunday night with the White Sox in hopes of usurping the 1-seed from the A's -- only to lose. The expression "you are your father's son" applies here with the coach/team personality dynamic. Win or lose they are going to get the better of you in the verbal wars. Been a 10-year gap for this franchise since its last World Series. Only the Athletics is longer (14 years).
4. Marlins (11-6): They had the biggest run-differential in the league going into this weekend (thanks to 6 games with the Bucs and Phils/+53) and just got back 15-year-old Jack Blumenshine who has been out most of the year. They can crush it at the plate, have few holes in the lineup and the pitching is solid -- yet not upper-echelon. Josh proves nice guys can finish first.
5. Giants (10-5-1): "Disappointment thy name is Chuck." You would almost have to throwing games purposely to have this record with this lineup. I have seen them play 5 times just to be triple-sure that they weren't. Time to get serious boys, the Prez doesn't like to look bad (see pre-season prediction).
Long shots: White Sox (6-10-1) have a few players that can put a team on their back. Padres (9-8) have a puncher's chance with their pitching staff and defense.
AL Final: Sticking with the Angels over Athletics.
NL Final: Marlins shade the Giants for a repeat trip to World Series.
World Series: "Well deserved Angels" 2 games to 1.
President's Pre-season Predictions:
AL Final : Angels over White Sox
NL Final: Giants over Philles
World Series: Angels over Giants