Rawlings Stars : Welcome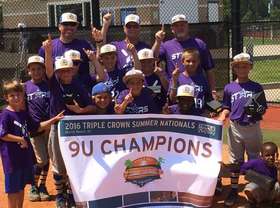 Back 2 Back Triple Crown National Champions
2017 SUMMER SHOWCASE TEAM TRYOUTS
Showcase Team 2017 Tryouts 14U-17U (2018 GRADS-2021 GRADS) ($25)
Saturday 11/5 @ 12pm St James HS (Myrtle Beach, SC)
Sunday 11/6 @ 12pm TBA (Charleston, SC)
Saturday 11/12 @ 12pm Erskine College (Due West, SC)
Sunday 11/13 @ 12pm Camden HS (Camden, SC)
Saturday 11/19 @ 12pm TBA (NC)
*CLICK ON LINK BELOW TO REGISTER FOR FALL TRYOUTS*
*Tryout Registration (click here)
The Rawlings Stars SC Baseball program is always looking for quality and committed players ages 9u-17u. The Stars program got its start in 2007 and put its first travel ball teams on the field in spring 2008. Rawlings Stars Baseball SC has elite showcase teams at 14u, 15u, 16u, and 17u. Our Rawlings Stars 12u, 11u, 10u & 9u teams are also major level teams. In eight years of playing youth travel and showcase ball our program has produced an enormous amount collegiate signees and excellent amount of professional draft picks. If you are interested in any opportunities with us please e-mail or call to set up an appointment.
RECENT RAWLINGS STARS NEWS:
-RAWLINGS STARS 9U MAJOR GO 7-0 AND WIN THE 9U TRIPLE CROWN NATIONAL CHAMPIONSHIP TO WIN IN BACK TO BACK YEARS
-RAWLINGS STARS PROSPECTS NC ADDS A 9U AND 10U MAJOR FOR THE 2017 SEASON BEGINNING 8/1/16
-RAWLINGS STARS PROSPECTS SC 2017 SUMMER TRYOUTS COMING IN NOVEMBER 2016
MAY IS PEDIATRIC STROKE AWARENESS MONTH! I AM JAYDEN!!!!