RAVENS: Welcome
HOME OF THE RELENTLESS RAVENS!!!!!!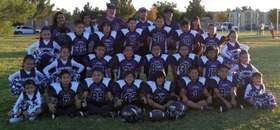 2012 FALL 8-9 FLOCK
NO PLAYER IS JUDGED ON HIS/HER SKILL.....PLAYERS WILL BUILD CHARACTER,DISCIPLINE,SPORTSMANSHIP,AND MOST IMPORTANTLY TEAMWORK...
"IT MATTERS NOT HOW MANY TIMES YOU FAIL
WHAT MATTERS IS THE SUCCESSFUL ATTEMPTS,
WHICH SHOULD BE REMEMBERED,RIENFORCED, AND DWELT UPON."
-VINCE LAMBARDI-
Tuesday, April 30
WAY TO GRIND...
8-9/10-11RAVENS
SAD TO SAY, BUT OUR SEASON IS COMING TO A ENDING..CONGRATS TO EACH AND EVERYONE OF YOU.THANK YOU FOR GIVING ME 100% AND MORE ON THE FIELD..AS A PROGRAM YOU FINISHED WITH A RECORD 3-8-1......KEEP YOUR HEADS UP, THATS SUMTHING TO BE PROUD OF, BEING YOUR FIRST TIME AS A TEAM..REMEMBER JUST KEEP ON
"GRINDING"
NOW....
RAVENS GIRLS
I WOULDNT CHANGE THIS SQUAD FOR ANY OTHER..THANK YOU FOR YOUR SUPPORT ON GAMEDAY NO MATTER THE OUTCOME..THAT TELLS ME YOU HAVE RAVENS SPIRIT RUNNNING THRO THOSE LIL VIENS OF YOURS...REALLY PROUD TO HAVE YOU ALL ON THE PROGRAM...GO RAVENS!!!!!
NOW....
RAVEN PARENTS
THANK YOU ALL FOR YOUR CONTINIOUS SUPPORT AND DEDICATION..THIS PROGRAM CANT PROCEED WITH OUT MY PARENTS..I HOPE YOU ALL HAD A GOOD EXPERIENCE....I CAN SAY THIS "IT WAS A HONOR TO BE ABLE TO TEACH YOUR PRIZE POSSESION THE GAME OF FOOTBALL".I ENJOY, EVERY MINUTE THAT IM AT THE PARK WITH YOUR KIDOS."
COACHS
THANK YOU ALL FOR YOUR COMMITMENT TO THE PROGRAM AND HARD WORK..AS COACH GABE WOULD SAY
"I WOULD GO TO WAR W ANYONE OF YOU,ANY GIVEN DAY."