CALIFORNIA RAIDERS 18U Gold: Welcome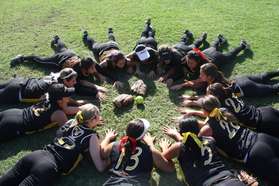 Raiders 18
Sunday, March 2

Welcome To The 2014
California Raiders 18U Gold Team:
Kerisa #40, Vanessa #15,

Sarah #32,
Sara #3, Emily #21, Soraya #8,
Hannah #99,

Gabbi #11, Amanda #17,
Alexandria #23,

Allison #22, Alejandra #7,
Lyndsi #12, Vanessa #16, Linzey #6



This team is managed by Phil Bruder. Phil founded the California Raiders organization in 1975 and has won 12 National Championships. Phil and his coaching staff will work with this talented group of girls and not only get them ready for the 2014 National Championship, but also prepare them for college exposure tournaments and give them the best opportunities for eventual college scholarships.
California Raiders 18U Gold
_________________________________________________________