PYSL TOPSoccer: My Site News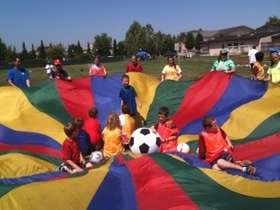 TOPSoccer is FUN!
Wednesday, August 29
2012-2013 Season TOPSoccer Kick-off Set for September 14th
PYSL TOPSoccer would like to thank all who joined us this summer at our TOPSoccer "play date" events. After breaking for school start up, we are ready to start Phase II of our build up to a competitive soccer league – an introduction to competitive "Wembley League" play.
Beginning September 14, we plan an initial four weeks of round-robin "Wembley" play with teams of players and buddies arranged on the night of the competitions. We will gather for warm-up and team building at 5:00 each Friday, with play beginning about 5:30.
We will have a break-week in the middle of the "season" - dates for the events will be 9/14, 9/21 and 10/5, 10/12. Please note that it is not necessary to attend every event.
To help defray costs and to provide insurance through the Placer Youth Soccer League we are asking families to pay a registration per player fee of $35 for 2012-2013 season play.
We intend to hold events throughout the entire year and your registration fee will also cover all future play dates and other 2012-2013 season through August 1, 2013. Registration information is available online at: PYSLTOPsoccer.com.
We are very fortunate to have the support of the Placer United Soccer Club. The club has granted use of its amazing indoor facility in Rocklin. The facility has room for several small-sided games at once. It also has plenty of additional space to accommodate players who want to keep enjoying our usual "play date" activities in lieu of competition. The facility is located at: 1091 Tinker Rd., Ste. 300, Rocklin, CA