PYSL TOPSoccer: Welcome
PYSL TOPSoccer
Donations Received: $ 0
$0
$ 1,000
Welcome to Placer Youth Soccer League TOPSoccer
Let Soccer Shine for All Kids!
TOPSoccer is a community-based, play, training and team placement program for young athletes with special needs. It is run by local volunteers and is designed to meet the needs of children with physical and/or other special needs. The program targets those kids ages 4 -18 who would like to play soccer, but are challenged by the traditional soccer environnment, including those kids with physical supports and wheelchairs.
The program is designed to provide a fun and meaningful experience for the family, while also improving the overall fitness, self- esteem and social skills of the child athlete in a safe and caring environment. Incorporating a "Buddy" system, each event offers pairing a player with a volunteer partner. TOPSoccer also provides parents the opportunity to network with other families for support and information sharing.
Join Us for TOPSoccer Friday Play Dates for 2013
Dates: May 17 and June 21
Time: 6:00 p.m. - 7:30 p.m.
Location: Douglas Ranch Park in Granite Bay.
We welcome families and players from the surrounding communities. Please have your player bring a bottle of water. Parents must stay on site.
Whether you are a parent, a potential TOPSoccer player, or interested in being a youth player volunteer, we would like to invite you and your family to come and play with us!
TOPSoccer Videos: Just click on the links below to see more heart-warming videos.
Facebook:
Follow us on Facebook and receive all TOPSoccer news and updates. Click here to visit our Facebook page. Click here to visit our Facebook group.
Play Dates:
All play dates are free. Play dates will resume in Spring 2013. Please check back here or subscribe to our Facebook account for additional information as it becomes available. To sign up a player for a play date, select the Handouts tab on the left side of the page and then select the Player Registration form. You can either mail or email a copy to us. All registration emails should be sent to: davehunter@pysltopsoccer.com
If you have already registered with PYSLTOPSoccer for a previous play date, you do NOT need to fill out another registration form. Just RSVP to: davehunter@pysltopsoccer.com and include the name of your player.
Seasonal League Play:
Regular season Wembley Play Games will be held begining in September. To register for seasonal league play, you will need to do the following:
1. Complete the Player Registration Form as instructed above (if you have not already done so for a previous play date).
2. Complete two copies of the CYSA Membership Form(1601) which is located directly below the Player Registration Form on the Handouts page. (No photos or copies of birth certificates required).
3. Bring both forms along with a check for $35.00 (make check payable to; PYSLTOPSoccer) to the next event.
Volunteers and Buddies:
TOPSoccer is in need of volunteers and buddies to particpate in all events. You will need to complete and send in a Volunteer Registration and Waiver form. The form can be downloaded by selecting the Handouts tab the left side of the page and then select the Volunteer Registration and Waiver form. You can either mail or email a copy to us. You only need to do this once for the season.
All Volunteer Buddies will need to attend a training session for 30-45 minutes prior to attending your first play date. If you haven't received buddy training, please plan to arrive at the playdate at least 45 minutes early to learn about the program and being a buddy.
For links to other area TOPSoccer programs:
PYSL TOPSoccer
c/o Larry Langham
4120 Douglas Blvd., Suite 360-180
Granite Bay, CA 95746
Email: larrylangham@pysltopsoccer.com
Sponsored by:
Burman Promotions Specializing in customized promotional products.
burmanpromo@gmail.com Phone: 916-772-1373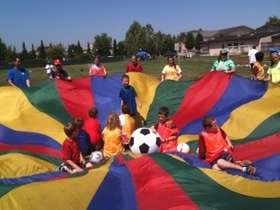 TOPSoccer is FUN!
Wednesday, August 29
2012-2013 Season TOPSoccer Kick-off Set for September 14th
PYSL TOPSoccer would like to thank all who joined us this summer at our TOPSoccer "play date" events. After breaking for school start up, we are ready to start Phase II of our build up to a competitive soccer league – an introduction to competitive "Wembley League" play.
Beginning September 14, we plan an initial four weeks of round-robin "Wembley" play with teams of players and buddies arranged on the night of the competitions. We will gather for warm-up and team building at 5:00 each Friday, with play beginning about 5:30.
We will have a break-week in the middle of the "season" - dates for the events will be 9/14, 9/21 and 10/5, 10/12. Please note that it is not necessary to attend every event.
To help defray costs and to provide insurance through the Placer Youth Soccer League we are asking families to pay a registration per player fee of $35 for 2012-2013 season play.
We intend to hold events throughout the entire year and your registration fee will also cover all future play dates and other 2012-2013 season through August 1, 2013. Registration information is available online at: PYSLTOPsoccer.com.
We are very fortunate to have the support of the Placer United Soccer Club. The club has granted use of its amazing indoor facility in Rocklin. The facility has room for several small-sided games at once. It also has plenty of additional space to accommodate players who want to keep enjoying our usual "play date" activities in lieu of competition. The facility is located at: 1091 Tinker Rd., Ste. 300, Rocklin, CA