PYSL TOPSoccer: Welcome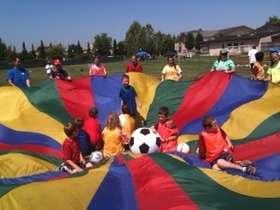 Play Day Fun!
Friday, August 16
The 2013 Season Free Play Dates are Here! Come Join us for Free Fun!
Let Soccer Shine for All Kids!
TOPSoccer is a community-based, play, training and team placement program for young athletes with special needs. It is run by local volunteers and is designed to meet the needs of children with physical and/or other special needs. The program targets those kids ages 4 -18 who would like to play soccer, but are challenged by the traditional soccer environnment, including those kids with physical supports and wheelchairs.
The program is designed to provide a fun and meaningful experience for the family, while also improving the overall fitness, self- esteem and social skills of the child athlete in a safe and caring environment. Incorporating a "Buddy" system, each event offers the pairing of each player with a volunteer partner. TOPSoccer also provides parents the opportunity to network with other families for support and information sharing.
Whether you are a parent, a potential TOPSoccer player, or interested in being a youth player volunteer, we would like to invite you and your family to come and play with us!
TOPSoccer Videos: Just click on the links below to see more heart-warming videos.
CBS Sacramento TV News Covers PYSLTopsSoccer Event for Kids with Special Needs



The PYSL TopSoccer program continues to generate interests amongst both local and national news media. Numerious previous events last season received coverage by several local news stations as well as national coverage by Fox Soccer. Most recently, PYSL TopsSoccer was back in the spotlight when CBS Sacramento provided some coverage of the July 13th PYSL TopSoccer Play Date held in Granite Bay. Click here to see the full coverage.

Facebook:
Follow us on Facebook and receive all TOPSoccer news and updates. Click here to visit our Facebook page. Click here to visit our Facebook group.
Play Dates:
All play dates are free. Please check back here or subscribe to our Facebook account for additional information as it becomes available. To sign up a player for a play date, select the Handouts tab on the left side of the page and then select the Player Registration form. You can either mail or email a copy to us. All registration emails should be sent to: davehunter@pysltopsoccer.com
If you have already registered with PYSLTOPSoccer for a previous play date, you do NOT need to fill out another registration form. Just RSVP to: davehunter@placertopsoccer.com and include the name of your player.
Seasonal League Play:
Regular season Wembley Play Games will be held begining in September. To register for seasonal league play, you will need to do the following:
1. Complete the Player Registration Form as instructed above (if you have not already done so for a previous play date).
2. Complete two copies of the CYSA Membership Form(1601) which is located directly below the Player Registration Form on the Handouts page. (No photos or copies of birth certificates required).
3. Bring both forms along with a check for $35.00 (make check payable to; PYSLTOPSoccer) to the next event.
Volunteers and Buddies:
TOPSoccer is in need of volunteers and buddies to particpate in all events. You will need to complete and send in a Volunteer Registration and Waiver form. The form can be downloaded by selecting the Handouts tab the left side of the page and then select the Volunteer Registration and Waiver form. You can either mail or email a copy to us. You only need to do this once for the season.
All Volunteer Buddies will need to attend a training session for 30-45 minutes prior to attending your first play date. If you haven't received buddy training, please plan to arrive at the playdate at least 45 minutes early to learn about the program and being a buddy.
For links to other area TOPSoccer programs:
Contact Information
PYSL TOPSoccer
4120 Douglas Blvd., #306-180
Granite Bay, CA 95746
Email: davehunter@pysltopsoccer.com
Sponsored by:
Burman Promotions Specializing in customized promotional products.
burmanpromo@gmail.com Phone: 916-772-1373