Prince William Girls Fastpitch Softball: Coaches Corner
Thursday, March 7
Required Training For All Coaches
USA Softball ACE Certification-Required for each age level for all coaches before practices begin.
Cost is $25 and is tax deductable, so save your receipt.
1. Log on to https://registerusasoftball.com
2. Create a user name and a password. If you happen to forget your password, do not make another account, email USA Softball for help to re-set your password.
3. Provide a credit card for the $25 fee and an electronic background is performed. May take 1-3 days to process.
4. Once your background check has cleared you will be directed to the video section to answer questions and take the test. Maximum time necessary is 45min.
5. Once completed you can go back to the "Home Plate" page and print your certification or wait for it to arrive in the mail in 5-10 days.
***Once received, take a picture or scan, and forward your 2019 ACE Certification to REGISTRAR@PWGFS.NET with USA Softball ACE in the subject line.
There is a help section on each page for ACE test if you get stuck. Good Luck!!!!
CONCUSSION TRAINING!
Concussion training is required for all coaches and assistant coaches. Complete your training online at the site below. When you are done, please send your completion notice to REGISTRAR@PWGFS.NET
http://www.cdc.gov/HeadsUp/youthsports/training/index.html
Tuesday, December 19
Coaching Softball (Suggested Training for New Coaches)
In this course, Mike Candrea, former head coach of the USA Softball Women's National team who has more than 30 years of experience coaching softball, explains the basic skills of throwing and catching, offensive skills, overview of each position's role, team defensive tactics, practice plan development, and additional coaching tips that coaches can use to teach and help improve their softball teams.
Course Outline Includes:
Basic Skills
Offensive Skills
Position Play
Team Defenses
Developing a Practice
Coaching Tips
The NFHS Coach Certification Program is a national professional credential offered to individuals who are currently coaching or aspire to coach at the interscholastic level.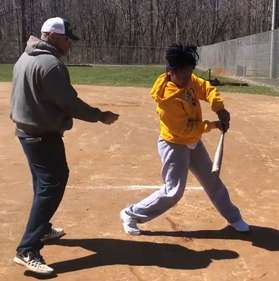 Batting Video with Coach Eric
Saturday, March 23
Batting Video with Coach Eric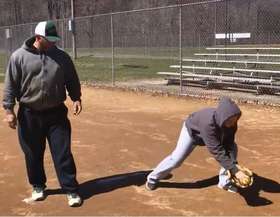 Fielding Video with Coach Eric
Saturday, March 23
Fielding Video with Coach Eric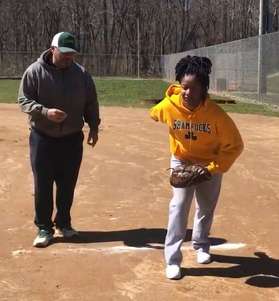 Pitching Video with Coach Eric
Saturday, March 23
Pitching Video with Coach Eric
Wednesday, January 28
Sample Practice Plans
Sample Practice Plan
20 min– Team Meeting – Practice purpose/warm-up run/stretches.
20 min – Speed/Agility/Strength Exercises/Throwing Warm-ups
Quick water break/explanation of drills and expectations.
55 min – Mixed Drills – Offense/Defense
• Station 1 – Tee Station – Focus on technique/extension through the hitting zone. (Offensive)
• Station 2 – Lite-flite machine – Live Hitting (Offensive)
• Station 3 – Defensive Drills – includes hand to hand transition/reverse reaction/drop step.
• Station 4 – The team will participate together in agility/throwing drill. 15 min
• Finish the practice with an obstacle course comprised of all agilities.
Positive Feedback----We've had great workouts so far…everyone is hustling. We're going to start picking up the pace similar to our other workouts. Hustle at all times, no walking, a lot of strengthening exercises. If we want to be strong, we've got to become strong.
ONE TEAM! ONE GOAL! "You must expect great things from yourself before you can do them"….Michael Jordan
*Coaches be creative and cater to the needs of your team. Help is available from your commissioner and PWGFS Board members.
Wednesday, January 28
Sample Practice Plan
Sample Practice Plan
***Team meeting- explain what you expect to accomplish today and expect everyone to hustle.
20 min- Warm up- Includes jogging, high knee's, skipping, shuffle, karaoke. (Agility exercises).
10 min-Stretch- Include arms, shoulders, legs, hips.
Hydrate as needed throughout practice
20 min-Running Technique - Use this time to teach proper technique and some game rules.
Home-1st. Stay in runners lane, hit orange bag, breakdown after running thru bag.
Home -2nd. Hit the white bag, banana, lean inward on corners, Stop on 2-don't over run. Introduce slide to stop.
Home- 3rd. Stop on bag, don't over run. Always be prepared to score when you stop at third.
Home- Home. Use all your learned techniques. If mistakes are made, send them again. Slide at home if there is a play to be made on you. Explain why the run again or why we do it for safety reasons.
Throwing- Warm up
Expect short distance accuracy, 2 hands while catching, long follow thru, this is time to work technique with individuals.
Add fielding grounders. Body position for both hands and feet.
Hitting- This is usually the slowest part of practice requiring hands on with each player.
Stance/Swing/Point of contact/follow thru/where to stand in the box.
Add bunts and age division skills from the skill developement page.
Scrimmage infield vs outfield. The ball is live 100% of the time. (Keep everyone involved and active)
****Positive recap of the day. Reminders, things to work on at home. Team spirit-support each other.