Friday, September 9
2016 Teams
Varsity
Maggie Gardner,Megan Reardigan,Kara Staudenmayer,Bernadette Tiberi,Lizzie Caltabiano,Elena Bizzoco,Taylor Marcinek,Emily Broderick,Emma Trasatti,Megan Prendergast,Gabrielle Marra,Melanie Ragozzino,Lauren Calabria,Ava Albergo,Rylee Milligan,Jillian Badgley,Melanie Benish,Jessica Bizzoco,Olivia Boucot,Kristin Spering, Lindsey Shannon
Junior Varsity
Jarah Barquero,,Moira Leary,Jaclyn Schultz,Alexis Lillich,Alexa Postiglione,Lauren Cowley,Hannah Marsh,Megan Mann,Taylor Metz,Olivia Darley,Madison Leming,Kaitlyn Burke,Katie English,Madison Fore,Klara Devos,Jessica Giacobbe,Hailey Alexandre,Alyssa Leshko
Freshmen
All Freshmen that tried out this week will remain on the Freshmen team for now.
Kirsten Nelson will practice and play with JV until their goalkeeper returns from injury.
Follow us on Twitter @p6girlssoccer
This season Megan Reardigan will wear our legacy number (#6). Meg was awarded the number by last years legacy wearer Alyssa Powers. Congratulations Megan.
VARSITY Coach Keith - kwalters@pvihs.org
JV Coach - Bill Rothwell - billroth10@verizon.net
FRESHMEN Coach Gregg - pondgregg@hotmail.com
Tuesday, April 5
PAUL VI PLAYERS IN COLLEGE
We are so proud of all our former players in college. Visit their team sites and check out how well they are doing for their teams.
2016
Cait McDonough - Georgian Court University
Natalie Guarracino - Albright College
Danielle Elman - Neumann University
Gabby Giacobbe - Rowan University
Michelle Hallman - Old Dominion University (Lacrosse)
2014
Jackie Carty - Boston University
Kristen Morawski - Mount Saint Mary's
Erica McLaughlin - Chestnut Hill College (Lacrosse)
Kelsey Vick - Goldey Beacom College
Brooke Palmieri - Widener University
Rachel Fanrak - Rutgers University Camden
Kristen McShane - University of Scranton
Casey Baker - West Chester University
Kayla Spraggins - Keuka College
2013
Sarah Harris - Montclair University
Erica McDonough - Widener University
Sarah Boucot - Rutgers University Camden (Soccer & Lacrosse)
Kristen Bate - Widener University (lacrosse)
Catherine Fiore - Rutgers University Camden
2012
Loren Reilley - UNC Charlotte
Ali Bigos - Gwynedd Mercy College
Devon Reeves - Alvernia College
Brittany Ratcliffe - University of Virginia
Erica Graziosi - St. Joseph's University
Janae Geonnetti - Montclair University
2011
Chelsea Phillips - Charleston Southern University
Jenna Pedrick - Widener University (2014 Captain)
Nicole Foschini - Widener University (2014 Captain)
Stephanie Dickinson - Widener University (2013/14 Captain)
Carla Chmielewski - Philadelphia University
Erin Baker - Misericordia University
2010
Sarah Hinkle - Richard Stockton College (2013 Team Captain)
Colleen Nauss - Rowan University (lacrosse)
Stephanie Przybyszewski - Albright College
Becky Sparks - James Madison University (2014 Grad Assistant Coach)
Deandra Turchi - Rowan University (2012, 2013, 2014 Team Captain)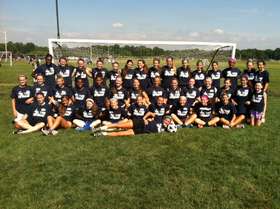 Terrific participation - 2014 TOPS
Saturday, June 13
Players volunteer at TOPS soccer program - 2014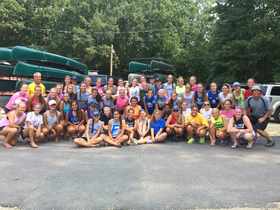 Before heading onto the river
Friday, September 4
Canoe trip 2015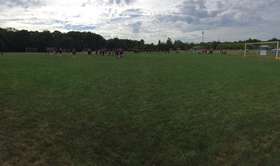 Great first week at TOPS
Saturday, September 12
Teams doing their TOPS volunteerism

Awaiting transportation to river
Saturday, August 14
2nd ANNUAL CANOE TRIP
Chatsworth, NJ - August 13, 2010 (Friday 13th)
Thirty Paul VI soccer players attended this year's trip to Mick's Canoe Rentals in the "Jersey Pines". The two hour course began around 11:00 and with a couple breaks for swimming and rope swinging, ended at 2:00. Screams and laughter could be heard throughout the woods in a day filled with stories. Most paddlers got the hang of it by the end of the day although some still chose to swim with their canoes rather than paddle from within it. (see below) Thanks to all the girls that participated in this team building activity and to the parents that provided rides.

Is this right ???

Before the Trip - Still smiling! photo courtesy of Erica Graziosi
Friday, September 4


Canoe Trip - August 14, 2009




Mick's Canoe Rental, Pine Barrens, New Jersey. 33 Paul VI Soccer Players and coaches went in, 33 came out. What was billed as a 4 hour canoe venture, ended up taking some of us much longer. It was an experience we can all look back on and have some laughs about. Stories of lost lunches, overturned canoes, two headed turtles, and desserted canoes are just a few of the memories left behind. Next Summers trip will be a much shorter version with more time to swim and relax......Promise !!!



Saturday, January 3


ATTENTION ATHLETES & PARENTS! Click here to check on the NCAA course requirements for Athletic eligibility.


Paul VI Girls soccer program. Preparing High School athletes athletically and academically to play in College....

Wednesday, March 28


Click here to sign our Guestbook