Puyallup Juniors Volleyball Club: WINTER CLASSIC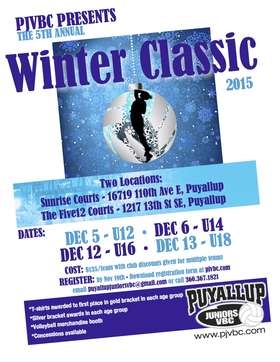 Welcome to the 2015 Winter Classic!
TOURNAMENT INFORMATION: We would like the girls to be able to practice using the score books. Please have players wear numbered jerseys or shirts and liberos wear a contrasting color. Concessions will be available at both locations. Volleyball gear will be available for purchase at both locations. T-shirts will be awarded to the gold bracket winner.
TIME: Doors open at 8:00 a.m. Play begins at 9:00 a.m. Coaches meeting at 8:30 a.m. Teams must have a USAV completed roster at the coaches meeting!
SUNRISE COURTS FACILITY LOCATION AND RULES: Sunrise Courts, 16719 110th Avenue East, Puyallup. Players and spectators are welcome to eat and drink inside the facility. No team food tables inside or outside the facility. Spectator seating is provided, please do not bring chairs. No ice chests or coolers inside. Tailgating in parking area is allowed, team tables and tents/canopies are not. Concessions and volleyball apparel available.
Handout:
Winter Classic 2015
Click the handout below for the tournament registration form.
Handout:
Tournament Registration