Puyallup Juniors Volleyball Club: WINTER CLASSIC
Congratulations to this year's Winter Classic teams!
U12 Top Finishers:
1st Place: Lake Tapps 12 Orange
2nd Place: PJVBC 12 National
U14 Top Finishers:
1st Place: 253 Elite 13
2nd Place: Ferndale 14 Ice
U16 Top Finishers:
1st Place: 253 Elite 16
2nd Place: Space Needle 16
U18 Top Finishers:
1st Place: Washington Elite 18
2nd Place: PJVBC 18 John
* * * * * *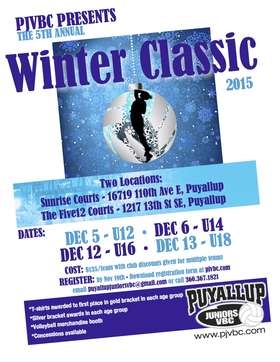 Welcome to the 2015 Winter Classic!
*** Pools for the Winter Classic this coming weekend, 12/12/15 and 12/13/15, are now posted at the bottom of this page. All games will start at 9:00am for both locations. Playing schedules are below pool lists.***
*** U16 pools for Saturday 12/12/15 have been updated since initial posting.
TOURNAMENT INFORMATION: We would like the girls to be able to practice using the score books. Please have players wear numbered jerseys or shirts and liberos wear a contrasting color. Concessions will be available at both locations. Volleyball gear will be available for purchase at both locations. T-shirts will be awarded to the gold bracket winner.
TIME: Doors open at 8:00 a.m. Play begins at 9:00 a.m. Coaches meeting at 8:30 a.m. Teams must have a USAV completed roster at the coaches meeting!
SUNRISE COURTS FACILITY LOCATION AND RULES: Sunrise Courts, 16719 110th Avenue East, Puyallup. Players and spectators are welcome to eat and drink inside the facility. No team food tables inside or outside the facility. Spectator seating is provided, please do not bring chairs. No ice chests or coolers inside. Tailgating in parking area is allowed, team tables and tents/canopies are not. Concessions and volleyball apparel available.
Handout:
Winter Classic 2015
Click the handout below for the tournament registration form.
Handout:
Tournament Registration
PAYING ONLINE: If you would like to pay for your tournament registration online, select the Winter Classic from the menu below. Payments are processed through PayPal.
*Please be aware that the registration amount will be slightly higher if you pay online. This is to help cover the fee for using PayPal. (*The payment amount in the drop down menu has already been adjusted to reflect this -- you will NOT have an additional fee at checkout.)
The pay online feature is an option for your convenience. You are still more than welcome to pay by check to avoid this fee. Mailed payments should be sent to: Puyallup Juniors VBC, PMB 197, 17404 Meridian East, Suite F, Puyallup, WA 98375
Checks are payable to PJVBC.