Puyallup Juniors Volleyball Club: Welcome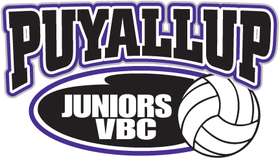 16719 110th Ave. East, Suite A, Puyallup, WA 98374 • (360) 367-1821 • puyallupjuniorsvbc@gmail.com Mailing Address: PMB 197, 17404 Meridian East, Suite F, Puyallup, WA 98375
* * * * * *
Click here to visit our Facebook page. Like us to receive updates!
Follow us on Twitter @PuyallupJuniors
* * * * * *
PJVBC IS VERY EXCITED TO ANNOUNCE OUR NEW SPORTS MEDICINE PROGRAM!
Puyallup Juniors has partnered with Olympic Sports & Spine Rehabilitation to bring you a great Sports Medicine Program! It includes individualized player injury risk assessment using cutting-edge technology and a FREE Bumps and Bruises Program for our players who have been inj
ured on the court. Find out more by clicking
here
for a printable flyer or on the Sports Medicine tab at left for complete info.
* * * * * *
TRYOUTS START IN LESS THAN A WEEK!
Please visit the Tryouts tab at left for more information and to download the required forms
U12, U13 and U14
Monday, November 3, 2014
5:30 p.m. - 7:30 p.m.
U12, U13 and U14 Tryouts and Teams are open to Girls and Boys! Call 360.367.1821 for more information.
U15 and U16
Sunday, November 16, 2014
12:00 p.m. - 2:00 p.m.
U17 and U18
Sunday, November 16, 2014
3:00 p.m. - 5:00 p.m.
* * * * * *
ADVANCED PLAYER SKILL SESSIONS
UPDATED!!!
Sessions designed for girls with prior club experience or comparable experience.
Sundays through November 9th at Sunrise Courts. One two-hour session each Sunday 10:00 - 12:00 just $30.00. During the session there will be 3 skill sets ongoing: Hitting and blocking coached by
Greg Finel
, passing and serving coached by
Craig Barrow
, and setting coached by
Shawnna Shula
. Register to guarantee a spot, drop-ins available if space permits. Call
(360) 367-1821
or email puyallupjuniorsvbc@gmail.com to register.
* * * * * *
LAST NIGHT FOR CLUB READY!!!
DROP-INS WELCOME
Last chance to attend Club Ready is this Wednesday, October 29th from 6 to 8 pm. Designed for all skill levels, this is an excellent opportunity to fine-tune your game before tryouts. Open to girls and boys not currently playing on a high school team. Drop-ins welcome, just $25 per session. Call
(360) 367-1821
or email puyallupjuniorsvbc@gmail.com for more information.
* * * * * *
LITTLE PJ'S CAMP
Learn the fundamentals of the game and have a great time! Ages 7-11. Runs Mondays and Wednesdays from 4:30 - 5:30 from December 1, 2014 through February 25, 2015. Cost is $160. See Camps and Clinics tab for more information or call 360.367.1821 to register.
* * * * * *
A BIG PJVBC WELCOME TO ALL OUR NEWAND RETURNING COACHES!
We are very excited about our excellent coaching staff and invite you to read their bios by clicking
here
or on the Coaches & Staff tab at left.
PRIVATE LESSONS
Are always available with our great coaches!
* * * * * *