Puyallup Juniors Volleyball Club: Welcome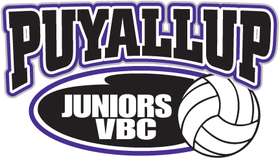 16719 110th Ave. East, Suite A, Puyallup, WA 98374 • (360) 367-1821 • puyallupjuniorsvbc@gmail.com
Mailing Address: PMB 197, 17404 Meridian East, Suite F, Puyallup, WA 98375
* * * * * *
Click here to visit our Facebook page. Like us to receive updates!
Follow us on Twitter @PuyallupJuniors
Congratulations to our U15 National team for finishing in the Gold Bracket, 5th place out of 93 teams, at the Far West National Qualifier in Reno, and to our U14 National team for finishing in the Silver Bracket! Way to play hard ladies!!!
Good luck to our U12 N, U14 N, U15 N and U16 N teams who are all playing in the Bid Tournament this weekend. Bring home the Bid ladies!
We are very proud of the following teams for finishing in the American Division Gold Bracket the the Pacific National Qualifier in Spokane:
U15 N - 4th Place • U14 N - 5th Place • U16 N - 5th Place
SHOP AT BIG 5 SPORTING GOODS
4/3/14 THROUGH 4/12/14 AND 5% OF YOUR PURCHASE WILL BE DONATED TO PJVBC!
Please click here to print the coupon. Take it with you to make sure your purchase counts. Valid at all Big 5 locations so spread the word to friends and family!
VERTICAL/JUMP CLASSES
GET HIGHER!
A FREE specialized vertical training class with Harshiem Ross is being offered Friday evenings from 6-7 pm. Please sign up each week you plan to attend on the sign-up sheet located at the front desk. See you on Fridays! No class February 21st due to College Information Night.
* * * * * *
Regional Teams - Mondays & Wednesdays
U10, U13/14:
5:30 - 7:30 Practice
•
7:30 - 8:00 Strength and Conditioning
U15 R, U16 R & U17 NAT'L:
7:00 - 7:30 Strength and Conditioning • 7:30 - 9:30 Practice
National Teams - Tuesdays & Thursdays with Optional Fridays
U12, U13 & U14: 5:30 - 7:30 Practice • 7:30 - 8:00 Strength and Conditioning
U15, U16 & U18: 7:00 - 7:30 Strength and Conditioning • 7:30 - 9:30 Practice
* * * * * *
Handout:
BIG 5 COUPON