Puyallup Juniors Volleyball Club: Welcome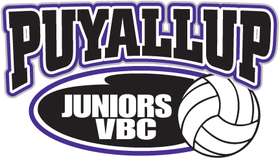 16719 110th Ave. East, Suite A, Puyallup, WA 98374 • (360) 367-1821 • puyallupjuniorsvbc@gmail.com
Mailing Address: PMB 197, 17404 Meridian East, Suite F, Puyallup, WA 98375
* * * * * *
Click here to visit our Facebook page. Like us to receive updates!
Follow us on Twitter @PuyallupJuniors
* * * * * *
IMPORTANT DATES...
Friday, March 14 - Parents Night Out / Club Fundraiser Event
Gather your family and friends for a fun-filled adult evening!
Our club's yearly fundraising event will take place March 14 from 7pm - midnight. All PJ Parents are strongly encouraged to participate with ticket sales and attend the function. The evening will include and Italian dinner, wine and beer, a DJ for music and dancing, a silent auction and a dessert auction! Your team mom will have
more
information and tickets soon. Please download the flyers by clicking "Handouts" at the bottom of this page.
50/50 Raffle Tickets on Sale Now!
$5 per tickets for a chance to win HALF THE CASH collected for the raffle, the other half goes towards the teams going to the GJNC in Minneapolis this summer.
PJ Players get out there and sell those raffle tickets, a gift card will be awarded to the player selling the most tickets!! More tickets are available from Becky Neuman or your team mom.
Drawing to be held March 14th, winner need not be present.
VERTICAL/JUMP CLASSES
GET HIGHER!
A FREE specialized vertical training class with Harshiem Ross is being offered Friday evenings from 6-7 pm. Please sign up each week you plan to attend on the sign-up sheet located at the front desk. See you on Fridays! No class February 21st due to College Information Night.
* * * * * *
Regional Teams - Mondays & Wednesdays
U10, U13/14:
5:30 - 7:30 Practice
•
7:30 - 8:00 Strength and Conditioning
U15 R, U16 R & U17 NAT'L:
7:00 - 7:30 Strength and Conditioning • 7:30 - 9:30 Practice
National Teams - Tuesdays & Thursdays with Optional Fridays
U12, U13 & U14: 5:30 - 7:30 Practice • 7:30 - 8:00 Strength and Conditioning
U15, U16 & U18: 7:00 - 7:30 Strength and Conditioning • 7:30 - 9:30 Practice
* * * * * *
Handout:
Club Fundraiser Event