Putnam County Swim Team: Welcome
Welcome to Putnam County Swim Team (PCST), Greencastle, IN! PCST has been created from a strong foundation laid by Greencastle Summer Swim. The new organization began with the efforts of Board Members Annette Maier and Jenny Riggle, Coaches Kent Menzel and Catharine Simmerman, and parent advisors Lesley Stimpert and Katie Wood.
Based on years of successful operation and growth as Greencastle Summer Swim, the goal is to extend the same opportunities across the entire calendar year as well as to offer a more diverse array of competitive opportunities.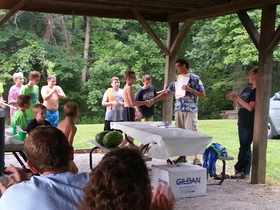 Swim Team Celebration 2014 - Lake Oakalla
Fall Season 2014 Registration
Our Fall Season 2014 registration is now open! Please click on the Registration tab for more information on the programs (practice days, times, fees, etc). Or, if you know the information and just want a short cut to the registration links, then here they are...
For Stroke Development swimmers, please use this link: http://www.active.com/greencastle-in/water-sports/swimming-schools/stroke-development-putnam-county-swim-team-fall-2014
For PCST USA Swimming, please use this link: http://www.active.com/swimming-team/greencastle-in/putnam-county-swim-team-fall-2014
Unsure of which link to use, then please read the registration information found in the Registration tab.
See you at the pool!
Swim Team Celebration
PCST's swim team celebration was on Friday, August 8th at Lake Oakalla. This was our first-annual end of the season event. All swimmers were recognized and awarded for their outstanding swimming efforts and team work throughout the season. This was a fun social event!