PALMERTON-TOWAMENSING LITTLE LEAGUE, SOFTBALL & BABE RUTH: Welcome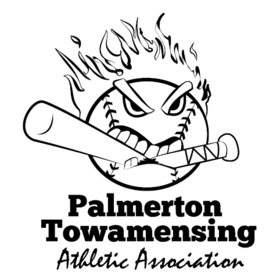 ---
---
Welcome to the Palmerton-Towamensing Area Baseball Page. We serve the youth of the Palmerton School District. This includes the Boroughs of Palmerton & Bowmanstown, Lower Towamensing and Towamensing Townships. Our Babe Ruth Program also includes
Ross
, Eldred, Chestnut Hill and Polk Townships of the Pleasant Valley School District. We are t
he areas only Little League & Babe Ruth sanctioned organization.
Be part of the excitement of Little League, Softball and Babe Ruth baseball. We play in District 18 Little League, which is comprised of 18 organizations from throughout our area, District 4 Babe Ruth (Hazleton, Lehighton Area, Nazareth Area, Palmerton Area, Panther Valley Area) and Softball in the Parkland Softball and Lehigh Valley league.
Thursday, May 16
Applebee's Flapjack Fundraiser Breakfast
The idea of a Flapjack Fundraiser event is for Applebee's to offer their restaurant facility during non-operating hours to help our organization raise money by selling tickets for an all-you-can-eat pancake breakfast. Each breakfast consists of 3 pancakes, 2 pieces of sausage and unlimited beverages including coffee, tea, orange juice and soda. Additional plates of pancakes will be served as needed.
PTAA will provide volunteers to greet, seat, serve and clean tables.
Proceeds will be used for field maintenance and repair.
http://www.eteamz.com/ptall/files/applebees.pdf
Monday, May 13
REMINDER: PTAA Comets Pro Softball Fundraiser
Comets Pro Softball Tickets, $12 per person, your choice of

June 19th

or

June 20th

game at Iron Pigs Stadium. Tickets are valid for either game. All tickets are general admission. Please RSVP to Tanya Frey at slaabagirls@yahoo.com or texts to

(610) 864-6104

. Checks can be sent to Tanya Frey at 505 Snyders Road, Palmerton, PA 18071. The last day to order/pay for tickets will be

May 16th

.
I have included a link to their website if anyone has further questions or wants to check them out in advance.
Thanks so much!
~ Tanya Frey ~
Tuesday, May 7
2103 PTAA SPONSER
PLEASE CHECK OUT THE LEAGUE SPONSERS SECTION OF OUR SITE FOR OUR 2013 LEAGUE SPONSERS!
http://www.eteamz.com/ptall/sponsors/
Wednesday, May 1
2013 Spirit Wear Order Form
Please click the following link for the 2013 Spirit Wear order form. Form and money can be handed into your team manager
http://www.eteamz.com/ptall/files/Spirit_Wear_2013%5B1%5D.pdf
Tuesday, April 16
OPENING NIGHT!!!!
The start of the baseball and softball season is finally here. This Friday the PTAA will celebrate the past (Hall of Fame induction), the present (the games), and the future (new logo) of our organization at the Towamensing Township Field.

5:30 pm - Towamensing White Sox vs Towamensing Cubs
7:00 pm - The unveiling of the new Palmerton Towamensing Athletic Association logo. A limited quantity of shirts will be available for sale that evening.
7:15 pm - Hall of Fame Induction of Bruce Fichter, Don Hunter, 3 former Little League players, and 4 softball players.
8:00 pm - Palmerton u-14 vs Bowmanstown u-14 softball
I look forward to seeing everyone at this Friday's festivities.
Mike Netznik
PTAA President
Sunday, February 24
NEW ALUMALITE SIGN
NEW ALUMALITE SPONSER SIGN EXAMPLE
Tuesday, February 12
2013 Little League Practice Schedule
Handout:
2013 Little League Practice Schedule
Monday, December 3
PTAA 2013 SIGN UP INFO AND FORMS
Click the following links for information and forms concerning the PTAA 2013 Baseball/Softball Season!
2013 Sign up dates and pricing
Tuesday, March 27
BASEBALL/SOFTBALL DOUBLE HEADER
We are very excited to announce that we will be kicking off the season with a Baseball/softball double header on Friday April 19, 2013 at the Towamensing Field.

Game 1 will feature two of our Baseball Majors teams. White Sox vs Cubs
Game 2 will feature our two Softball u-12 teams.

Mark this in your calendar now to come out that night to support both our softball and baseball programs.
Little League NEWS
Click on the title for a link to the most recent news from Little League!
CODE OF ETHICS (Players, Coaches, Board, Parents, Volunteers)
STATE & DISTRICT OFFICIALS
HISTORY OF THE BABE RUTH LEAGUE
SPORTS LEGENDS OF OUR AREA!
Wednesday, March 28
Palmerton Towamensing Athletic Association
KIDS! CHECK OUT THESE COOL TIPS & DRILLS
Also check out these pitching tips for softball:
http://www.fastpitching.com/