PEARL RIVER LITTLE LEAGUE: Welcome
PRLL Softball 11's - D-18 and Section 4 Champs
The PEARL RIVER LITTLE LEAGUE is based in Pearl River (Rockland County, New York), and is a member league of N.Y. District 18 of Little League, Inc.PRLL features baseball and softball programs for boys and girls aged 5 to 16. PRLL was founded in 1953 and was incorporated and began play in 1954.
---
Upcoming dates:
PRLL fund-raising Handbag Bingo - 3/26/15 --- Click to see Flyer

Spring Clean-up day 3/28/15 – 9:00 a.m. to 1:00 p.m. there is no rain out date.

Opening Day will be Sat. April 11th with games starting on Tuesday April 7th.

Friday, May 15: Challenger Little League night at Anderson Field - 2 Challenger games at 7:00 p.m.
Download: 2015 Little League Volunteer Application Form
2015 Spring Season teams have not yet been formed. Managers will contact parents promptly upon team formation. Any questions, e-mail Baseball@prll.org or Softball@prll.org .
Shopping for a bat?? Avoid confusion over whether a baseball bat is "legal". Check out the Little League Bat Information Page -- CLICK HERE -- for list of approved baseball bats and rules. There is no approved list for Softball bats, which only have to comply with Rule 1.10 CLICK HERE TO SEE THIS RULE.
See information on Challenger Little League at http://www.rcchallengerll.org/
---
TAKE ANOTHER LOOK AT PRLL's 2014 SEASON - 2014 SEASON HOME PAGE
Questions for Parking or Hopper (kitchen):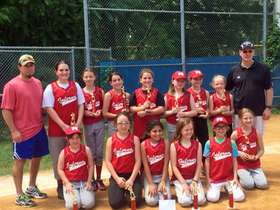 2014 Girls Minors & T of C Champs