PEARL RIVER LITTLE LEAGUE: Welcome
The PEARL RIVER LITTLE LEAGUE is based in Pearl River (Rockland County, New York), and is a member league of N.Y. District 18 of Little League, Inc.PRLL features baseball and softball programs for boys and girls aged 5 to 16. PRLL was founded in 1953 and was incorporated and began play in 1954.
---
REGISTER FOR THE SPRING 2016 SEASON (LINK)
(Click on the link above to go to the new Registration site.)
NOTICE: REGISTRATION FOR SPRING 2016 WAS DELAYED THIS YEAR DUE TO PREPARATION OF A NEW REGISTRATION MODULE. REGISTRATION WILL BEGIN ON TUESDAY, NOVEMBER 3, 2015.
THE PRLL WEBSITE WILL SOON BE CHANGING HOSTS AND FORMAT (WE WILL STILL HAVE THE SAME WEB ADDRESS - WWW.PRLL.ORG). CONTENT MUST BE DELETED AND RE-POSTED, SO MANY ARTICLES AND PHOTOS WILL NOT RETURN ON THE NEW SITE. IF YOU WISH TO DOWNLOAD OR COPY ANYTHING, DO SO NOW. ANY QUESTIONS, PLEASE WRITE TO WEBSITE@PRLL.ORG.
Events from earlier in 2015:
PRLL SOFTBALL 12's WIN D-18 TITLE; BOYS 12s TAKE ARC TOURNAMENT -- FOLLOW THE SUMMER ALL-STAR TOURNAMENTS HERE (Link)
LINK TO 2015 KAYSER-BRADY TOURNAMENT HOME PAGE
HAVERSTRAW IS KAYSER CHAMPION -- NEW CITY TAKES BRADY TITLE
FOLLOW THIS LINK to see the PRLL 2015 Season PhotoSite, including photo albums for playoff games of 6/13/15 and non-playoff games, tee-ball games and trophy ceremonies held on 6/13/15. (Photos from Opening Day are still posted on the Opening Day PhotoSite).
SEE THE 2015 MAJOR GIRLS CHAMPIONS ! (Link) SEE PHOTOS OF AAA FINALISTS (Link) SEE PHOTOS OF AA FINALISTS (Link)
METS edge Cubs for Major Boys title, Tigers AAA champs, D'Backs tops in AA - Follow this link to the "Baseball Playoffs Page" for playoff results for the Major Boys, AAA and AA Divisions.
SEE PHOTOS OF PRLL IN-HOUSE ALL-STARS: MAJOR BOYS, AAA BOYS AND MAJOR GIRLS
_____________________________________
PARENTS !! Now that the regular season is over, PLEASE help us to evaluate the performance and demeanor of our managers and coaches by filling out this form, adding any comments, and mailing it to PRLL, P.O. Box 125, Pearl River, NY 10965 (or e-mail to baseball@prll.org or softball@prll.org ) . Results are confidential. Use the link below to download the form:
2015 Manager Evaluation Form
Shopping for a bat??

Avoid confusion over whether a baseball bat is "legal". Check out the Little League Bat Information Page --

CLICK HERE

-- for list of approved baseball bats and rules. There is no approved list for Softball bats, which only have to comply with Rule 1.10

CLICK HERE TO SEE THIS RULE.
See information on Challenger Little League at http://www.rcchallengerll.org/
---
Questions for Parking or Hopper (kitchen):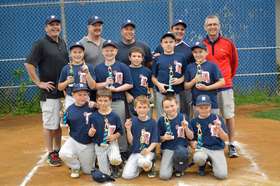 2015 AAA CHAMPIONS