Power Surge Black-Trammell: Team News
Thursday, February 6
PS-T adds Briana Jaime to roster
Briana Jaime, a Pitcher/1B, has joined Power Surge-Trammell. Briana comes to us from EC Legit 18U and she has already made contributions inside the circle and at the plate. Briana, a junior at Valhalla HS, is a very adapatable player who thrives on pressure situations. We are glad to have her aboard. If you get a chance say hello to Briana and her parents, Season and Mike.
Saturday, September 28
PST adds Amanda Kalal to coaching staff
Power Surge-Trammell is very excited to welcome Amanda Kalal to the coaching staff. Coach Amanda grew up in a suburb outside of Cleveland, Ohio and started playing fast-pitch softball at age 11. She joined the Ohio Emeralds (ASA/NSA/USSSA) organization two years later, whom she would play with through high school. Amanda was recruited by a variety of colleges at all levels of the NCAA, and ultimately accepted an academic scholarship to attend Ohio Northern University (Ada, Ohio), a member of the Ohio Athletic Conference (OAC), NCAA Division III.
While a student-athlete at Ohio Northern, Amanda earned a bachelor of science degree in 2005 in mathematics and secondary education with high honors. Defensively, Amanda played primarily LF, RF, and 2B. In her four-year career, Amanda had a total of 71 hits, 43 RBIs, 58 walks, 8 sac flies, and 28 sac bunts. She finished her senior season hitting .287 with a .471 OB%, earning her the team's Offensive Player of the Year award. She also earned all-conference academic first team honors. Off the field, Amanda was involved in student senate, student-alumni association, Zeta Tau Alpha sorority, student-athlete advisory committee, and residence life as an RA.

After graduating in 2005, Amanda attended Canisius College (Buffalo, NY) for graduate school, earning a master of science degree in college student personnel administration in 2007. She spent nearly 6 years working in alumni relations at Colgate University (Hamilton, NY) before moving to San Diego, CA in 2012 with her husband, Patrick Marino. She currently works in admissions at the University of California, San Diego.
Amanda will be involved in all aspects of coaching including college recruiting.
Saturday, August 31
PST adds two to roster
Power Surge-Trammell is pleased to announce the addition of two players to its Fall 2013 roster. Sarah Ogle is no stranger to the Power Surge organization. She has been a successful pitcher both in Travel Ball and at Francis Parker HS (she pitched the deciding game that propelled PS-Klem into ASA Nationals) and she will be instrumental in helping anchor the pitching staff. Tricia Warrens (High Tech High) is also a PS organization veteran who plays OF/3B/2B. She has a reputation as an excellent contact hitter with great basepath instincts. We welcome both these girls and their families and look forward to their many contributions.
Monday, August 12
Power Surge-Trammell move up to 16U
Starting with the Fall 2013 season, PST will be a 16U team. Emphasis over the next 2-3 years will be on College Showcases as we try to help place as many girls as possible in a college program. As always there will be some changes. We would like to say a big thank you to the Kohel and Finney families for all their contributions to the team and wish only the best for Brandi and Sarah in their future endeavors. We are also saying hello to a few new families and they will be introduced and welcomed very soon.
Emails will be soon forthcoming regarding showcases, tournaments and friendlies. Maria Gastineau has volunteered to coordinate the snack bar as we will be hosting a couple of friendlies this fall. In addition, we will be communicating information about fees. It will be necessary to charge a one time start up fee as we incur the extra costs of showcases. This will ensure that we are able to enter them well in advance and not miss out on opportunities because of fund shortages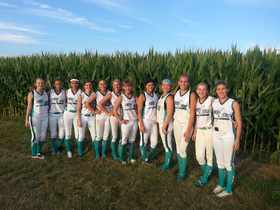 Field of Dreams
Monday, August 12
Power Surge-Trammell finish strong at ASA Nationals
PST finished strong at the ASA 14U National tournament held in Bloomington, Illinois. After losing a tough battle in their first bracket game, PST battled strong to finish 17th out of 126 teams. PST finished higher than any other team that also lost their first bracket game, a testament to their fight in the face of long odds. A similar battle occured at ASA States when they also lost their first bracket and then came all the way back to finish 4th. These were true team efforts with seemingly a different hero for each victory. Great job girls!
Thursday, July 4
Champions Cup on tap in Irvine
Click on headline for link to CC website
Games start tomorrow 7/5 at 4PM. Because this is a showcase the girls have to wear wrist bands indicating their graduating year as well as special shoetop ribbons.
We are in Pool F. Pool games are as follows:
Game #1 vs. Nemesis Elite 4PM, Field #3 (1st base side)
Game #2 vs. RR-Foisey 6PM, Field #4, (3rd base side)
Game #3 vs. Firecrackers-Contreras 10AM Sat, Field #2, (3rd base side)
All games are 1H30M no new
Friday, June 14
PST heads to Riverside Co for Premier Qualifier
PST will attempt to build on their ASA accomplishments by trying to secure a Premier Nationals berth at this weekends Premier Qualifier in Menifee/Winchester. First game is 8 PM Friday with second game slated for either 8AM Saturday or 6PM Saturday depending on outcome. Click on headline for link to PGF's tournament website.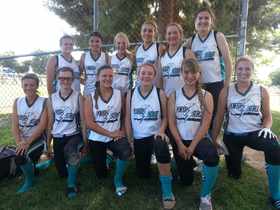 PST after 53 innings of softball
Friday, June 14
PS-Trammell finishes 4th at ASA States, qualify for Nationals
What an amazing weekend in Lancaster! After the team dug themselves an early hole by losing their very first game, they rattled off six amazing victories in a row, before falling in their second straight ITB game to finish fourth overall. This qualified themselves for the National tournament in Illinois and gave the entire PST family endless stories to tell-Chloe's clutch game-winning hit that resulted in CJ's great slide at home; the girls coming back from a 3 run ITB deficit to win; Brandi's game tying double against Batbusters; Paige's controversial out call at home; Emily's grand slam and 3 run homer; absolute clutch pitching from Diana and Sydney. There were many many others.
Wednesday, June 5
PST Heads to Lancaster for ASA SoCal State Chanpionship
Power Surge Trammell heads to Lancaster to compete in the ASA SoCal State Chanpionship. Our goal is to win a berth in the National Championship tournament being held in Illinois in late July.
Here's the details regarding the tournament:
26 teams entered, top 9 advance to Nationals
no Friday games
double elimination format, no pool play
1st game vs Renegades-Crawford/Aguirre @900 Sat Field #8
win, next game vs SOC Storm/Nemesis Elite winner @100 Sat Field #4
lose, next game vs SOC Storm/Nemesis Elite loser @300 Sat Field #2
Championship game @ 6 or 8 PM Sunday--this is a very winnable tournament!
All games will be played at the Lancaster Big 8 Softball complex located at:
43011 10th St W
Lancaster, CA
This is about 5 miles from our Hotel which is at:
Hampton Inn
39428 Trade Center Dr
Palmdale, CA
Expect about a 3 1/2 hour drive to Lancaster on Friday, depending on what time you leave. Given Friday traffic around LA, I would drive in from the east via the 15/215/15/138.
Thursday, May 30
Local Doubleheader this Saturday
Power Surge-Trammell will be playing a doubleheader against our old friends at Batbusters-Graft, one of the top 14U teams in San Diego this Saturday June 1st at Discovery Park in Chula Vista. Gametimes are 8 and 10 AM. Please arrive by 645 AM for pre-game warmups.
Coach Ron will confirm Sunday practice by Friday.
Discovery Park is off H St (Buena Vista Way) just west of Otay Lakes Rd. Many of you will be familiar with it from our SunDevils days or for newer families, from All Star District Championships
Click on Headline for link to map
Thursday, May 30
Final HS Update 2013-PS welcomes new family
Congratulations to Chloe and Sydney on your HS CIF championship game victories! Chloe, like Paige, had a tremendous, over the top JV season and earned both the Most Improved and Inspirational awards at her banquet.
Power Surge-Trammell gives a big welcome to Emily Howard as the newest member of the team. Emily is a freshman at Valhalla HS and, like Brandi, made the Varsity softball team. She is a multi-position player, and should see action at 3B, C and 2B. Her strengths include speed, a good arm, a sharp eye at the plate and deep knowledge of the game. We look forward to all her contributions. Welcome!
Wednesday, May 22
First Summer Tournament
PS-T finally gets back to full strength this weekend as they play in the summer's first tournament, the TCS Memorial Day Classic. This is a double elimination, 4 game guarantee tournament. Game times/locations:
Pool H
Game#1 vs Case Batbusters 99 @ 0800-Bill Barber #2
Game #2 vs Conkoktion @0930-Bill Barber #2
Fields for morning games are at:
Bill Barber Marine Corps Memorial Park
16 Civic Center Plaza
Irvine, CA
Depending on our seeding 1st bracket game will be at 4 or 7 PM Saturday or 8 AM Sunday at Alicia Field in Mission Viejo
Click on link above for full details