14u Power Surge 2000 Ruder: Welcome
2013 Spring Season Highlights
Runner up USA/ASA 12u Class "A" Nationals, Chattanooga - Tennessee
America's Finest City 12u Tournament - Champion
TCS 12u February Frost Tournament - Champion
TCS 12u OC Classic (Make up) Tournament - Champion
Qualified for USA/ASA 12u Class "A" Nationals (Chattanooga, Tennessee)
Qualified for TCS 12u World Series/Nationals (San Diego, California)
12 Power Surge 2000 Ruder
12u Power Surge 2000 Ruder looks forward to competing for the 12u National Titles in 2013.
Power Surge has a rich tradition of excellence in developing players and competing well at Nationals. In fact,our 12u teams were ASA National Champions in 2009 and 2012. And our 12u 2000 Teal Team looks forward to continuing the winning tradition!
Our Head Coach is Dave Ruder, who founded the San Diego Mystic Travel Ball Organization and has coached travel ball for 10 years, through 18 Gold. Dave does not have a daughter on the Team. Our Assistant Coach is Steve Cristini, who has been with Power Surge for several years.
Power Surge has four dedicated softball fields at Hickman Fields in the Kearny Mesa area of San Diego. (see Home Page for details.) In addition, we have four lighted batting cages, a pitching area, snack bar and great bathrooms. It is unique for a travel ball organization to have exclusive use of such wonderful resources.
We believe that Great Players + Great Coaches + Great Parents = Success!
Contact information:
Dave Ruder - Head Coach druder@san.rr.com/858-692-4867
Monday, February 10
TCS Feb Frost 2nd Place
Second tournament of the season and another second place finish!! Another amazing championship game for us at the TCS Feb Frost Tournament. Lots more games to be played while working our way towards getting even better. Ours hats off to Firecrackers Lutterloh, you guys are a class act.
Sunday, January 26
So Cal Athletics Tournament
"WOW! All that can be said after this weekend. We're off to a great start after finishing 2nd at the So Cal Athletics tournament, our first tournament of the season. After a very early day of waking up at 4am and playing 5 games, we ended up loosing a nail bitting championship game 10-6. These girls really proved what they are capable of and we look forward to their future success."
Sunday, August 4
Power Surge Teal Takes Second at ASA Nationals in Chattanooga
PS 2000 Teal competed with 100 teams from all over the country in the 12u ASA National Championships and took 2nd behind Texas Kaos. A great ending to a great year.
Wednesday, July 24
Heading To Tennessee For 12u ASA Nationals – Invite to Univ of Tennessee For Games!
PS00 Teal is geared up and ready to compete to take home the ASA National Title. Our Team has been invited to play in a double header on the Saturday before ASA Nationals against Georgia Impact 2000 and Worth Hustle on the Stadium Field at the University of Tennessee in Knoxville before the UT head coaches and staff. Then on to a private tour of the University and dinner with Georgia Impact.
Saturday, July 13
Power Surge Teal Performes Well At Triple Crown Nationals
PS00 Teal finished T5th out of 109 teams at the Triple Crown Sports World Series Nationals in San Diego. Now getting ready for ASA Nationals!
Sunday, May 26
Olympic Athlete Shares Her Story With Power Surge 2000 Teal
Olympic 400 meter hurdler Sonali Merrill spoke about her 2012 Olympic experience with our Team. What an inspiring young women! Lots of life long lessons in Sonali's story of continued discipline and hard work to reach her goals. Let's hope some of it rubbed off on our Team!!
Monday, May 20
Power Surge Teal Has a Great Softball Weekend
We played in two Friendlies, going 6–0 against some very good teams. Our bats were on fire!– 48 runs for and only 6 runs against. Keep up the good work ladies!
Sunday, May 12
Power Surge Plays Hard in Mother's Day Classic
It was a warm weekend for the MDC Tournament up in Cerritos. We played well, finishing T5.
Thursday, May 2
Power Surge 2000 Teal Plays Well at Fresno Force Classic
Our Team had a great time traveling to Fresno in our exclusive luxury bus. Even with our many injuries, we finished tied for 5th out of 52 teams, losing an ITB squeaker on Sunday afternoon. Great job PS 00 Teal! Next up, the Mother's Day Classic.
Sunday, February 24
Power Surge 2000 Teal Wins America's Finest City Tournament
Our Team went undefeated all weekend in the AFC double elimination format tournament, beating SoCal Breakers-Steele in the Championship. Third tournament win in a row. Way to go Team!
Wednesday, February 13
Power Surge 2000 Teal Celebrates Two Championships
Our girls enjoyed a break from the rigors of practice in celebration of winning two tournaments in a row. What a great Power Surge Family!
Sunday, February 10
Power Surge 2000 Teal Wins Triple Crown February Frost Tournament
Our Team went undefeated again in winning the TC February Frost Tournament, even run-ruling the Championship game. We are on a roll! The Team is working hard to be ready for the upcoming AFC Tournament and the Las Vegas St. Paddy's Day Tournament. Keep up the good work girls!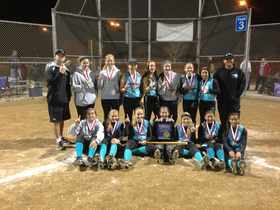 February Frost Champs
Sunday, February 3
Power Surge 2000 Teal Wins Triple Crown OC Classic Tournament
Our Team went undefeated in winning the TC OC Classic (Make Up) Tournament. Nice way to start the Spring Season.
Friday, January 4
Power Surge 2000 Teal Finalizes 2013 Spring Roster
We are pleased to announce our Spring Roster:
Katie Bananal
Alyssa Bubar
Carly Bursch
Mikayla Cristini
McKinsie Erwin
Marisa Estrada
Jenna La Rocco
Lillian Metsch
Natalie Minteer
Monica Padilla
Rachel Shellstrom
Samantha Stanley
Victoria Villegas
Tuesday, January 15
Power Surge 2000 Teal Adds Terrific Player and Finalizes Roster
We are pleased to announce that Katelyn (Katie) Bananal has joined our Team. Katie is a great middle infielder, with speed and a big bat. With the addition of Katie, our 2013 Spring Roster has been set, and we are ready to compete hard for the Title!
Thursday, December 27
Power Surge 2000 Teal Welcomes New Player
We are pleased to announce that Carly Bursch has rejoined our Team. She is a top-flight pitcher, and plays 1B and 3B as well. Our Team continues to get stronger! It will be a great Spring Season.
Monday, December 10
Power Surge 2000 Teal Ends The Fall Season Strong
PS 00 Teal made it to the semi-finals, finishing T3, at the prestigious AA Toys for Tots Tournament, going 5-1, with 42 runs for and 13 against. It was the first tournament we had our complete Team, and our performance bodes well for the 2013 Spring Season.
Monday, November 26
PS 00 2000 Teal Performs Well at ASA Thanksgiving Tournament
Our Team went 4-1, finishing tied for 5th, losing a close quarter-final game to the ultimate winner of the tournament. The Team played well, and looks forward to continuing to improve.
Saturday, November 3
Power Surge 2000 Teal Enjoys a Great Day of Softball with Long Beach State Women's Softball Team
What a wonderful bonding day for our team. Traveling together to watch LB State play at their home stadium, and then joining the college team and coaches for a great chat session in the player's lounge at the Pyramid Stadium. And LB State T-Shirts for the players! Another terrific learning experience.