Ponte Vedra-Jacksonville FL Blue Heat: Welcome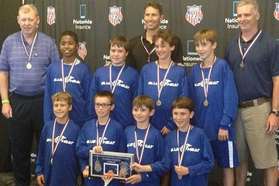 2014 Disney Easter Classic Div III Champs
Friday, August 1
Please visit our new Blue Heat Academy Page: http://www.blueheatacademy.com/Default.aspx?tabid=721239
Please visit our new website for The Blue Heat Basketball Academy. https;//www.blueheatacademy.com.
The Blue Heat will be holding tryouts for a 6th grade AAU/USSSA travel basketball team towards the end of Sept 2014. If you are interested in trying out please contact Jason Hughes at the number or email address below. We are a travel basketball organization out of Ponte Vedra. This will be our 4th year of existence.
Coach Neil and Coach Jason strive to teach the basketball skills needed to compete at a high level. We also incorporate life skills such as discipline, hard work, team work, and respect. These skills are important to the development of the child as an athlete and as a person.
If you are interested in more information about our team or in scheduling games, please contact Jason Hughes at 904-655-49