Plymouth Youth Baseball & Softball: Welcome
Registration for the 2015 baseball & softball season is open! Click on the Register Now button to get started.
Plymouth Youth Baseball & Softball
P.O. Box 1474
Plymouth, MA 02362


We are located in America's Hometown of Plymouth, Massachusetts. We operate baseball programs for boys and girls from ages 5 to 12 and softball from ages 8 to 16. For information about our programs please call 508-746-9297. We look forward to hearing from you.

2015 Season
Baseball programs are available for children ages 4 - 12 that live in precincts 1, 2, 3, 4, 5, 10, 11, and 13. Softball programs are available for children ages 8 - 16 that live anywhere in Plymouth.
Registration
Online registration for the 2015 season is now open. The family maximum is $275.00.The registration fee includes a $10.00 fund-raising fee which you will get back when you sell Plymouth Pilgrims tickets in the spring.Registrations will not be accepted without full payment. A $25.00 late fee will be charged after January 31, 2015. To register online, click on the Register Now! button at the top of the page.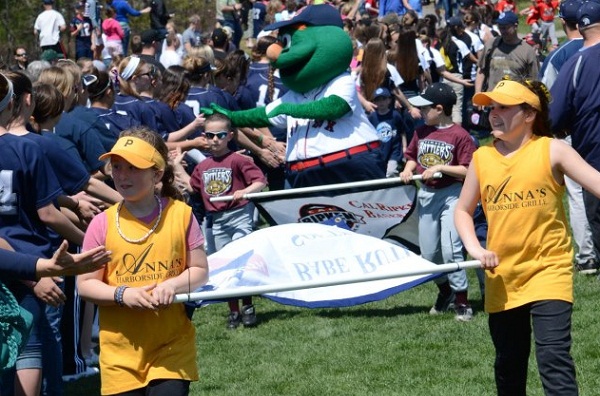 Lynn Joseph, 48, Beloved wife and devoted mother
It is with great sadness that we inform you today of the passing of long-time board member Lynn Joseph. She passed away on December 28, 2014 after a brief illness at the Beth Israel Deaconess Medical Center, Boston. Beloved wife of Wayne E. Joseph, Lynn was the devoted mother of Cassandra and Bryanna Joseph, both of Plymouth.
Donations to honor Lynn may be made to the National Kidney Foundation, at www.kidney.org/support.
2015 Softball Skills Development Program
Plymouth Youth Baseball and Softball is excited to announce our 5th annual softball skills development program. This year's program will include pitching, catching, hitting and defensive skills and will begin on Sunday, January 25th, 2015 and continue through March 8th (excluding February 15th) at PCIS on Long Pond Road. There will be 2 one and a half hour sessions from 2:00 PM – 3:30 PM and 3:30 PM – 5:00 PM weekly. The cost of the program is $100 (which includes a t-shirt) and is open to all registered softball players ages 8 – 16. Space is limited. Registrations will be accepted at the league website on a first-come, first-serve basis.
The pitching program will focus on the fundamentals of windmill style pitching mechanics including grip, stance, wrist snap, arm rotation and push-off. The hitting program will address swing mechanics, hitting drills, bunting and slapping. The catching program will focus on stances, receiving, blocking, throwing, plays at the plate and pop-ups. The defensive skills program will address both infield and outfield skills including throwing mechanics, ground balls and tracking fly balls.
10U Fall Ball Champions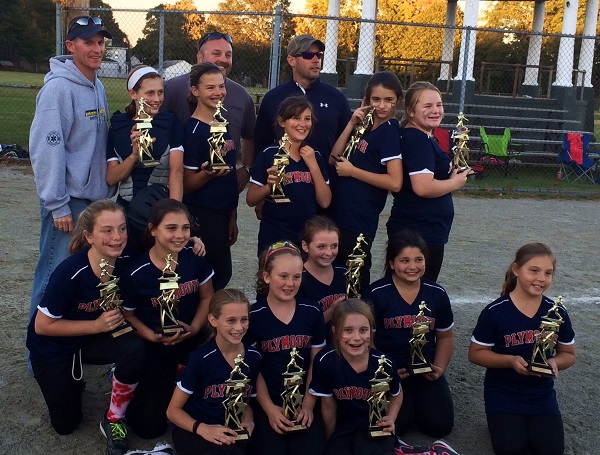 Front: Bella Harvey, Cecelia Christopher, Kylee Hefner, Maggie Ladd, Grace Flaherty, Lanigan Greeley, Sophia Espinola, Arianna Durette
Back: Alyssa Briggs, Abbey Grey, Grace Beatty, Amelia Freitas, Jenny Green
Coaches: Michael Flaherty, Coach: Mike Gulya, Coach: Mike Beatty
10U All-Stars Win South Shore Summer Softball League Championship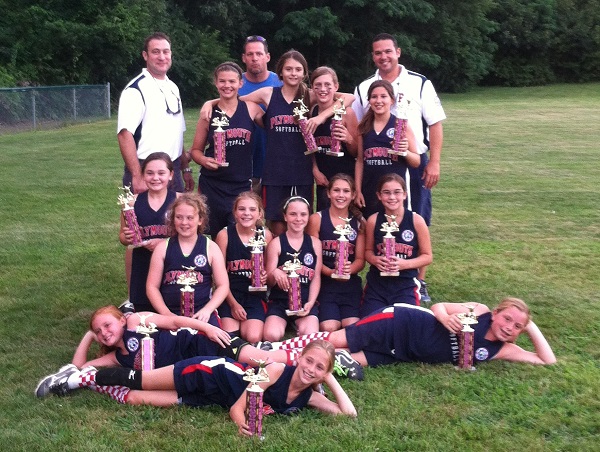 Front lying: Kylee Hefner, Emily Jenkins, Bella Harvey
Kneeling: Amanda Cherry, Maggie Ladd, Caileigh Driscoll, Amy O'Hanley , Brooke Wetherell, Kate Baler
Standing: Abbey Grey Amelia Freitas, Alyssa Briggs, Grace Beatty, Coaches Adam Baler, Mike Beatty, Matt Wetherell
Missing Grace Flaherty, Coach Mike Flaherty
14U All-Stars Win Plymouth's First Ever Babe Ruth Softball State Title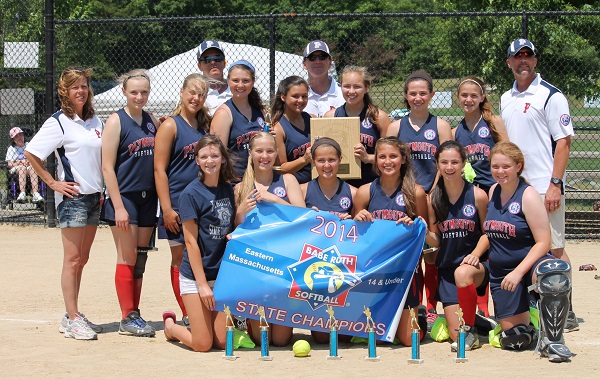 Front: Natalie Paul, Abbey Chase, Madison Crowley, Julia Zaniboni, Sydney Gorman, Shannon Burns
Back: Mia Gavin, Ellie Guilliani, Paige Guerra, Payton Sherman, Teigen Utera, Danielle Loranger, Faith Whalen
Coaches: Tracy Sherman, Tim Burns, Mike Paul, Randy Chase
2014 League Champions
Farm League Softball - Plymouth Police Relief Assoc.
Back row: Coach Shelley and Coach Mike Beatty
Middle row: Melissa Tessier, Emily Jenkins, Isabella Ruscio, Grace Beatty, Sophia Espinola, Jen Blindt, Coach Ty
Front row: Abby Harris, Nora Quill, Gabriella Bacci
Missing Emma McGoff
National League Baseball - CabbyShack
Jordan Cunningham, Brett Davis, Nicholas Ferrante, Benjamin Holmes, Cooper Holmes, Christopher Kearney, Cameron Lorgeree, Conor Martel, Dylan Speakman, Ryan Utz, Conner Vercollone, Nathan White, Thomas Worrell
American League Baseball - Lions
Farm League Baseball - Reds (Rite-Way Electric)
Junior League Softball - Long Pond PT
Sophia Bruffee, Emily Cappucci, Emma Cicchetti, Caileigh Driscoll, Marguerite Driscoll, Taylor Johnson, Emmie Kelly, Margaret Ladd, Katherine Parent, Shauna Riordan, Taylor Rouse, Kaitlyn Ryder, Skylie Shore
Senior League Softball - Clean Harbors
Front Row: Katie Piasecki, Abbey Chase, Taylor Burns, Mady Maurice, Faith Whalen, Katie Fernau
Back Row: Coach Randy Chase, Julia Studley, Mackenzie Maurice, Abbi Whiting, Payton Sherman, Molly McKenna, Abbi Conley
Bat Girl: Eva Buggie Chase