Plymouth Youth Baseball & Softball: Welcome
Plymouth Youth Baseball & Softball
P.O. Box 1474
Plymouth, MA 02362


We are located in America's Hometown of Plymouth, Massachusetts. We operate baseball programs for boys and girls from ages 5 to 12 and softball from ages 8 to 16. For information about our programs please call 508-746-9297. We look forward to hearing from you.

2014 Season
Baseball programs are available for children ages 4 - 12 that live in precincts 1, 2, 3, 4, 5, 10, 11, and 13. Softball programs are available for children ages 8 - 16 that live anywhere in Plymouth.
The age determination date for baseball is April 30, 2014 while the age determination date for softball is December 31, 2013.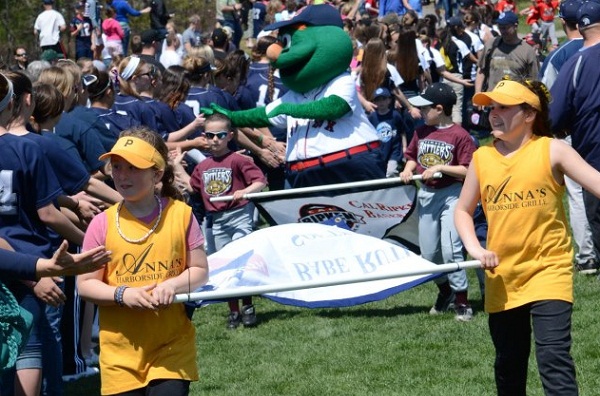 14U/16U Softball Tournament Teams Tryouts
PYBS is excited to announce the formation of two softball tournament teams, a 16U and 14U team that will compete not only in the Babe Ruth Softball State tournaments, but also in ASA weekend tournament throughout the summer of 2015. Weekly indoor workouts will begin in January and run through the middle of March. Outdoor workouts will begin in April. Each team will participate in 6 weekend tournaments, the first of which will be Memorial Day Weekend and will include both the Babe Ruth State tournament and the Jennifer Kane tournament.
These teams will be open only to Plymouth residents that are registered for the PYBS 2015 regular season; practices and games will not interfere with the regular season schedule.
Tryouts will be held on Sunday, September 14th from 12:00 PM – 3:00 PM (rain date will be Sunday, September 21st) at Forges Field. Please download and complete this form and bring it to tryouts. Registration fee for the program is to be determined, but will probably be around $500 and will include uniform, equipment bag and helmet. Payment plans will be available.
If you were thinking about playing club ball next season, this is an opportunity to play at that level of competition with all your friends and at a substantially lower cost.
2nd Annual Boya Open Golf Tournament
The 2nd annual Boya Open Golf tournament will be held on Saturday, September 27 at Atlantic Country Club, to benefit the Boya Follette Scholarship Fund. The goal of the fund is to award scholarships to athletes from Plymouth North and Plymouth South who have participated in baseball or softball at both the youth level and high school level.

For more information contact Missy Prifti at 781-389-3135 or Dwayne Follette at 508-326-2376.
10U All-Stars Win South Shore Summer Softball League Championship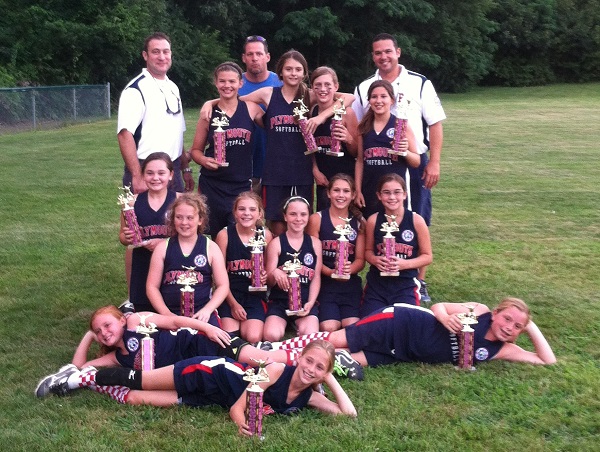 Front lying: Kylee Hefner, Emily Jenkins, Bella Harvey
Kneeling: Amanda Cherry, Maggie Ladd, Caileigh Driscoll, Amy O'Hanley , Brooke Wetherell, Kate Baler
Standing: Abbey Grey Amelia Freitas, Alyssa Briggs, Grace Beatty, Coaches Adam Baler, Mike Beatty, Matt Wetherell
Missing Grace Flaherty, Coach Mike Flaherty
14U All-Stars Win Plymouth's First Ever Babe Ruth Softball State Title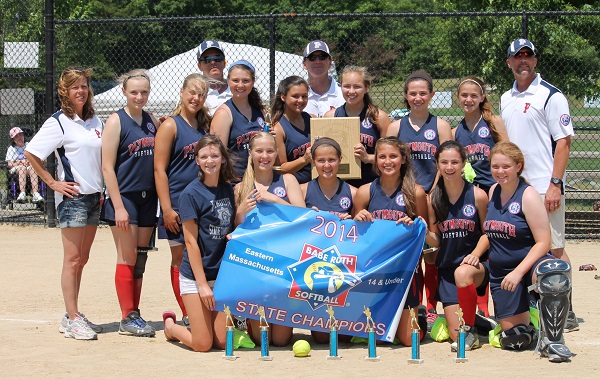 Front: Natalie Paul, Abbey Chase, Madison Crowley, Julia Zaniboni, Sydney Gorman, Shannon Burns
Back: Mia Gavin, Ellie Guilliani, Paige Guerra, Payton Sherman, Teigen Utera, Danielle Loranger, Faith Whalen
Coaches: Tracy Sherman, Tim Burns, Mike Paul, Randy Chase
2014 League Champions
Farm League Softball - Plymouth Police Relief Assoc.   
 
 
Back row: Coach Shelley and Coach Mike Beatty
Middle row: Melissa Tessier, Emily Jenkins, Isabella Ruscio, Grace Beatty, Sophia Espinola, Jen Blindt, Coach Ty
Front row: Abby Harris, Nora Quill, Gabriella Bacci
Missing Emma McGoff
National League Baseball - CabbyShack
Jordan Cunningham, Brett Davis, Nicholas Ferrante, Benjamin Holmes, Cooper Holmes, Christopher Kearney, Cameron Lorgeree, Conor Martel, Dylan Speakman, Ryan Utz, Conner Vercollone, Nathan White, Thomas Worrell
American League Baseball - Lions
Junior League Softball - Long Pond PT
Sophia Bruffee, Emily Cappucci, Emma Cicchetti, Caileigh Driscoll, Marguerite Driscoll, Taylor Johnson, Emmie Kelly, Margaret Ladd, Katherine Parent, Shauna Riordan, Taylor Rouse, Kaitlyn Ryder, Skylie Shore
Senior League Softball - Clean Harbors
Front Row: Katie Piasecki, Abbey Chase, Taylor Burns, Mady Maurice, Faith Whalen, Katie Fernau
Back Row: Coach Randy Chase, Julia Studley, Mackenzie Maurice, Abbi Whiting, Payton Sherman, Molly McKenna, Abbi Conley
Bat Girl: Eva Buggie Chase