Plymouth Youth Baseball & Softball: Welcome
Registration for the 2016 baseball & softball season is open! Click on the Register Now button to get started.
Plymouth Youth Baseball & Softball
P.O. Box 1474
Plymouth, MA 02362


We are located in America's Hometown of Plymouth, Massachusetts. We operate baseball programs for boys and girls from ages 4 to 12 and softball from ages 8 to 16. For information about our programs please contact Don Banzi at pybsdonbanzi@gmail.com. We look forward to hearing from you.

2016 Season
Baseball programs are available for children ages 4 - 12 and softball programs are available for children ages 8 - 16 that live anywhere in Plymouth.
Registration
Online registration for the 2016 season is now open. Registration fee is $75 for T-Ball, $100 for Instructional Baseball and $135 for all other programs with a family maximum of $275.The registration fee includes a $10.00 fund-raising fee which you will get back when you sell Plymouth Pilgrims tickets in the spring.Registrations will not be accepted without full payment. A $25.00 late fee will be charged after January 31, 2016. Players in any competitive division (Farm League and above) not registered by January 1st will not be guaranteed a roster spot.
The age determination date for baseball is April 30, 2016 while the age determination date for softball is December 31, 2015.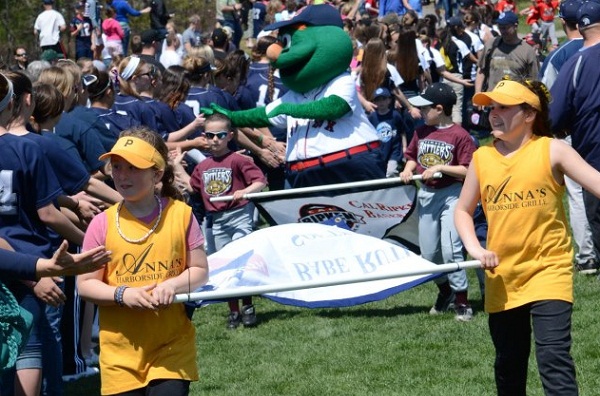 National League Baseball Clinic
PYBS will be hosting a clinic for players in the National League baseball program on Sunday, December 13 from 8:00 AM to 10:00 AM at the JunglePlex, 8 Natalie Way.This is an exclusive event hosted by Bob Boutin of 4 for 4 Hitting for registered players designated to play in the National League.
American League Baseball Draft Results
12 Year Old All-Stars Win Cal Ripken World Series
For the first time in the history of Plymouth Youth Baseball & Softball, a baseball team has won the Cal Ripken World Series. The 12 year old district all-stars beat the team from the Pacific Southwest on Friday night by a score of 4-1 in the national championship.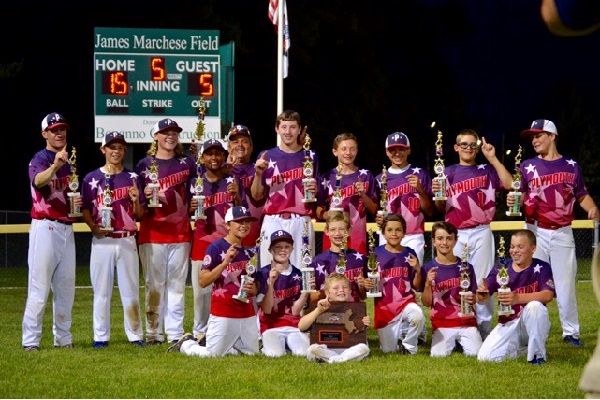 11 Year Old All-Stars Win Cal Ripken Regional Championship
The 11 year old District All-Stars are the Cal Ripken New England Regional Champions. The team was undefeated in touranment play in West Warwick, RI.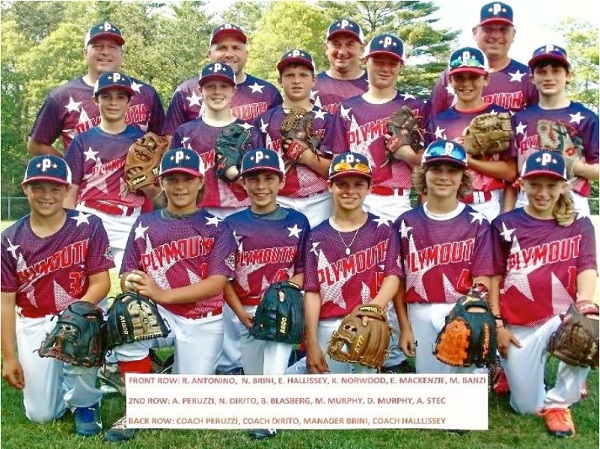 2015 League Champions
Senior League Softball - Plymouth Police RA
American League Baseball - Seaside
National League Baseball - Rotary
Junior League Softball - Cape Auto
Bottom row: Brenna Guiliani, Grace Beatty, Kylee Carafoli
Middle Row: Kyleigh Green, Brianna Belfort, Kat Salmone
Top Row: Coach Mike G, Amanda Cherry, Amelia Freitas, Jenna Cook, Siobhan Wilson, Abi King, Coach Shelley and Coach Mike B
Farm League Softball - KinderCare
Front Row - (left to right) Marissa Durette, Brooke Guerra, Jazmyne Fillipino, Lauren Trostel, Grace Beal
Back Row - Assistant Coach Shane Baggett, Coach Derek Baggett, Jennifer Blindt, Olivia Machand, Noelle Cherry, Ellie Cicchetti, Emma Baggett, Audrey Finley, Assistant Coach Patricia Baggett
Not pictured Charlotte Demerjan
Farm League Baseball - Cardinals (Total Network Solutions)
Front: Alex Delaney, Greg Thissel, Caleb Showstead, Dylan Rippon, Josh Beltrand-Lear, John Hawkins
Middle: Owen Kelly, Owen Kuzia, Killian Murphy, Nick Paolini
Back: Coach Scott Kuzia, Coach Renzo Paolini, Coach Dale Rippon, Manager Andrew Showstead
Boya Follette Scholarship Recipients
Congratulations to the 2015 Boya Follette Scholarship recipients:
Leanne Anderson - Plymouth South
Joseph Crotiata - Plymouth North
Cameron Scigliano - Plymouth South
Rebecca Tassinari - Plymouth North